Standard Social Job Ads
Social Job Ads put your brand building and social recruiting on auto pilot. After a fast set-up process, you can post jobs and have them automatically promoted on Facebook and Instagram. Strengthen your employer brand, extend your reach, and target candidates who aren't even following you…yet!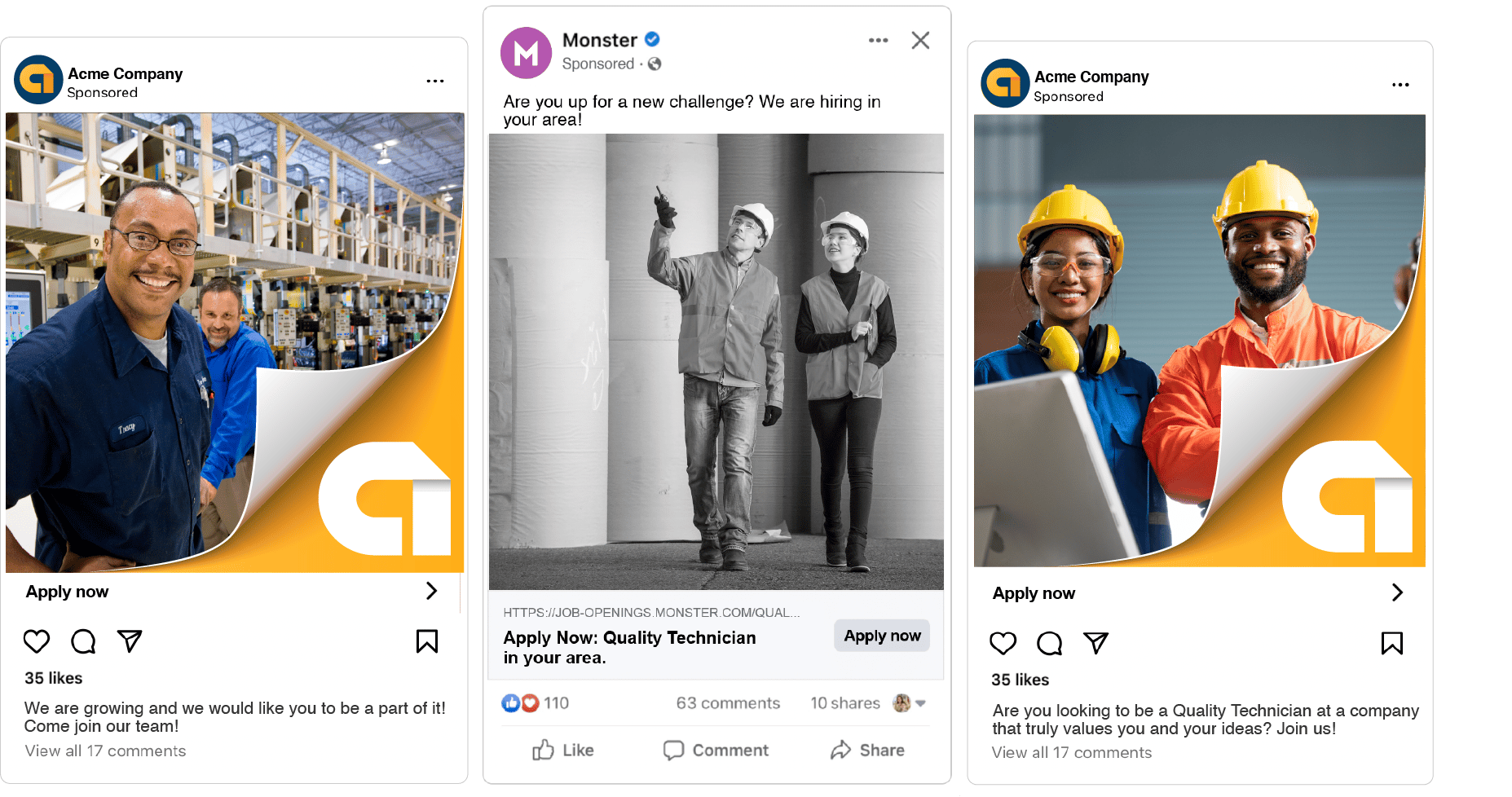 Automated: Just post on Monster, your career site, or ATS – and we'll do the rest! A branded, high-impact ad will be auto-generated for display on your choice of social media platforms.

Targeted: Social Job Ads appear in the social news feed of those who best fit the criteria. Top candidates will be targeted based on their occupation, location, and skills.

Efficient: Putting your job ad in front of more top candidates will give you a better pool of candidates to choose from and help you fill roles faster. And don't forget about the brand exposure you'll receive…

Let's have a look at the elements of a Social Job Ad:
1. Social Media Handle: By default, Social Job Ads are promoted on the Monster channel, but you can also authorize your own. Posting from your company's social media accounts will allow you to interact with commenters and gain more likes and follows. 
2. Engaging Description: An enticing message is displayed, derived straight from the text in your job ad. If you'd prefer to write your own, check out our Custom Social Job Ads.
3. Image/Video: Supply Monster with your company-approved images or video – or not. Monster has a library of stock photos that can be used as well.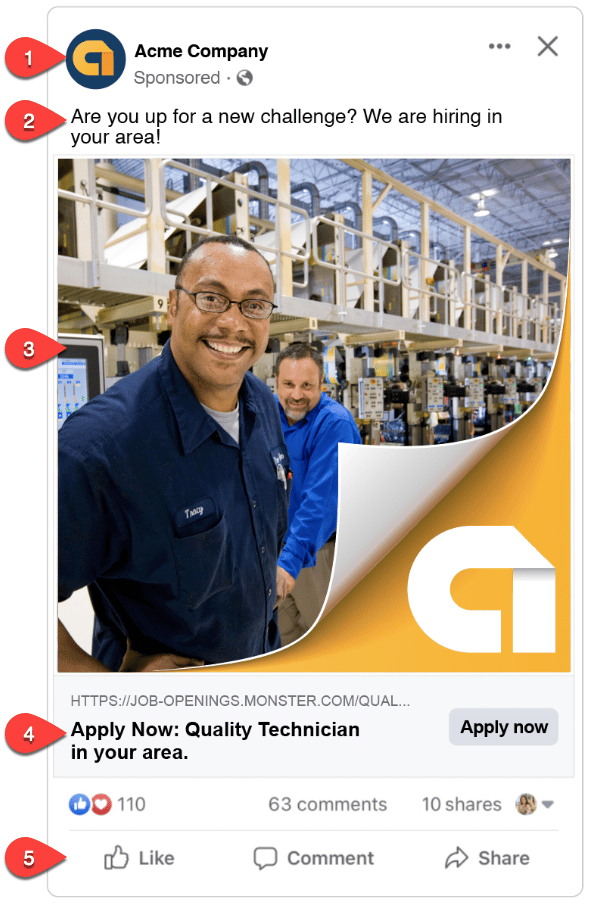 4. Call to Action: A clear call to action (Apply Now) will direct interested candidates directly to the full job description on Monster. 
5. Likes, Comments & Shares: Candidates can interact with the ad – and if they're on-the-go on Instagram, they can save the ad for later.  

Please make sure to set up your social job ad with Monster before your posting goes live.

A social job ad will remain live until it reaches 50 clicks (= 50 job views) or has been active for 30 days.

 

Monster highly recommends that you provide your own company branded images/videos to increase brand recognition and help your social job ad stand out. Please submit them before your job posting goes live. Review image and video specs below for details.
You have the option to use up to 3 images that will swap between each campaign. The required picture sizes are:
Facebook: 1200 pixels x 628 pixels (600 px minimum)

Instagram: 1080 x 1080 pixels (600 px minimum) 

 
For best results, make sure your images include very little to no text.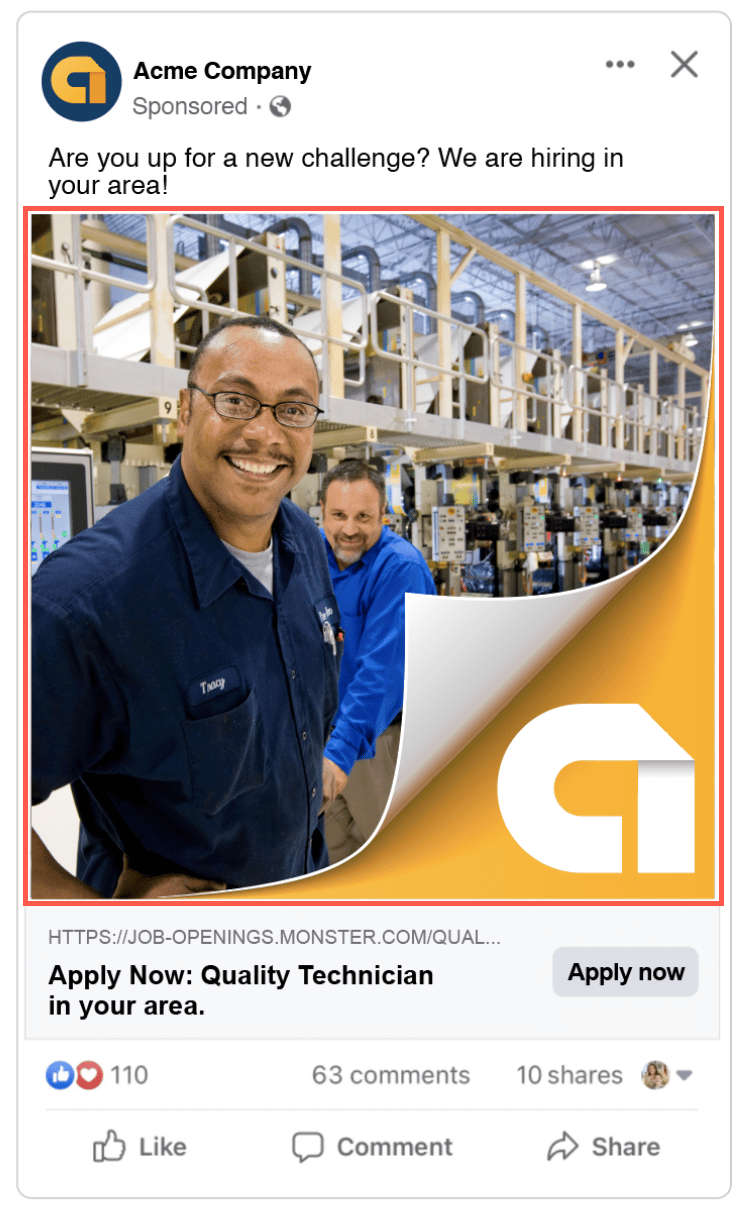 Alternatively, you can use a video to promote your brand. Video content is an increasingly powerful way to communicate your brand story.
Facebook recommends:
File Type: MP4, MOV or GIF.
Ratio: 1:1 (for desktop or mobile) or 4:5 (for mobile only)
Video Settings: H.264 compression, square pixels, fixed frame rate, progressive scan and stereo AAC audio compression at 128kbps+
Resolution: At least 1080 x 1080 pixels
Video Captions: Optional, but recommended
Instagram recommends:
Ratio: between 1.91:1 and 9:16
Minimum frame rate: 30 FPS (frames per second)
Minimum resolution: 720 pixels
Maximum file size: 650MB
Please Note: Facebook and Instagram can accommodate longer videos, however for best results we suggest a length of :15 to :30 seconds.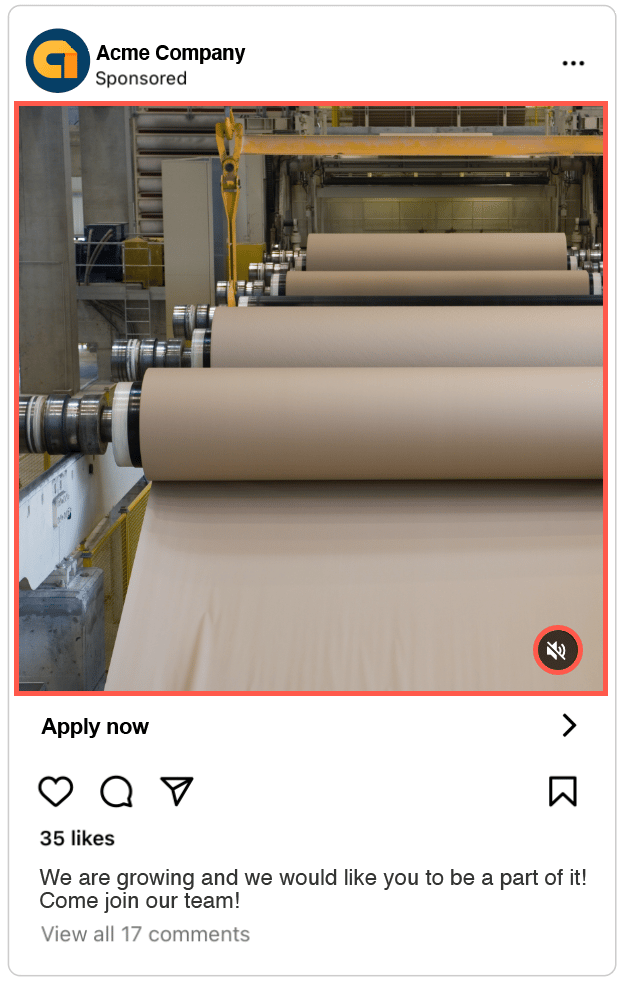 No creative? No problem!
If you prefer not to provide any social accounts, images or videos, Monster will generate social job ads with stock images and post the targeted campaign through Monster's social media accounts.  Promoting your job ads has never been easier!