Custom Social Job Ads
Unlike our Standard Social Job Ads, which drive traffic to a single job ad, Monster's Custom Social Job Ads are ideal if you are looking for a little more control on the ad content.
Sold on a cost-per-click basis, they are perfect to gain social media exposure by promoting anything you like: a job fair, a hiring event, your career page – or your employer brand.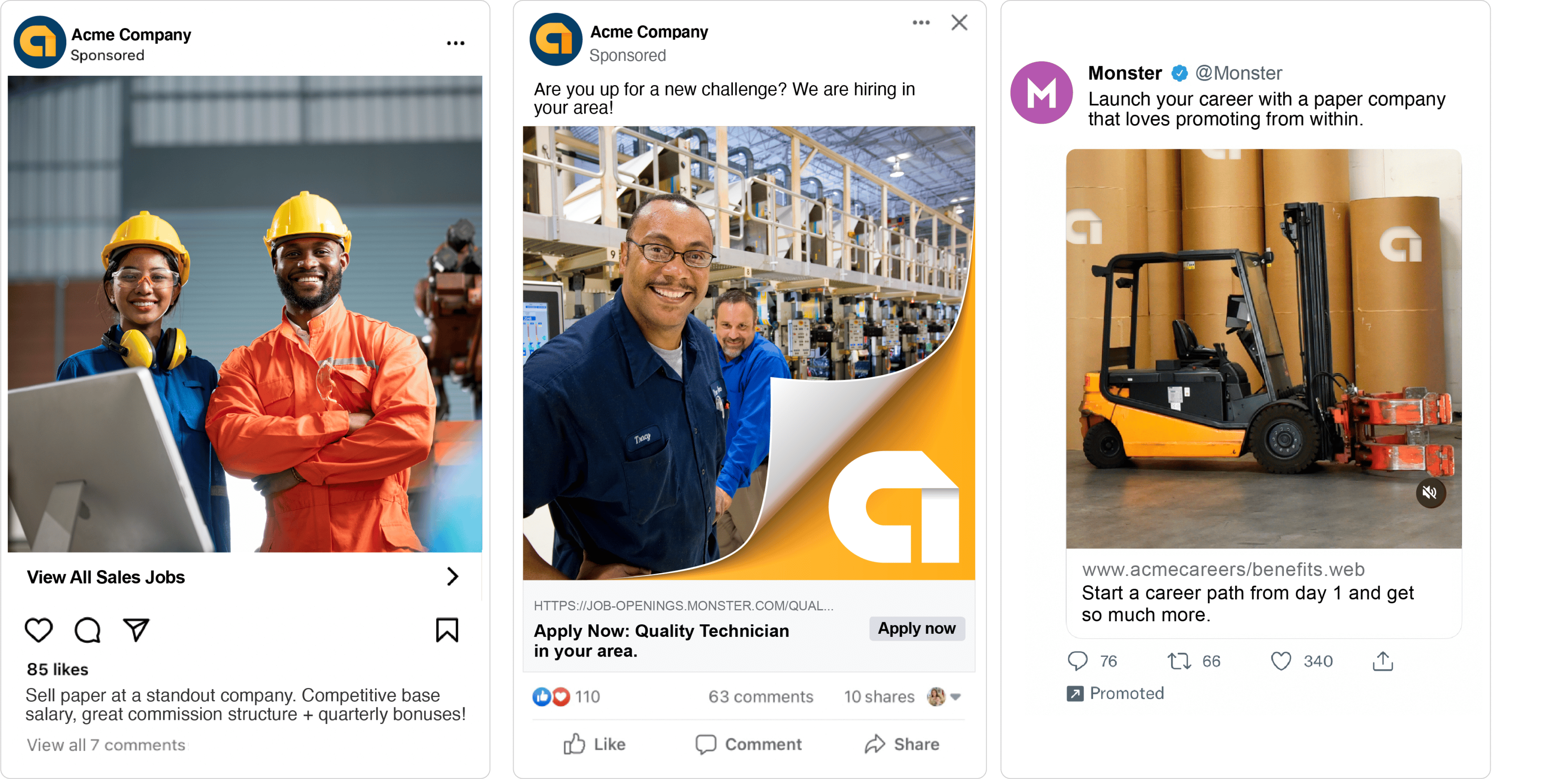 Precision Targeting
Target qualified candidates on Facebook, Instagram and Twitter.

Better Exposure
Reach a number of guaranteed clicks to a link of your choice.

Flexible Run Dates
You set the duration of your campaign.

Full Customization
All the components of the social ad are customizable, including pictures, videos, text, and where you want to drive traffic.

With Custom Social Job Ads you have the freedom to choose how your ad is designed:
1. Social Media Handle: Deploy the ads directly from your social channels or through Monster's account
2. Engaging Description: Promote a personally crafted message
3. Image/Video: Provide your own company-approved image or video, or have Monster provide a stock image.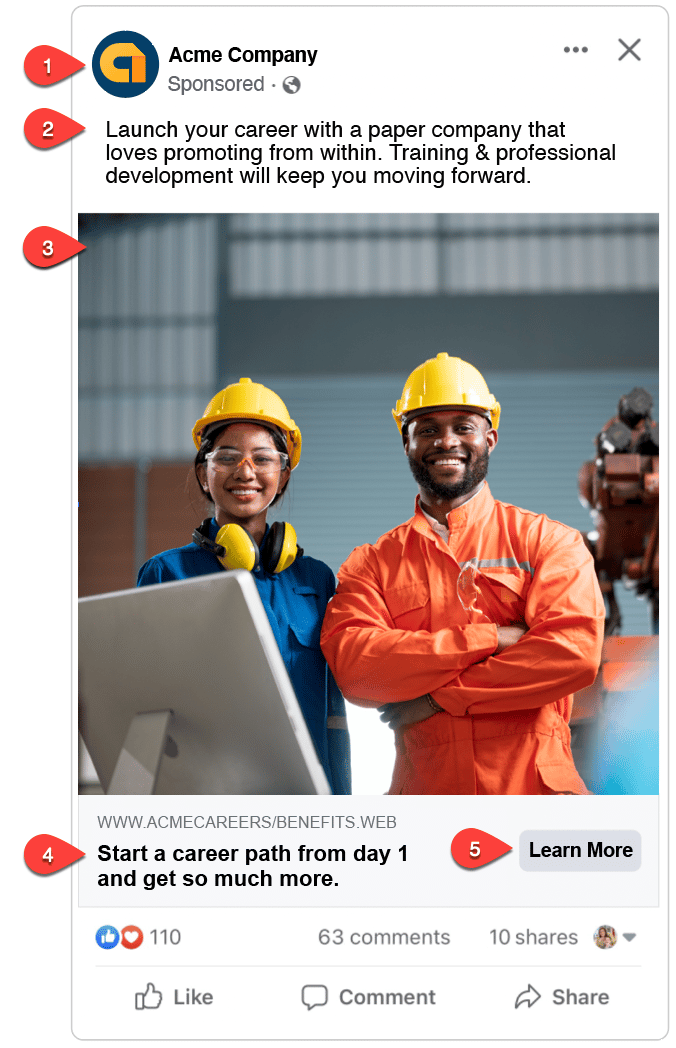 4. Headline: Write your own headline to generate interest and clicks. 
5. Call to Action: Choose your call to action and decide where you want to send traffic.
Just provide us with the details below and Monster will handle everything – from ad creation to campaign implementation, to optimization as it runs, and performance reporting.

It is best to deploy the ads from your own social media platforms.
You will need to authorize Monster to deploy the ads through your company's social pages. This will place your company's logo on the ad and has the added benefit of clicking back to your social media page.
You can also launch your social job ads from Monster's social account if necessary.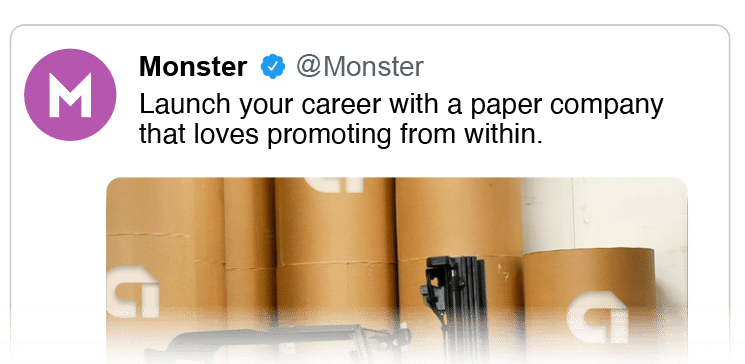 Please Note: Your Custom Social Job Ads campaign will run on Facebook, Instagram and Twitter. However, you have the option to also pick and choose if you would prefer to only run your ads on Facebook or Twitter only.
When writing the messaging for your social job ad, the first two key areas listed below are viewable to mobile users. 
1. Primary Text: 125 characters
2. Headline: 27 characters
3. Description (27 characters) that will be viewable on desktop only.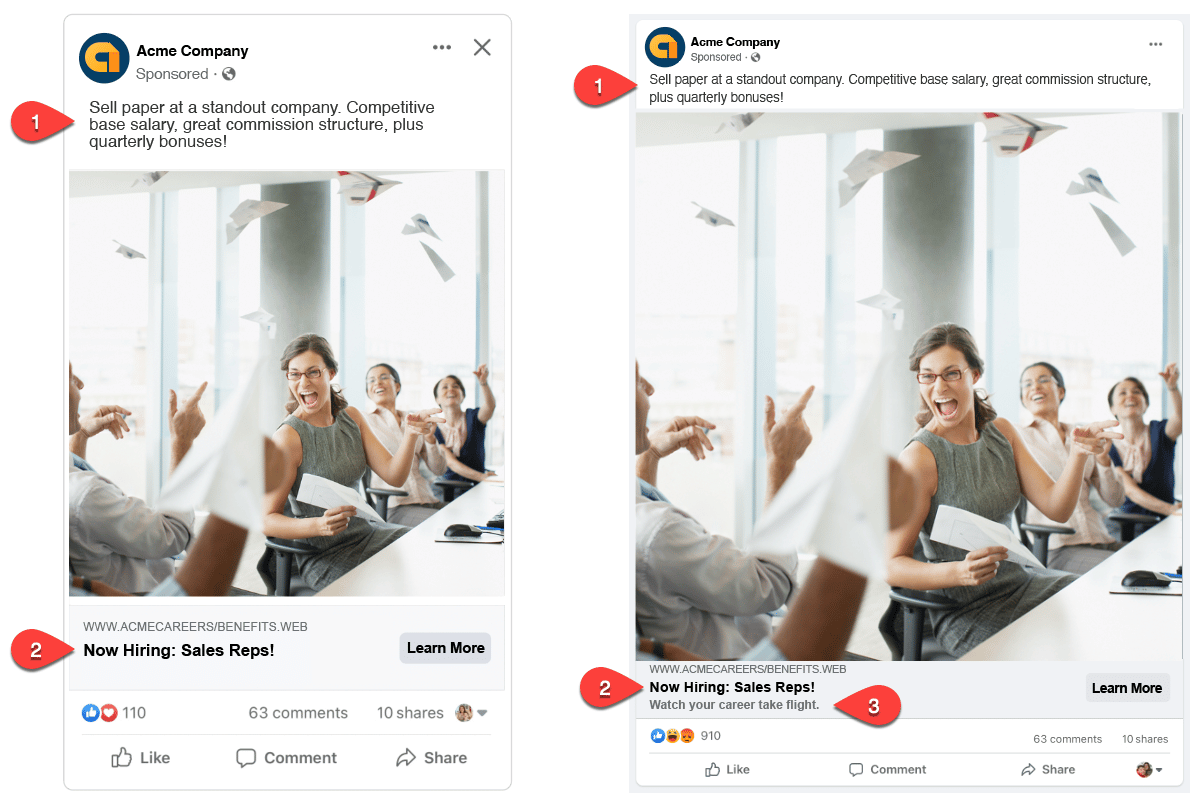 If you need assistance, Media Program Managers can help write your ad copy (with your approval, of course). We'll just need a little information to get started. Reach out and we'll talk!
Add your own images or video (max 60 seconds).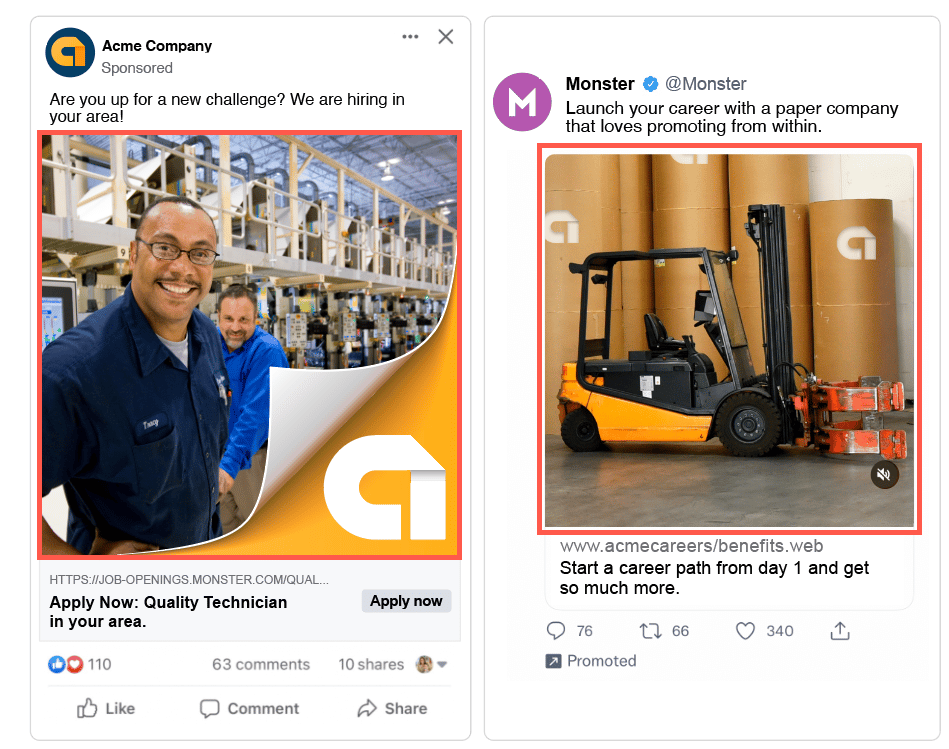 Image specifications:
Facebook Image Size: 1200 x 628 pixels (600 px minimum)

Instagram Image Size: 1080 x 1080 pixels

(600 px minimum)

Twitter Image Size: 1200 pixels x 628 pixels (max 3mb)
Please Note: For best performance, make sure your images include very little to no text. If you don't want to provide images, you can also choose from Monster's stock images.
Video design recommendations for Facebook:
File Type: MP4, MOV or GIF.
Ratio: 1:1 (for desktop or mobile) or 4:5 (for mobile only)
Resolution: At least 1080 x 1080 pixels
Video Captions: Optional, but recommended
Video design recommendations for Instagram:
Ratio: between 1.91:1 and 9:16
Minimum frame rate: 30 FPS (frames per second)
Minimum resolution of 720 pixels
Maximum file size: 650MB
Video design recommendations for Twitter:
File types: MP4 or MOV
File size: 1 GB max. For optimal performance we strongly recommend to keep files under 30 MB
Video bitrate: 6,000 – 10,000k (recommended 6,000k) for 1080p. 5,000k – 8,000k (recommended 5,000k) for 720p
Frame rate: 29.97FPS or 30FPS. Higher is acceptable (support up to 60FPS)
Please Note: The platforms can accommodate longer videos, however for best performance we suggest to use a short video, ideally 15 or 30 seconds.
Choose a Call To Action button and provide a destination URL of your choosing – like a career page or recruitment event.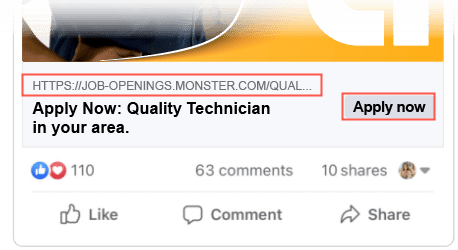 And lastly, you can even specify the city and/or state (up to 4 locations per campaign can be used) and provide any additional keywords or skill requirements you'd like to target.
For example, for an entry-level sales role in Boston:
Interests = Sales and Entry-level job/Career or Job; Location: Boston (+25mi) MA