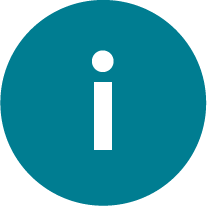 Tips for Responding to Applicants
An application response letter is the perfect opportunity to make a connection with new members of your talent pool. Even if you elect to use an Auto Responder, tailor your messages to your position, show your appreciation – and for goodness sake – set expectations on timing! Before we get into the details of the letter, here are two important tips:
Respond. Like, right away.
Make it personal.
According to a recent Monster study, 29% of Gen Z candidates admitted to ghosting a recruiter or hiring manager because they took too long to get back to them. 23% of candidates said they ghosted recruiters because the job process felt impersonal.1
That is why it is so important to respond quickly and thoughtfully. Follow the tips below to kick off a great candidate experience right from the start, and check out a sample message, too.
Let the candidate know that you have received the application with appreciation. This calls for at least ONE exclamation point, don't you think? Also, make sure to include the job title and company name for reference.
I'm happy to report that your application for the Sales Manager position at Acme Company has arrived!
Great news! Your Sales Manager application has made it to our head recruiter at Acme Company.
Thank you for your interest in Acme Company. We will review your Sales Manager application as soon as possible.
Give candidates an idea of how your recruiting process works or when interviews will begin. This shows that you respect and are considerate of their time, and it will also curb any questions on your process from the start.
Now that the application is out of the way, let's talk about next steps. We'll start reviewing resumes after the application deadline on March 10th and schedule interviews the following week.
Business is good, and we need to hire fast. We'll let you know your application's status within 48 hours.
We'll email you throughout the recruiting process, which is set to kick off on March 10th.
Play with the tone of voice, show some personality, speak up about your strengths and have a little fun. Don't be a robot!
We're really good at attracting great talent, don't you think?
The finance team has started writing customer emails – this Copywriting position is about as urgent as it gets!
Acme Company is known for thinking outside the box, and our recruiting process follows suit…
Our company operates with transparency and inclusivity at every level.  So, in that spirit, I'd like to welcome you to Acme Company and tell you everything you need to know about our recruiting process.
A lot of recruiters shy away from providing their contact info, but in today's market, it's recommended to keep the lines of communication open. If you're reluctant to provide your direct phone and email, create one for the department and check it every day.
Use the auto reply letter as an opportunity to expand your following on social media and drive traffic to your career site. You can even encourage applicants to share your opportunities within their own professional network.
We love to stay connected to our candidates. Please reach out to me directly if you have any questions.
If you'd like to learn more about a future at Acme Company, visit our career site at www.acmecompanycareers.web.
Let's keep the conversation going. Find us on Facebook and LinkedIn for industry news, company updates and more.
Our 3 locations (and employees) are growing like wild. Please feel free to share any of our opportunities with your own network.
Thank every candidate for taking the time to apply, submit a resume or inquire about your open positions.
Thank you for bringing your talents to our attention. We will be in touch soon.
We so appreciate your interest in Acme Company and look forward to reviewing your application.
Thank you for taking the time to submit your information. We are thrilled you're considering our company for the next step in your career.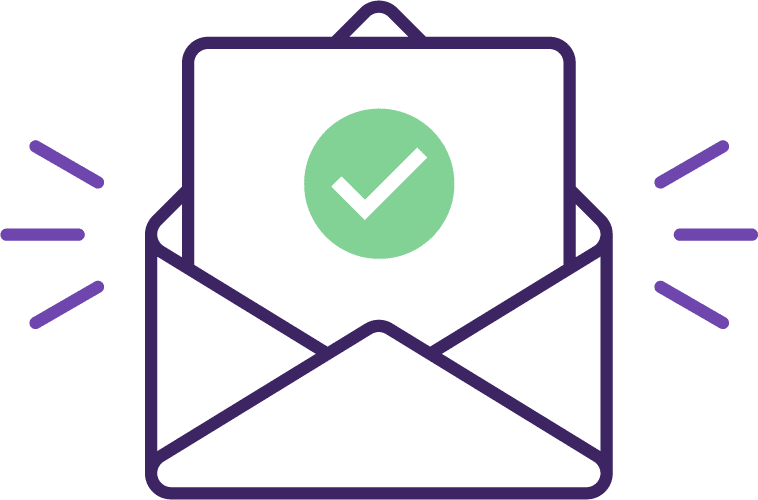 Dear Jennifer,
I'm happy to report that your application has arrived! All of us at Acme Company appreciate your interest in the Sales Lead position and I look forward to reviewing your information in the next few days.
We are targeting to hire by February 1, so keep an eye out for any email updates. We may want to schedule an interview straight away.
Of course, I will keep you posted on your application's status, and thanks to the collaborative team here at Acme Company, we may even consider your talents for another open role in one of our offices.
Thanks for considering us for the next step in your career. If you'd like to learn more about our company, visit our career site at www.acmecompanycareers.web. Please don't hesitate to check out other opportunities while you're there.
Please reach out to me with any questions.
Sincerely,
Katrina Bates
Acme Company Lead Recruiter
kbates@acmeco.web

After creating a job ad, you can select to Send an Auto-Reply Letter so applicants will receive a confirmation that you received their application. Just click the option on your confirmation page and you will be directed to a page where you can enter your letter.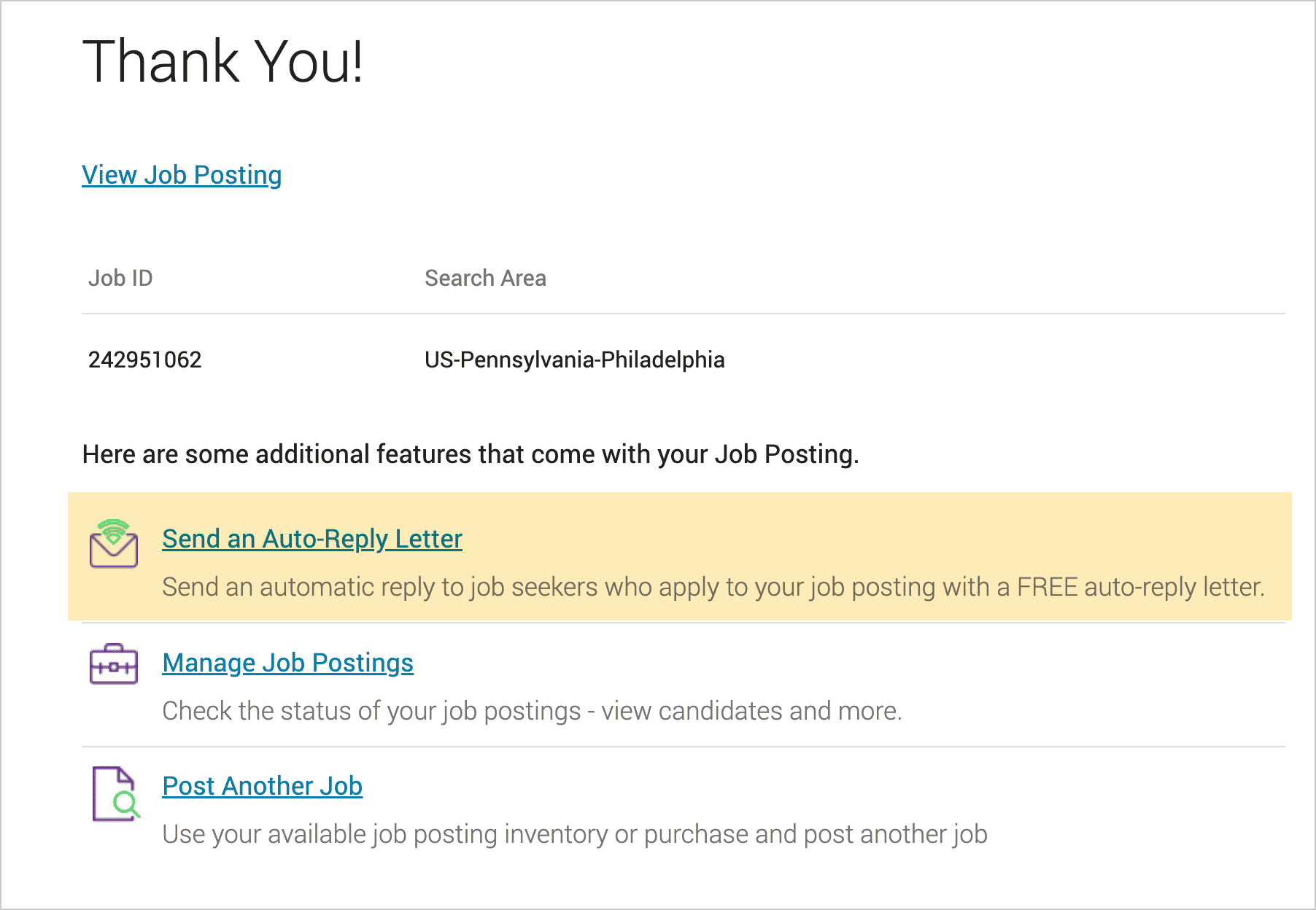 Remember to use SmartFields to personalize the message, and save it to your hiring library for the future.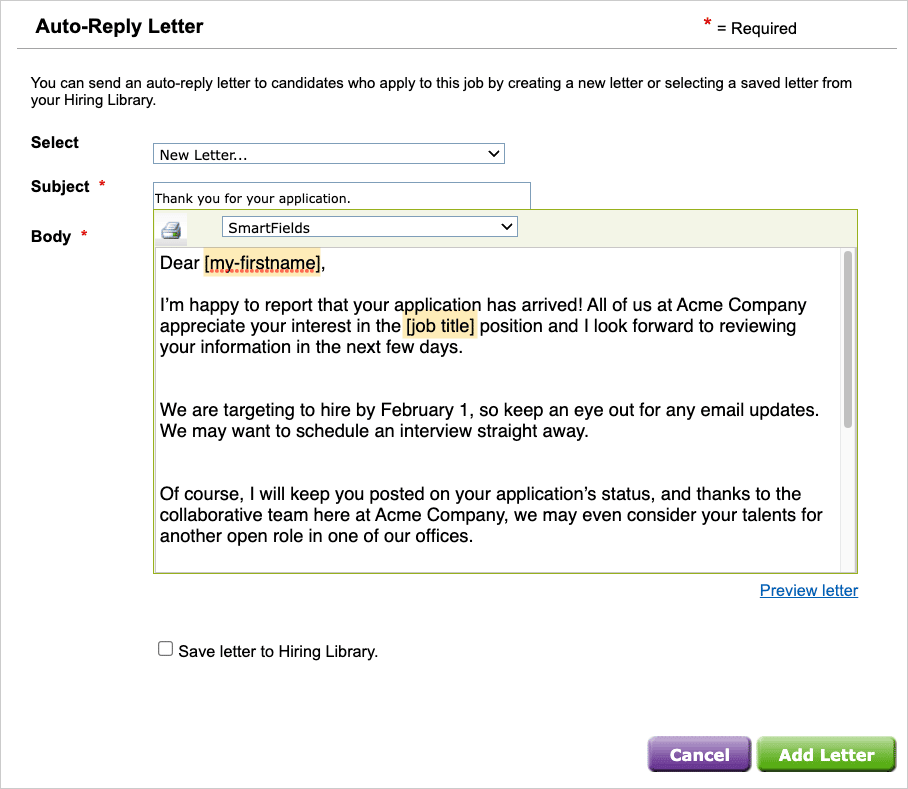 1Monster Research, 2022