Activity Indicator on Monster
For years, recruiters have relied on the "resume updated date" to identify engaged candidates who have recently updated their skills, work history, or contact information. Now, Monster is providing additional insights on candidate activity with the Activity Indicator.

This new add-on feature timestamps when a candidate was last active on Monster to help you focus your efforts, prioritize outreach, and reduce your time to hire. See how you can put this tool to work for you today.
Activity Indicator Defined
Recruiters search high and low for motivated candidates who are actively searching for new opportunities. These candidates know what they want, are quick to respond, and willing to jump into the hiring process at record speed.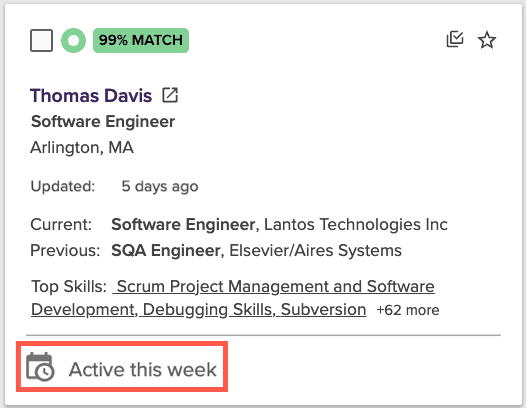 Monster's Activity Indicator identifies these recent Monster users to help you focus your recruiting efforts on the most receptive qualified candidates available. Each candidate is tagged with their last activity date on Monster, so you can engage with the go-getters who are searching for the right fit – right now.

Increase Productivity: See who is most engaged right out of the gate, and easily determine where you should focus your efforts.

Conserve Inventory: Prioritize outreach to only the most active candidates who are most likely to respond.

Reduce Time to Hire: Pinpoint candidates who are motivated and ready to move into their next role – right now.

There are three areas where activity indicators can be included in your Monster Solution. Click each tab to view more details:
The Activity Indicators are displayed on the candidate card so you can identify the most recently active candidates on Monster at a glance.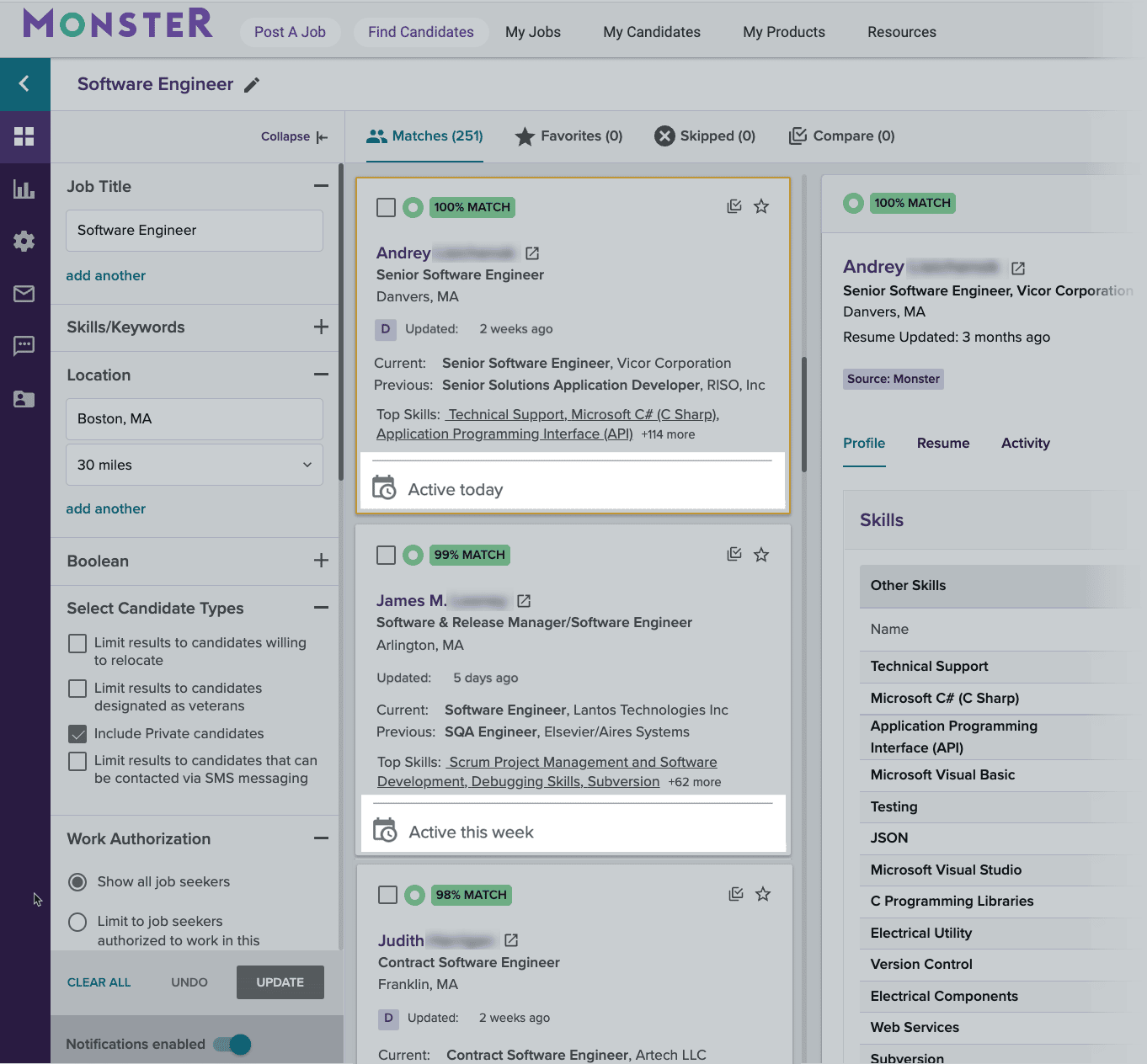 The indicators will present if a candidate was:
Active today
Active yesterday
Active this week
Active within the last week
Active within this month
Active within the last [1/2/3/4/5/6] months
Active more than 6 months ago
Candidates who were active prior to 12 months ago will not have an activity indicator.

If you enable notifications within SearchMonster, you will be notified via email when new candidates match your criteria.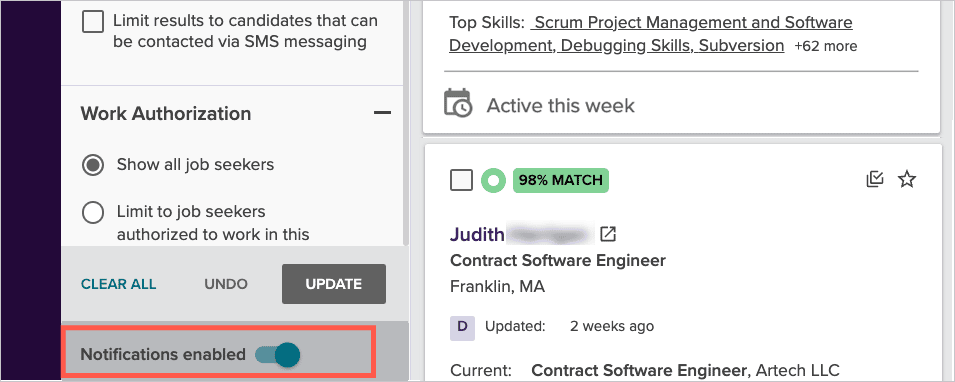 The Activity Indicators are present in the email, showing when each candidate was last active on Monster. The indicators will present if a candidate was:
ACTIVE IN LAST 24 HOURS
ACTIVE IN LAST WEEK
ACTIVE IN LAST MONTH
Candidates who were active prior to last month will not have an activity indicator.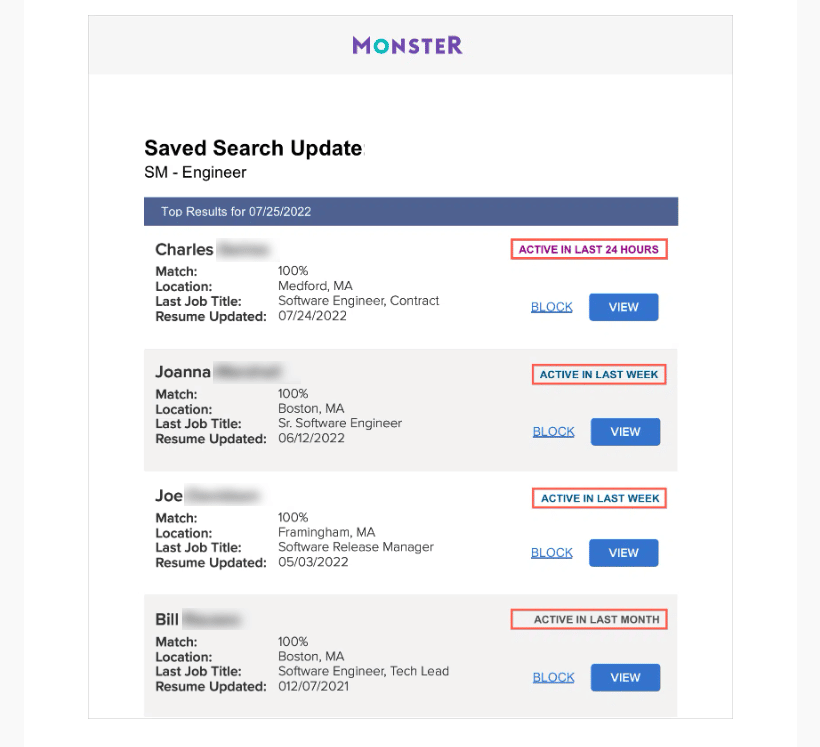 Provide us with the criteria you are searching for and Monster will build the search, and upload matched candidates to an FTP site in .xml format every day. You can then take this file and add it to your ATS.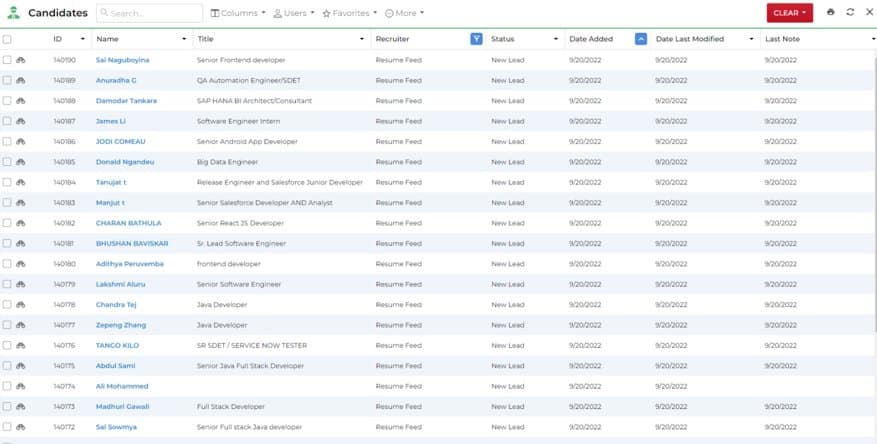 The Activity Indicator is a great way to identify Monster's recently active candidates. And filtering by resume updated date is an easy way to zero in on those with a fresh job search underway. While these features can help you execute a strong search strategy, you don't want to put your blinders on when it comes to top contenders who happen to fall outside of your activity parameters.
Candidates that haven't  been active (today, yesterday, or last week) could still be incredibly responsive frontrunners if the right role were presented to them. People are continuously re-evaluating their career paths, navigating the various stages of their job search, and shifting priorities during major life events. So make sure to create a well-rounded search to include both active and passive candidates.
Let's have a look at a few candidate types to consider:
Job Search Enthusiasts are very engaged, checking in on Monster multiple times per day or week. They may be between jobs or looking to move out of their role ASAP.

Opportunists are comfortable in their current role and don't search around too often, but they'd jump ship at a moment's notice for that dream job.

Causal Candidates are open to viewing new opportunities in their inbox but they are not actively searching online.

­­­Reactionists are ready to course correct any challenges that impact their current position, including economic fluctuations or company instabilities.

Interested in adding the Activity Indicator
to your Monster Solution?
Contact your Monster Sales Representative, or call 1-800-MONSTER.