7 Mobile Recruitment Best Practices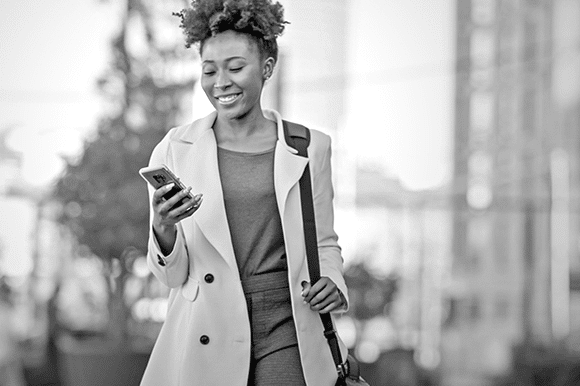 Like it or not, we live on our phones. It's how we access entertainment, connect with friends, keep up with the news, and play silly games to unwind from the stress of work. So, if you want to capture the attention of job seekers and prompt them to apply for their next great opportunity, you need to implement mobile recruitment tactics that meet them where they are: on their smartphone or tablet.
Today's job seekers expect to not only view job postings seamlessly on their mobile devices, often via social media, but to be able to apply for them from the same device quickly and easily. It's estimated that nearly 90% of job seekers use mobile for at least some of their job search activities. Enabling these candidates to complete your application process on their mobile devices can increase applications by 11% and prevent the very real possibility that you might lose their attention in the gap between seeing an intriguing opportunity on their phone and sitting down to apply for it on a computer.
This is how recruiting works now—at a fast pace and in an entirely digital space. To stay competitive, employers need to commit to a new agile recruiting landscape and implement digital recruitment best practices.
What Is Mobile Recruiting and Why Do You Need It?
Mobile optimized recruiting allows candidates to complete the initial steps of your application process using mobile devices, such as smartphones or tablets. It requires that your job posts, company website, online applications, and pre-interview screening tools be optimized for mobile viewing and interaction with your application tracking system (ATS).
Ideally, applicants should be able to complete every step of your hiring process up to the interview phase on a mobile device rather than a laptop or desktop. Why is this so important? You want to make it easy for job seekers to find you when they aren't sitting at their laptop or desktop working at their current role. You want to engage potential candidates when they are on the move with time on their hands and thinking about their next career move.
A mobile recruitment initiative that provides mobile application options can improve your employer brand by demonstrating how forward-leaning you are when it comes to tech. Failing to provide mobile-ready capabilities might even lose you applicants who are actively looking for new roles as it can make your recruitment practices seem out of date. The seven steps below can help you update your hiring process and implement mobile recruiting best practices.
1. Implement Mobile-responsive Design
Mobile-responsive design ensures that your company's website, job listings, and application forms will automatically adapt to fit the size of whatever screen your potential applicant is looking at, whether it's a computer screen, tablet, or smartphone. As a bonus, incorporating responsive design into your mobile recruitment strategy will automatically bump your company website and your job posting's search engine ranking since search algorithms, such as Google, rank results that are optimized for mobile viewing ahead of those that aren't.
2. Create Mobile-friendly Job Posts
Your job descriptions should be clear, concise, and formatted so that they are easily scrollable on a mobile device. If your job post looks overly exhaustive on your computer screen, just imagine how daunting it will look on someone's phone.
Pare your job descriptions down and keep them current. An overly comprehensive list of responsibilities and required attributes is more likely to dissuade qualified candidates, especially women and other underrepresented applicants, from applying than it is to attract them.
3. Create Mobile-accessible Application Processes and Forms
At the beginning of your hiring process, ask applicants if they prefer receiving communication via email or text. Many ATS allow you to use both to correspond with candidates. This is a great way to make sure you don't lose candidates who are currently employed and may have less ability to check email during their working hours. Text messaging is not only more convenient for many applicants, but it is also more likely to keep you top-of-mind.
In addition to making sure your online application forms can be filled out using a mobile device, you should also use this revision period to update and scale back your application requirements. A time-intensive application process can cost you top performers. Many applicants will simply abandon an overly complex or tedious online application halfway through. Experts suggest you test drive your application process from your smartphone to make sure it can be completed in less than five minutes.
4. Use Social Media for Recruiting
Optimizing your use of social media can improve your reach and be beneficial for targeted recruiting and pre-offer vetting. Targeted recruiting of passive applicants on professional and sector-specific social media can be a particularly effective way to encourage career-focused top performers to apply.
As for active applicants, 80% of job seekers use social media in their job search. Younger workers are particularly apt to respond to and share work opportunities on social media, which makes social a great option for creating effective new graduate recruitment efforts and targeting students who are training to work in your sector.
5. Maximize Mobile On the Hiring Side
Making sure your mobile recruitment process is accessible and seamless on the hiring side can be especially helpful if you are conducting your search via a hiring committee. When multiple decision makers need to sign off on potential applicants at multiple steps, mobile access allows stakeholders to view materials and share input on any device at whatever moment they have time to do so.
6. Use Geo-targeted Advertising and SEO-optimized Job Posts
If you have roles that are site-specific, including hybrid positions that require candidates to be in the office for a certain amount of time per week or per month, you can create highlighted job listings for candidates applying from specific geographic areas.
You can work with employment experts or even internal search experts from your marketing team to make sure that for every new role, you create a job post that incorporates search engine optimization (SEO) practices. By ensuring that your job post is among the first that appears when a qualified candidate searches for new jobs on the internet, you can increase the number of candidates applying for your open roles who have the qualifications you need.
7. Schedule Regular Audits and Updates
Assess every aspect of your mobile recruitment strategy on a regular basis. Given how quickly technology is updated, these internal audits should take place every six months or at the very least annually. You can have employees test drive your process or hire outside consultants to serve as test users. Use the data you collect from audits to build a list of planned updates and upgrades with target completion dates for each.
Attract Today's Top Performers With Mobile Recruitment Processes That Appeal to Busy Job Seekers
Keeping up with today's top candidates means embracing an adaptable mindset and implementing mobile-friendly application processes that work from anywhere, just like the workforce you're hoping to attract.