7 Social Recruiting Mistakes to Avoid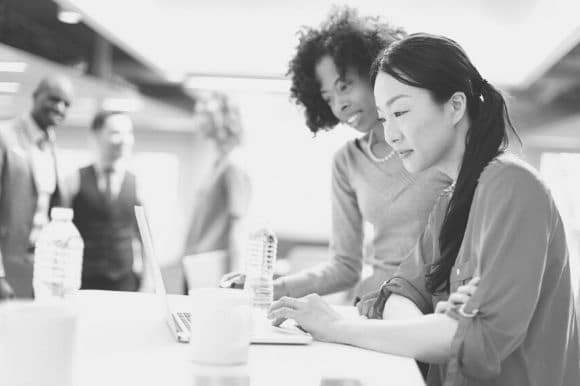 Social recruiting involves the use of social media to promote your company, announce job openings, and engage with candidates. A top-notch strategy will help you reach the right candidates for the role, expand your hiring pool, and show off your employer branding.
So, how do you do that? It takes time to research best practices, so we did it for you. Here's how to avoid common mistakes and create a strategy that attracts the talent you need to make your business even more successful.
The Advantages of Social Recruiting
Before we get into the most common mistakes, let's explore the main reasons for implementing this recruiting tactic.
Reach Your Target Demographic
When you create social media ads and promoted posts, you can specify your target demographic, so they get seen by the right people. If you want to reach executives, for example, you could set the audience as people over 30 years old who follow or like similar businesses.
Increase Your Candidate Pool
When you post your job descriptions on social media, you can reach more candidates. Encourage your employees and people in your professional network to share your job openings on social media so even more people see that you're hiring.
This recruiting strategy gives you the chance to connect with passive candidates—people who aren't actively looking for a job but may apply if it seems like a good fit. This is the best way to reach passive candidates because they are unlikely to scroll through listings on popular job boards or check company career pages.
Strengthen Your Employer Brand
This recruiting strategy also gives you the opportunity to boost your employer brand, which is your reputation as an employer. Ask your social media manager to post behind-the-scenes photos from the office, interviews with team members, glimpses of team-bonding events, and anything that shows off your strong company culture.
The Most Common Social Recruiting Mistakes (and How to Avoid Them)
Now that you know the benefits of recruiting through social media, you're ready to set up your strategy. Here are the seven most common mistakes and what to do instead.
1. Not Reaching the Target Audience
Use the social media platforms that the ideal candidate for the role is likely to use. For example, if you're hiring for an internship or entry-level position, you're likely to find college students and recent graduates on platforms like TikTok, Snapchat, and Instagram.
2. Failing to Engage With Job Searchers
Use social media to engage with your followers. When people respond to any of your posts, especially your job openings, keep the conversation going.
When someone asks questions about the job opportunity, other roles at your company, or lets you know they applied, ask your social media manager to message them and connect them to the recruiter or hiring manager.
3. Neglecting Your Network
One of the best ways to strengthen your social recruiting strategy is to encourage your team members to share job openings on social media. If you have room in the budget, offer an employee referral bonus to team members who recommend someone who ends up being hired.
Make it easy for team members to post about your brand on social media by using an employee activism platform. Your employees will get emails with sample content that they can post on their social media channels with one click. Your social media manager could create sample posts about company news, accolades, recent company events, blog posts, and anything that shows off your strong company culture.
4. Only Posting Job Openings
If you only post your job openings, passive candidates are unlikely to follow. Ask your social media manager to focus on creating posts that strengthen your employer branding and show your company's value proposition. They could share photos from recent team events, press mentions, discounts, and glowing customer or client reviews, for example.
You could also share content that is helpful for people who apply to work at your company. For example, you could have a recruiter share information about your hiring process, what makes a resume and cover letter impressive, and advice for a successful job interview.
5. Not Using Popular Hashtags
When you're using a social media platform that uses hashtags, use them strategically. It's helpful to use commonly used hashtags for your industry, the role for which you're hiring, and hashtags used by job searchers. You can attract candidates with hashtags such as #jobsearch, #jobopening, #jobposting, #jobhunt, #jobs, and #hiring.
6. Posting the Same Content on Different Platforms
Go the extra mile with your social recruiting strategy by customizing your posts for the platform. For example, if your social media manager is posting on Snapchat, TikTok, and Instagram, it's beneficial to post videos. Make sure your content stands out—in a good way—by making creative content that mirrors the types of posts people make on the platform.
7. Ignoring Social Media Metrics
Be sure to make decisions based on your social media metrics. It's helpful to track metrics like engagement, reach, impressions, audience growth rate, and click-through rate.
If you notice that certain posts have high engagement, reach, and impressions, post similar content. If your audience growth rate surges, try to identify the cause so you can keep up the momentum.
Optimize Your Recruitment and Retention Strategies
Now you know the benefits of social recruiting and best practices for setting up a strategy that will enable you to zero in on the right candidates for the role, expand your candidate pool, and boost your employer branding. You're off to a great start, but there is more you can do to optimize your recruitment and retention efforts so you can build a successful team. Stay in the know by signing up to receive more expert HR advice from Monster.