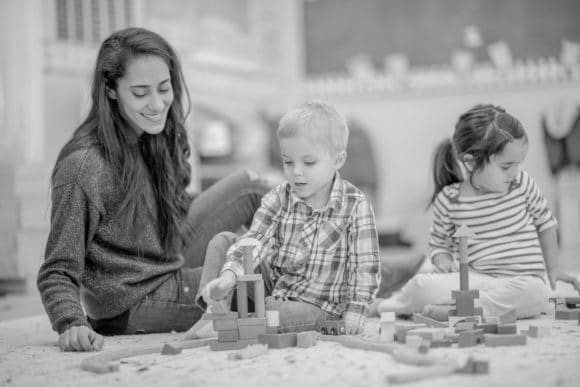 Parents count on nanny agencies to find someone they can trust with their kids. If you work for a nanny agency, you know how rewarding it is to find the perfect fit for a family. Even though your email inbox is filled with messages from prospective clients because parents and nannies rave about you to their friends, hiring a nanny for your agency is not easy.
Although being a nanny can be fun and enriching, it's not child's play. It's your job to find a nanny who can handle the day-to-day childcare responsibilities, from spending the day at the playground to planning fun playdates. It is just as important to make sure every nanny is responsible, trustworthy, organized, empathetic, positive, hard-working, and energetic.
So, how do you find that perfect fit that feels like family? The following steps will help you hire a nanny your clients (and especially their children) will love:
Understand your needs
Write customized job descriptions
Screen applications
Ask revealing interview questions
Check references and do background checks
1. Understand Your Needs Before Hiring a Nanny
Does your firm work with a wide variety of clients with different needs? For instance, children with autism spectrum disorder (ASD) will need extra support and insight into their needs; some nannies may be asked to live with the client family; and most nannies are expected to have a clean driving record. Also, different age groups may require different personalities and energy levels.
Other considerations you may want to jot down include:
CPR certification and knowledge of first aid
Proficiency in a second language
Experience caring for infants
Approach to discipline
Willingness to perform light housework
2. Customize the Job Description for Each Family
Next, you'll want to work with each family to write a job description that clarifies the role, responsibilities, and requirements. By tailoring the job description to each family's needs, you'll attract nannies who are qualified for the role and excited about the opportunity.
Start with a short summary describing the role and the family. Include details such as:
The number of kids and their ages
Hours and schedule
Hourly rate and any benefits
Whether it's a live-in or live-out role
Kids' personalities and interests
Applicable health concerns or behavioral issues
Family values
Next, list the main responsibilities so the nanny knows what to expect and can determine if they're interested in the position. Depending on each family's needs, a nanny might care for young children during the day, handle pick-up and drop-off for school-aged kids, take the kids to activities, buy groceries and run errands, cook for the kids, and travel with the family.
In the requirements section, it is helpful to separate the required qualifications from the preferred ones because some nannies will only apply to a job if they meet all the requirements. While it might be necessary to have child and infant CPR and first aid certifications and a clean driving record, speaking a second language or having an undergraduate degree might be a plus.
Before hiring a nanny, have candidates submit two or three professional reference letters along with their resume, so you get a feel for their soft skills and values.
3. Screen Applications to Find Top Contenders
After you post the job description on a job board and your agency's website, it's time to sift through resumes and references to find the right person for this family. Accelerate the process by using an applicant tracking system (ATS) and resume screening technology to filter for keywords from the job posting, like live-in nanny, full-time nanny, and travel.
When you're setting keywords and reviewing resumes and references, focus on the skills and responsibilities a candidate gained at each job. Hiring a nanny requires an open mind, as candidates may have transferable skills from other roles such as being a babysitter, camp counselor, or teacher. A hard-working candidate with a growth mindset can quickly learn new skills and adapt to working with a family full-time.
The last step of the screening process is to conduct phone interviews. A short call should help you to evaluate soft skills every nanny needs, such as being personable, professional, and a strong communicator. Even though it is in the job description, this is an opportune time to discuss relevant details like the pay, benefits, hours, and live-in accommodations so the nanny can decide if they want to move forward.
4. Ask Insightful Questions to Select the Right Nanny
A longer interview process gives you a chance to learn more about a nanny's experience, skills, and professional values so you can determine if they're that perfect fit. Many nanny agencies will have a more extensive in-person or video interview with each candidate before introducing them to the family directly.
An important aspect of hiring a nanny is to ask revealing interview questions. Here are some examples of questions that you and your clients can ask to choose a nanny:
Please tell me about some of the families you've worked with in the past. How old were the kids?
What were your responsibilities? How long did you work with each family?
What skills and qualities make you a great nanny?
How would you handle an emergency?
What would you do if a child got sick?
Why do you want this nanny role?
Would you be comfortable doing a background check?
5. Check References and Run Background Checks
Be sure to call references and conduct a background check before hiring a nanny. You need to know that the nanny is trustworthy, responsible, and not a potential liability for your firm. Even if you have a "good feeling" about a candidate, it's always important to do your due diligence.
Here are some questions you may want to ask references:
How long did the nanny work with your family? What were the nanny's responsibilities?
What are the nanny's strengths and weaknesses?
How would you describe the nanny's personality and values?
Would you work with the nanny again? Why or why not?
Would you have any concerns about recommending this nanny to a friend or family member?
Is there anything you think I should know?
Now That You Know How to Hire a Nanny, You're Ready to Post a Job
You've learned the ABCs of hiring a nanny who is a perfect fit for a family. There's only one thing left to do: Post a job for free on Monster to start the search.