5 Ways to Boost Your New Graduate Recruitment Efforts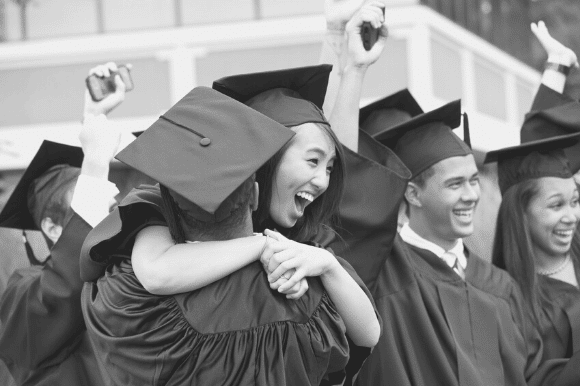 Each year, the country's top employers receive mountains of resumes from recent college graduates. With an average of 4 million students graduating each year, a virtual avalanche of digital resumes can make their way to employers of all sizes and sectors.
How do you wade through your inbox to find the most talented new graduates hidden among all the other entry-level applicants? First, you learn from the best, and the best don't wait for the right candidates to come to them each June. Instead, they develop new graduate recruitment strategies to engage them well ahead of graduation.
Successful employers meet the strongest, most sought-after candidates where they are: on social media, on campus, and in the market for internships prior to graduation. The following five steps can help strengthen your new graduate recruitment strategy, improving your chances of hiring the best new graduates available.
1. Up Your Social Media Game
Most employers routinely scour candidates' social media accounts as part of their screening process. But an increasing number use social media platforms to engage with undergraduates. Social media is an effective, efficient, and inexpensive way to expand your company's profile with younger audiences.
Snapchat is the number-one social platform among Gen Z. You should also consider hosting live programs on LinkedIn, joining industry pages on Twitter and Instagram, or posting informative career-focused videos to YouTube. Be strategic. Don't try to do everything at once. Instead, ask your younger employees how they learned about your company and what prompted them to apply.
Highlight new accomplishments, explain how your product is made, and respond to comments and direct messages in a polished, professional, but enthusiastic tone that reflects your workplace culture.
2. Collaborate with College Career Centers
Develop relationships with universities and colleges near you. Use sources like the National Center for Education Statistics to determine which institutions have strong programs in your field, and then reach out to their career centers. You may also choose to sponsor campus events focused on issues within your industry or offer to have top executives speak at forums or panel discussions.
Forming relationships with administrators and faculty will encourage them to recommend their top graduating students to you. Working with career centers or academic programs to set up internships can help create a pipeline of motivated students who just might end up being top performers down the line.
3. Emphasize Your Company Values
Gen Z is the most ethnically diverse generation yet, and this includes college graduates. Research points toward Gen Z being more values-focused than previous generations. But this doesn't mean that they all have the same values. For some graduates work-life balance will outweigh sustainability; for others, a workplace that offers ample opportunity for community engagement may be more appealing than a few extra dollars a week in their paycheck.
The trick is to be authentic and clearly communicate the values that matter to your organization. Don't try to pander to theirs. Today's graduates are savvy, and one thing they won't find appealing is inauthenticity. Instead, use platforms like Snapchat to highlight what makes your company special with creative stories about community service projects or sustainability initiatives.
4. Emphasize Your Training Process, and Be Specific
The more specific you can be about the roles you're developing your new graduate recruitment process to fill, the more likely you are to get entry-level candidates who will get up to speed quickly and stick around for years to come. This approach will discourage applicants who aren't looking for what you're offering. Be very clear about what skills you're seeking with detailed job descriptions that outline what the job is, what kind of candidate you are seeking, and what the hiring process involves.
During the hiring process let prospective candidates know what to expect during their first year on the job. Today's graduates tend to look for and expect more feedback from supervisors than previous generations, so explaining what your employee development and engagement programs consist of will help strengthen your recruiting strategy.
5. Develop New Graduate Recruitment Options with Short-term Offramps
Though only a small percentage of graduates currently opt for fellowships or similar short-term employment options during the first six months after graduation, evidence suggests more young workers would do so if more were available. Offering paid post-graduate internships or fellowships allows employers to get a better sense of which new hires will work out in the long term.
Without much of a work record, it's hard to make permanent hiring decisions based almost entirely on new graduates' potential as evidenced by a one-page resume and a couple of interviews. For just-graduating job applicants, it can be stressful to make a long-term commitment during one of the most drastic periods of transition they will ever face. A limited work commitment leaves them—and you—with multiple options.
If things go well during the trial period, they can accept a permanent offer from you. Many talented temporary hires will opt to go to graduate school, but that's ok too. If they have a good experience, they're likely return to you when they complete their studies, more credentialed than they were before.
Get the Tools You Need to Develop a Successful New Graduate Recruitment Process
Today's graduates are entering a quickly shifting job market, one that will make it harder than ever for employers to find and attract the right candidates for the right opportunities. Monster's New Grad Hiring Guide can help employers navigate the uncertain road ahead.