Creating a Mobile Marketing Recruitment Strategy: 7 Steps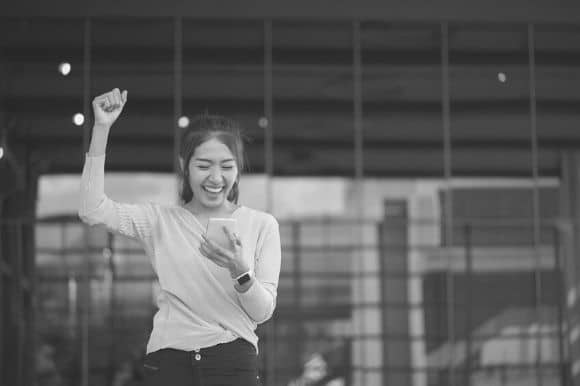 People spend hours on their smartphones or tablets each day. It makes sense that many people want to find and apply to jobs from their mobile devices, especially if they're surreptitiously applying during their lunch break. That means it's essential to have a strong mobile marketing recruitment strategy.
As the name implies, it's about using mobile technology to recruit candidates. Fortunately, these recruitment tactics will also make the hiring process more efficient and convenient for candidates, recruiters, and hiring managers.
Take these steps to make your hiring process mobile-friendly:
Use social recruiting strategies
Create mobile-friendly job applications
Optimize your website for mobile
Text message candidates
Evaluate applicants from a mobile device
Conduct virtual interviews
Send and sign a digital offer letter
1. Use Social Recruiting Strategies
Many potential candidates spend time scrolling through social media posts on their mobile devices, so social recruiting is an important component of any mobile recruitment strategy. Social media is a great way to reach both active and passive candidates.
Ask your social media team to share job postings and content that promotes your company's products and services, such as sales, customer reviews, and press mentions. Encourage them to also share posts that strengthen your employer branding, which is your reputation as an employer. For example, they could share employee testimonials, photos from the office or team events, and other content that shows why your company is a great place to work.
Another benefit of social recruiting is that you can use targeted ads to make sure your target demographic sees your job postings. If you are hiring for an entry-level position, for example, you could target people between the ages of 18 and 25 and those who follow or like similar businesses.
2. Create Mobile-Friendly Job Applications
To have a strong mobile marketing recruitment strategy, you need to post your job descriptions on popular mobile-optimized job boards. Job seekers won't want to fill out long forms from their smartphone or tablet.
The best job boards let job seekers simply upload their resume and cover letter and answer any necessary demographic questions. You're likely to have more applicants on both mobile and desktop if candidates can complete your application quickly and don't need to answer a lot of questions or complete any assessments.
3. Optimize Your Website for Mobile
After applying, candidates will want to check out your company website to learn more. You'll have a stronger mobile marketing recruitment plan if your site has a responsive design. That means your website will automatically adapt to fit the size of the computer, tablet, or smartphone screen. (It's a better user experience and your site is likely to get more traffic because search engines typically favor responsive websites.)
Impress candidates by using your website to improve your employer branding. For example, you could share your company history, employee bios, and the benefits and perks you offer. Promote your company culture by describing your company values and mission, commitment to diversity and inclusion, and professional development initiatives. Additionally, consider featuring short written or video employee testimonials on your "career" page.
4. Text Message Candidates
Let candidates choose whether they want to receive emails or text messages throughout the hiring process. It's likely you will have a higher open rate and a faster response time with text messaging, making it a mobile marketing recruitment strategy must-have.
Some applicant tracking systems (ATS) let you send automated email and text message templates throughout the hiring process. Consider using text messaging to schedule and confirm interviews, reserving email or phone calls for more formal conversations like rejections and job offers.
Use a scheduling platform to schedule interviews, allowing candidates to see when you're available and select a time or recommend alternatives. You can also send automatic calendar notifications and reminders.
5. Conduct Virtual Interviews
Candidates no longer need to travel to your office for the interview, even if the job itself is on-site. Make your interview process more convenient by giving candidates the option to have video interviews. Choose a videoconferencing platform that lets people join from mobile and desktop.
It can also be more convenient for your team if you have a hybrid workforce or multiple offices, and essential if you have an all-remote team. Remind your team members to check their sound and video quality beforehand and to make sure they are in a professional setting. Just as with an in-person interview, they should also prepare by reading the candidate's resume and cover letter in advance and preparing insightful interview questions.
6. Evaluate Applicants From a Mobile Device
This mobile marketing recruitment step will make the hiring process more efficient for recruiters and hiring managers. Choose an ATS that has an app or a responsive website so they can manage the hiring process from their smartphone or tablet.
Most of the software options let decision-makers share interview notes and feedback. They can decide who to hire without turning on their computer once.
7. Send and Sign a Digital Offer Letter
After making a verbal offer, it's beneficial to send an offer letter for your new hire to sign. Instead of requiring your new hire to print, sign, and scan the documents, use electronic signature software.
Your lawyer may recommend that you include the job title, main responsibilities, salary or hourly rate, benefits, manager, start date, and hours. They may suggest that you specify the end date for temporary roles and note that it's an at-will position for permanent roles.
Implement Your Mobile Marketing Recruitment Strategy
Now that you know how to use mobile technology to recruit candidates and make the hiring process more efficient, you're ready to get started. Reach qualified candidates quickly with a free job posting on Monster.