Find Top Talent Through Social Media Recruiting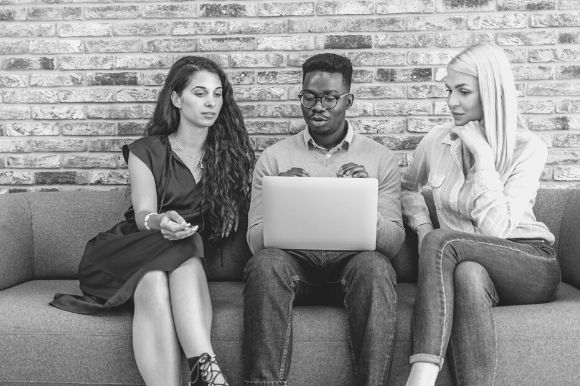 Millions of potential job candidates have posted profiles on social media sites, including both personal and professional networks. The online dossier of a given worker grows along with their professional accomplishments (and personal factoids), regardless of whether they purposely curate their online presence. Social media recruiting is the process of leveraging this insight.
For many recruiters and hiring managers, the existence of online candidate information and the ease of accessing it seems to provide a wealth of knowledge and an endless pool of potential job candidates. However, this presents questions for employers, such as:
How should recruiters represent us online?
Is our company's employment-based social media presence adequate?
What kind of information is relevant to the recruitment process and what can be ignored?
If you're not using social media to engage with potential candidates or research applicants, then now is the time to update your recruitment procedures. Below are some points for employers and recruiters to consider as they begin their social media recruiting process.
Why Social Media is Such a Powerful Recruitment Tool
Not only are social networks powerful tools for promoting your company and sourcing top candidates, they also are overtaking many of the more traditional recruiting venues. Percentages vary by source, but most surveys and estimates show that roughly 80 percent of job seekers and more than 90 percent of recruiters already use social media for employment purposes. This means your competitors are finding candidates you're missing if you're not also using this method.
There are numerous benefits to using social media, both mainstream and professional networks, as an integral part of your recruiting and screening process, including (but not limited to):
Higher job visibility. With billions of active social media users worldwide, virtually all of your potential candidates are on at least one popular social network. Even if they don't follow your company's profile, one of their connections may see your job listing and forward it to qualified individuals.
Opportunity for branding. Social media recruiting also presents an opportunity to build your employer brand, allowing you to market your place of employment beyond a simple listing on a job board.
Better candidate targeting. Depending on the network, you can target your job ads to specific niche groups in a way that attracts the right candidates without appearing "spammy" or desperate.
Ability to screen candidates. While it's sometimes controversial to look into the personal lives of candidates on their social networks, it can also help you gauge their professionalism, maturity, and sense of ethics. Professional social networks, meanwhile, serve as online resumes.
Greater efficiency. The "always-on" nature of social networks, the speed at which people tend to engage on them, and the shareability of posts can work to your advantage by shortening the time (and cost) of recruiting, screening, and ultimately hiring employees.
Social Media Hiring: Getting Started
Social media is one of many recruiting tools at your disposal and should be integrated in a way that enhances your other tactics. For example, you could encourage existing employees to promote job openings on their social media feeds in correlation with referral bonuses. You could also promote your social media channels in print and other offline platforms.
If your company already has a social media manager, you could leverage their expertise by including them in your recruitment efforts. Otherwise, you'll want to take the time and effort to learn about social media metrics so you can get a sense of how effective your efforts are and make adjustments as needed.
Of course, you'll need to create social media accounts to get started. But, before you even get to that point, it's important to take a moment to determine your goals, decide which social networks make the most sense for your recruiting efforts, make (and stick to) a detailed deployment plan, and be sure all of your social media channels funnel candidates into a single bucket.
Social Media Recruiting Strategy Basics
Social networking companies have made their sites so easy to use that it's tempting to jump in without properly planning your strategy. As long as you've taken the time to really understand the benefits of social media hiring strategies, your next steps will include:
Targeting key sectors
Determining your message and tone (which may vary for different networks)
Managing your social media marketing plan
Measuring results using metrics
Readjusting as needed
One key piece of advice is for recruiters to be aware of their tone on social media. For example, rather than aggressively recruiting candidates for specific positions, they can discuss the state of the employer's industry, share "day in the life" profiles, or use other, more-subtle approaches to attract top prospects. Considering the concept of the recruitment funnel, it's not necessary to solicit applications right out of the gate.
For instance, you could say "I'm happy to welcome to our team so-and-so, who's an expert in such-and-such," in order to connect with other members doing related keyword searches. This can help you promote your company's successes in a manner that's not overly promotional but increases awareness of your employer brand.
Legal Considerations of Online Information
Once candidates are in your hiring pool, it's tempting to search social media sites (and the web in general) to see what comes up. But the mix of public, private, professional, and personal information that can be found online must be used with abundant discretion, if at all. For instance, learning about a candidate's pregnancy could open you up to claims of discrimination if that person isn't hired and they suspect their pregnancy was a factor in the decision.
Regardless, any pertinent information you glean from your social media recruiting efforts should be verified to avoid liability, since misuse can lead to infringement of privacy or unintentional discrimination. When considering information about a candidate found on a social network (or anywhere online), it's important to consider whether:
The information is relevant to job performance
There is a legitimate and legal reason to discount a candidate based on the information posted online
Still, you may question the judgment of candidates based on certain personal postings. Online evidence that a candidate celebrates their abuse of alcohol online, for instance, is hard to ignore. If information you find online suggests a candidate lacks the self discipline or judgment for the job, then you're free to reject that candidate accordingly as long as you don't factor in any legally protected characteristics, such as race or gender.
Make Social Media Recruiting Part of a Larger Strategy
In the age of social media, the tools and platforms available for sourcing, screening, and hiring candidates have only multiplied. Still, every successful hiring strategy includes multiple tactics. Expand your talent reach with free expert recruiting advice, the latest hiring trends, and more.
Legal Disclaimer: This article is not intended as a substitute for professional legal advice. Always seek the advice of an attorney regarding any legal questions you may have.