How to Hire an Office Manager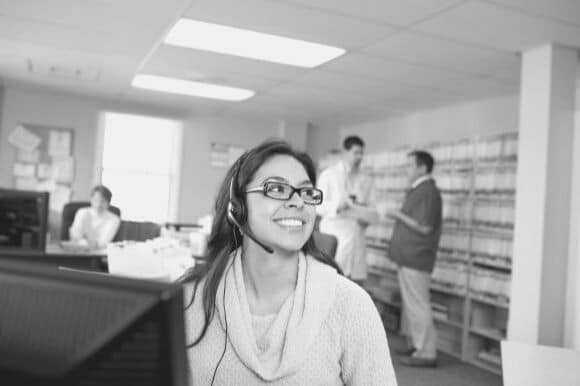 Knowing how to hire an office manager will help you find someone who can manage schedules, order supplies, and tackle any other tasks that will help your organization run smoothly. It will also help the rest of your team focus on what matters most: growing your business.
In this article, we explain how to:
Decide which hiring needs to prioritize.
Write an office manager job description.
Screen applications and narrow your candidate pool.
Ask effective interview questions.
This way, you can be sure to hire the right fit. Here's what to do.
1. Decide Which Hiring Needs to Prioritize
Before you hire an office manager, list out all the tasks the employee will take on and the type of candidate that would make a good fit for your team. For example, will the office manager be ordering office supplies and setting up calendar invites? Or will they be customer-facing, such as posting on social media and interacting with customers? Being able to answer questions like these will make it easier to find good-fit candidates.
When deciding how to hire an office manager, start by sorting out:
Which teams your office manager will be supporting and how.
What daily tasks you expect them to take on.
What experience will ensure they succeed in the role.
Whether there are any required skills, areas of study, or education levels.
How you will measure their success in the role.
You should also decide early in the process which hard and soft skills you expect the office manager to have, including:
Strong written, communication, and leadership skills.
Ability to problem-solve for a variety of challenges.
Comfortable working with and supporting others.
Impeccable organizational skills.
Ability to work independently with minimal supervision.
2. Write an Office Manager Job Description
After you understand the needs of the position, it's time to create an office manager job description. This is a document you can post on popular job boards to advertise the open position and what you're looking for. Writing a compelling job post will ensure qualified candidates reach out to your team for consideration.
Effective job descriptions include:
A summary of the open position and what the job entails.
Information about your company and culture.
A detailed list of the daily tasks the office manager would take on (organizing meetings, taking notes, filing paperwork, etc.)
Whether the position is a full- or part-time role, and the hours.
Which benefits and perks you offer employees (healthcare coverage, wellness stipends, etc.).
The required skills and education levels.
How to apply for the position or get in touch with your hiring manager.
Once the job post is complete, upload it to job sites where office managers search for open positions so you can be sure the right people find it.
3. Screen Applications to Narrow the Candidate Pool
After you post the job description, you will have applications to sort through. Though you can sort them by hand, it will save you valuable time and resources if you have an application-screening process in place.
For example, many people use an applicant tracking system (ATS), which can be programmed to weed out candidates based on the keywords you want it to scan for in the application. Say you are hiring an office manager for a home decor store, and you want to hire someone who has a background in interior design. You can have the system pull up only applications that have keywords like "interior design," "home decor," and "interior designer."
Also, have applicants submit extra information that is helpful in the screening process, such as a cover letter detailing their interests and experience. Include the instructions on your job description.
4. Ask Effective Interview Questions
One of the final steps to learning how to hire an office manager is knowing how to conduct an effective interview. Interviews are one of your greatest tools for getting to know a candidate, and asking the right questions will make it easier to choose whom you hire.
There are several types of interview questions you can ask. For example:
You could start by asking questions that break the ice and make the candidate feel comfortable, such as "What interests you about customer service?" or "What interests you about our company?"
Next, ask questions that reveal whether the candidate has the necessary customer service skills and experience, such as "When is a time you had to organize several schedules at once?" or "What's your process for taking, organizing, and distributing meeting notes?"
You can also ask a range of behavioral and situational questions to see how the candidate would react to different scenarios, such as "What would you do if a customer called and was unhappy with our service?" or "How would you react if several people were making demands of you at once?"
Always end your interview on a positive note by asking the candidate if they have any questions for you and thanking them for their time. Additionally, interview checklists are a great way to ensure you cover everything and keep the interview on task.
Now That You Know How to Hire an Office Manager, Find Great-Fit Candidates Fast
Knowing how to hire an office manager means you're one step closer to finding your next great employee. All that's left is to start your search today with a free job posting on Monster.