What is Human Resource Management?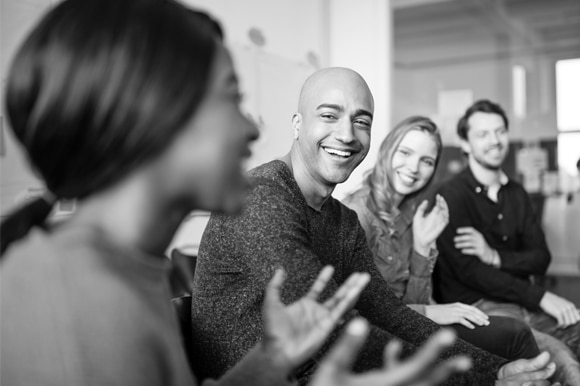 Today's human resource professionals aren't just benefits administrators or paper pushers. They're revenue drivers. After all, their sole focus is every business's
Workplaces with high levels of engagement enjoy 23 percent higher profits than those with low levels of engagement, and it's an HR manager's job to facilitate every aspect of the employee experience to maximize engagement from talent acquisition and onboarding to professional development to offboarding, and everything in between.
Modern human resource management is focused on the elements of employee management most likely to affect your bottom line: talent acquisition, retention, and engagement.
HR Management: Getting Started
A small company may have a single HR professional overseeing all HR functions. At larger organizations, HR is likely to be a multitiered department with individual managers focusing on various aspects of human resource management, including talent acquisition, compensation and benefits management, labor relations and union negotiations, engagement and training, and employee safety and government compliance.
But what if you're a startup or local retailer with a small staff? Is it possible to function efficiently and legally without a dedicated HR manager? Yes, as long as someone on staff takes ownership of this important function and utilizes tools and platforms designed to help facilitate employee management. Many HR platforms can be accessed via tiered subscription rates based on the size of your company, with lower fees for small firms. Another option is to engage an HR consulting service.
The following information covers all the basics you need to know if you need to hire for, manage, or undertake your company's HR strategy.
How To Make Human Resource Management a Revenue Driver
Your HR department's main focus should be helping your organization achieve its core mission by maximizing the potential of its workforce. That is why
Effective HR professionals know how to maximize organizational earning potential by taking the lead on employee development and upskilling, team building, engagement, and succession and contingency planning.
How HR Resource Management Has Changed
Until recently, many companies saw HR as a necessary cost rather than a vital revenue-generating department. For decades human resource managers were referred as "personnel" professionals. They tended to focus on the well-being of employees, and serve as benefits administrators and payroll and paperwork processors.
So, what changed? For one, modern workplace analytics can now accurately track the costs associated with employee churn and the revenue benefits of healthy employee retention and engagement strategies. Tech tools have allowed HR to become more integral to the revenue-generating functions of the companies they work for: staying apprised of labor laws, mitigating liability, maximizing employee engagement and productivity, and strategically planning workforce expansion and transition.
The change in terminology from "personnel" to "human resources management" and even "human capital management" reflects this view of HR as more aligned with revenue generation than the benefits and policy administration departments of old.
Human Resource Management Functions
HR professionals are your inhouse experts on how to hire employees, train them, pay them, engage them, and retain them. The following functions are among the most common areas your HR department can optimize through their expertise and leadership.
Talent Acquisition
Talent acquisition includes all aspects of recruiting, candidate vetting and interviewing, and hiring. They write and update job descriptions, determine hiring policies and procedures, develop talent pipelines, assess and finetune budgets, and forecast expected revenue increases and talent gaps to determine whether an organization will need and can afford new hires.
Onboarding and Training
HR departments are responsible for determining and implementing new employees' onboarding experience in ways that help convey and maintain your company culture and core values. They should also be involved in assessing
Engagement, Productivity, and Employee Development
Your human resource team should work to make sure employee policies and operations run as smoothly as possible and that employees are developing in ways that optimize their efficiency and creates maximum benefit for the company.
Performance Reviews
Human resource management includes regularly scheduled and well-regulated performance reviews with clearly stated and easily measurable goals, including administering disciplinary action when necessary. Your HR team can help guide and implement an equitable and transparent professional development and promotion process.
Compensation
HR should oversee salary negotiations, the distribution of wages and bonuses, and benefits management.
Compliance
From ensuring worker safety as determined by the federal department of Occupational Safety and Health Administration (OSHA) to adhering to negotiated labor contracts, your HR team helps to mitigate liability by establishing ethical management policies. In this capacity, HR personnel often work closely with safety engineers, policies and labor representatives and attorneys, and keep up to date with all federal, state, and local labor laws to avert lawsuits and fines.
They also make sure your company is adhering to laws governing how candidates are recruited and hired, how many hours they work, and under what conditions. They also work to create an equitable and inclusive workplace.
HR Tools You May Need
Investing in the following tech tools can help a small or even one-person HR department function more efficiently:
Human Resources Management System (HRMS), also referred to as Human Resources Information Systems (HRIS), are all-in-one systems designed to take care of HR needs from onboarding to offboarding.
Strategic Workplace Planning tools track current workforce skills and anticipate future talent needs.
Performance Trackers can range from self-evaluations to management tracking or digital tracking of time spent on workplace networks.
Recruiting Tools, including applicant tracking systems (ATS), are designed to streamline the recruitment process for both hiring managers and applicants, implement and assess skills testing, schedule interviews, and track the hiring process from start to finish.
Onboarding and Digital Training Software can facilitate new employee training, self-guided tutorials, skills building and even credentialing.
Compensation Planning Tools can help make sure you're crafting competitive compensation packages and distributing them equitably. Benefits management software and payroll software are subsets of this category.
What to Look for in an HR Manager
If you're looking to establish or expand your HR department, you'll want to look for the following traits in your next human resources manager or specialist hire:
Business strategy and resource management
Excellent written and spoken communication
Forecasting and budgeting
Interpersonal and conflict resolution
Presentation and public speaking skills
Teambuilding, leadership, and mentoring
Training and/or educational experience
Professional in Human Resources (PHR) or Senior Professional Human Resources (SPHR) certification from the Society of Human Resources Management (SHRM) or Human Resources Certification Institute (HRCI)
Beyond HR Management Basics: Learn More Ways to Get the Most from Your Workforce
Now that you understand the shifting priorities of modern human resource management, learn more ways to maximize productivity with the latest hiring tips from recruitment and management experts.