7 Tips to Reduce Turnover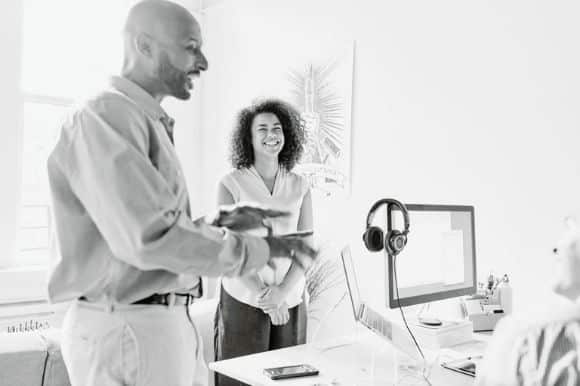 It's not enough to have an excellent business strategy-you need to have the right employees in place to execute it successfully. It's essential to recruit skilled employees and reduce turnover, or the amount of people who leave your company during a set time frame.
If you have a high turnover rate, it's time to ramp up your retention efforts beyond simply offering a competitive compensation package. Decrease turnover by instituting these policies and initiatives:
Provide flexible work policies
Improve manager-employee relationships
Prioritize professional development
Implement employee feedback
Foster team building
Strengthen your diversity, equity, and inclusion (DEI) efforts
Create employee recognition initiatives
1. Provide Flexible Work Policies
One of the main reasons employees quit is that they've found a company that offers more-flexible work policies. Reduce turnover by instituting some, or all, these policies:
Flex schedule. Instead of working the typical nine-to-five schedule, employees could set their own hours.
Remote work. Depending on the remote work policy you choose, employees can work outside the office all, or part, of the time.
Job sharing. Two or more employees would work part-time to fulfill the responsibilities of one role.
Compressed workweek. Employees could choose to work more than eight hours a day to complete a 40-hour workweek in less than five days. (Typically, employees would work 10-hour workdays four days a week.)
2. Improve Manager-Employee Relationships
Employees who have a good working relationship with their manager are less likely to quit. There are multiple ways you can help managers develop their leadership skills and build stronger relationships with their direct reports, including:
One-on-one meetings. Require managers to have weekly or biweekly one-on-one meetings with each of their direct reports. These check-in meetings are a good time to discuss projects and feedback and establish a good rapport, ultimately helping to reduce turnover.
New manager trainings. Develop new manager trainings to help managers develop essential skills, such as communication, motivation, delegation, conflict resolution, goal setting, and interviewing skills.
Clear expectations. Mitigate potential mistakes and miscommunications by asking managers to provide clear instructions, responsibilities, goals, and objectives at the start of every project.
3. Prioritize Professional Development
Ambitious employees want to continue to learn and grow at a company and will quit if they feel stagnant. Establish some of these professional development initiatives to reduce turnover and keep top talent:
Orientation and onboarding program. Welcome new employees and give them the support and training they need to be successful by creating a strong orientation and onboarding program.
Training program. Help employees attain and strengthen the hard and soft skills necessary to be promoted by offering training programs. If you can afford it, give your team members a professional development stipend that they can use toward classes, certification programs, and conferences.
Career development plans. Create a career development plan for each employee that outlines what they need to achieve to earn a promotion and raise. Increase employee morale and retention by having a clear and equitable promotion process.
Performance reviews. Instead of giving comprehensive feedback once a year, ask managers to conduct quarterly performance reviews so employees know what they're doing well and what could be improved. Employees can use this time to set quarterly goals and objectives, ask for additional support and resources, give feedback, and discuss concerns.
4. Implement Employee Feedback
You don't need to guess what would increase job satisfaction and reduce employee turnover-you can ask. Deploy these strategies to gather feedback:
Stay interviews. Conduct stay interviews to find out what your employees like about their role and working at your company and what can be improved. While exit interviews can help you make the position and culture better for new hires, stay interviews give you the opportunity to make the changes that are likely to keep your employees from handing in their two weeks' notice.
Employee engagement surveys. Send quarterly, anonymous employee engagement surveys' to find out how engaged your employees are and what you can do to improve job satisfaction, employee morale and engagement, workplace policies, and your company culture. Use the feedback to make improvements that are sure to drive retention.
5. Foster Team Building
People want to enjoy their work and working with their coworkers. These initiatives, many of which can be done in-person or virtually, will help you build a collaborative company culture and reduce turnover:
Team events. Schedule game nights, cooking classes, lunches, field trips, and other events that help people bond on a more personal level.
All-hands meetings. Host quarterly team meetings to discuss goals, objectives, and priorities for the quarter and accomplishments and setbacks from the previous quarter. Employees are likely to be more committed to the company's success if they understand the business strategy and how their team is making an impact. Ask your department heads to host quarterly departmental meetings with a similar meeting agenda.
Extracurricular groups. Help employees from different departments and seniority levels connect by encouraging team members to set up fun extracurriculars like book clubs, sports teams, and volunteer groups.
Mentorship program. Create a formal mentorship program so every employee can find a mentor. Pair employees from different seniority levels and highlight that both sides will benefit from the relationship.
6. Strengthen Your DEI Efforts
Reduce turnover by strengthening your commitment to building a diverse, equitable, and inclusive workplace. You're likely to see increased morale, engagement, productivity, and performance. There are a variety of ways you can improve your DEI efforts, including:
Employee resource groups (ERGs). These employee-led groups help people build a community, feel included, and gain support. Some of the most common ERGs focus on gender, race, ethnicity, sexual orientation, and parental status.
Diversity and inclusion trainings. Ask your HR department to set up trainings on topics like unconscious and implicit bias, harassment, allyship, and fostering inclusivity.
Inclusive hiring practices. Increase diversity at all levels of your organization by incorporating inclusive hiring practices, such as writing inclusive job descriptions, using blind applications, and standardizing your hiring process.
7. Create Employee Recognition Initiatives
Increase retention by making sure employees feel appreciated. Of course, the best way to reward employees is to provide promotions and raises, but here are some other ways to show your appreciation:
Equity compensation. Employees are likely to be more engaged if they have a stake in your business. Incentivize people to stay by requiring people to be at the company when their stock options or grants vest.
Bonuses. Show your gratitude by offering performance, profit-sharing, retention, signing, and referral bonuses.
Employee appreciation initiatives. Celebrate work anniversaries and team and individual accomplishments with bonuses or perks like a team lunch, an extra day off, company swag, or a simple shout-out at a team meeting. Foster a collaborative culture by encouraging employees to share positive feedback with each other.
Continue to Strengthen Your Company Culture and Reduce Turnover
These policies and initiatives will help you decrease your turnover rate. As an added benefit, the changes will help you recruit skilled employees. Double down on your recruitment and retention efforts by implementing more expert-recommended hiring and management advice from Monster.