5 Tips for Building a Team Culture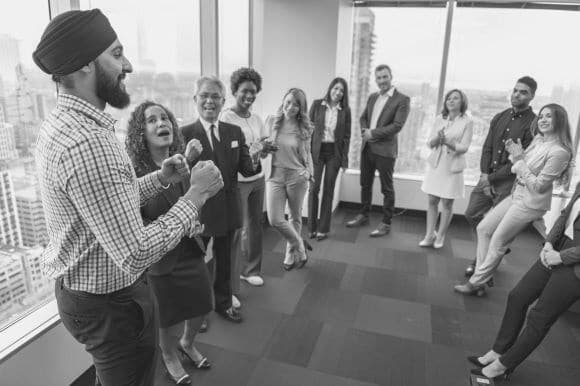 Building a team culture is essential for creating and running a dynamic, responsive workplace. Even remote and hybrid teams have a team culture—all jobs do. But the question is whether you have the right team culture in place. A team without a strong culture is prone to communication breakdowns, missed deliverables and hurt feelings. A team with a strong culture is one where everybody takes full responsibility for their part.
But don't be overwhelmed by the prospect. The good news is that you already have a team culture, if you think about it, by virtue of having a team at all. But it's the quality of the culture that counts. And that means you have a head-start on creating exactly the company and team you want. Here are five tips to help as you put the building blocks in place.
Tip One: Understand What Team Culture Means
So what is team culture, exactly? Broadly, we could define "team culture" as the sum total of the way coworkers interact as a group. That is, when you add up all the humans in a company and see the tone and environment they create, you're looking at their team culture. Culture changes swiftly and depends upon reputation, investment and interpersonal logistics. It arises from your company's values, and it also helps to define them.
Beyond the pay, perquisites and benefits, culture is really at the very heart of a company. It's visible from the outside, both in the industry and, more importantly, in your product. A happy team culture creates conscientious, vibrant offerings and acknowledges clients' pain points—much as you should, when building or rebuilding your team.
Tip Two: Start with the Basics
Every worker has minimum needs, such as a paycheck. But employee investment in the company's future is also key—teamwork may make the dream work, but that teamwork depends on living, dynamic connections between coworkers, departments, and philosophies.
Rules of conduct, including anti-harassment and DEI (Diversity, Equity and Inclusion) factors, are key—not because they're the "word of law" but because your employees need to feel connected to the company, its mission, and its leadership as much as they do one another. Making employees feel welcome and safe is the first responsibility for a manager, and the last.
Tip Three: Set the Right Tone From the Top
Building a team culture starts with representing it. As a leader, you set the tone and precedents. If you want an enthusiastic, plugged-in workforce you need to make sure you are seen as enthusiastic and plugged in. If you want employees who care about your product and making sure it's as great as possible, your duty is to show that same level of care and attention to detail.
There are any number of touchpoints where you can communicate the right tone to your team, such as:
Regular newsletters/updates from leadership
Employee awards and recognition ceremonies
Monthly all-hands meetings and Q and A sessions
Tip Four: Engage the Whole Employee
Nobody likes to feel like a cog in a machine, replaceable, or like they're just there for the paycheck. A disheartened employee can become unproductive and ultimately undermine the culture you're trying to build. That's why it's so important to create a 360-degree sense of belonging, beginning with the interview and onboarding process. Group recreation, and projects outside the normal workday, are a way to engage with your employees in a more holistic fashion, but that's not the endpoint. It's just the beginning of building your team's culture, and it must be nurtured.
Engaging employees can be even more challenging in a virtual environment, but there are ways to promote collaboration and inclusion with remote workers. The key is to find the right synergies and to build a common sense of purpose.
Tip Five: Build Trust by Earning It
Building trust in a team goes a long way toward defining and enriching your company's culture. The basics of trust are honesty, forthrightness and transparency. If you can't guarantee your employee an environment that is honest, upfront and transparent, you have no real claim on that worker's care and time. Knowing how to build trust in a team should be built into your everyday decisions, and you can demonstrate it by:
Freely offering your praise
Sharing relevant information
Avoiding gossip at all costs
Being consistent with your teams and team members
But trust isn't something you can just demand—it comes directly from your reliability, first and foremost. Trust is gathered and strengthened, or squandered, just a little bit at a time. Every moment and interaction are another opportunity to show employees they can trust you—and that they're trusted in return.
Building a Team at Your Company? We Can Help
Building a team culture doesn't have to be a grueling or awkward process. It's a major part of managing people, but also one of the most enjoyable and creative. Learn more about the ins and outs of culture with Monster's help— as well as hints for team management, hiring and onboarding, and more.