How to Hire and Retain Job Hoppers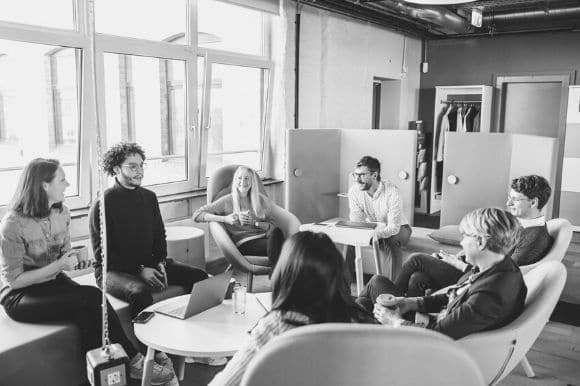 The term "job hoppers" is used to describe people who switch jobs frequently. The term doesn't indicate a set amount of time, and it shifts based on industry standards, but it's typically considered to be less than two years.
Some hiring managers are reluctant to hire candidates with a series of shorter tenures because they think it's a sign that the candidate will quit a year or two into the role. However, these hiring managers are likely missing out on qualified candidates.
You can mitigate the risk that your new hire will quit earlier than you'd like by making sure it's a good fit for both sides. These tips will help you hire and retain employees who have a history of hopping from job to job.
Should You Hire Job Hoppers?
There's a common misconception that these candidates are disloyal and will continue to switch jobs every year or two. However, they may have quit because the role or company wasn't a good fit. Some may have left because there was a lack of career growth opportunities and they wanted to earn more money, better benefits, and a promotion. Others may have left to get out of a toxic work culture or to make a career change.
Regardless of why they've jumped around, these employees acquired hard and soft skills from adapting to different work environments. They gained insights into their strengths and weaknesses and know the type of role and company culture that's the best fit. They are probably confident, motivated, and know their worth. It's likely many of these candidates will stay at a company longer if the role, company culture, and compensation is a fit.
How to Modify Your Hiring Process
When you're evaluating these candidates, you may want to make a few small adjustments to the hiring process. Consider making these changes:
1. Resume Screening
As you're reviewing the candidate's resume, look for context into why they may have moved on so quickly. For example, did they relocate, go to school, make a career transition, or leave the workforce to care for a family member? If they had all or most of their shorter roles earlier in their career, it's possible they were still determining which role, industry, and company culture was the right fit.
2. Interview Process
Ask questions that will help you understand why they left previous positions, what they want now, and whether it is a good fit. For example, you may want to ask:
Would you please walk me through your resume?
Why do you want to leave your current role?
Why do you want to work here?
What excited you about this role?
What is your ideal company culture?
Where do you see yourself in five years?
One of the most common reasons new hires quit is because the role or company culture wasn't what they expected. Even though it's probably in your job description, be sure to adequately discuss the day-to-day job responsibilities, company culture, salary, and benefits so candidates can determine whether they want to move forward.
3. Reference Check
If you're concerned that a candidate may have left positions because they were let go or didn't have the skills or work ethic to advance, it may be helpful to do a reference check. However, if you do so, remember to check for any relevant state employment laws you need to follow.
For instance, find out whether you need the candidate's permission, what you can ask, and what the employers are allowed to share. Keep in mind that some employers have a policy of only confirming that the person worked there and providing their employment dates.
How to Retain These Candidates
The key is to gather feedback and implement changes that will improve their work experience. These changes should help you retain all your employees, not just job hoppers.
1. Offer a Compelling Compensation Package
The best way to retain employees is to offer a competitive salary. However, don't be discouraged if you can't afford to pay at the high end of the salary range. You can offer lifestyle benefits and perks like childcare stipends, substantial paid parental leave, student loan repayments, and flexible work arrangements.
2. Create Clear Paths for Career Advancement
Promoting from within is one of the most impactful ways to retain employees, especially job hoppers who are accustomed to frequently switching jobs.
Create a clear career path for every role. Ask managers to develop career development plans for each of their direct reports. The plan should cover the employee's long- and short-term goals along the path to earning a promotion and raise.
3. Establish Professional Development Programs
Give your employees the training and support they need to achieve their goals and advance at your company. You may want to create an orientation and onboarding program, mentorship program, and ample skills training opportunities.
Additionally, ask managers to set up weekly or biweekly one-on-one meetings and quarterly performance reviews. (These meetings should also help establish good manager-employee relationships, which is likely to reduce employee turnover.)
4. Implement Employee Feedback
You don't have to guess what will help you retain job hoppers. You can ask. Conduct stay interviews to find out what employees enjoy about their role and working at your company and what could be better. While it's also helpful to have exit interviews, stay interviews give you an opportunity to make the changes that are likely to keep employees from quitting.
Send anonymous employee engagement surveys to learn how engaged your team members are and what would improve their work experience. Ask about a range of factors that impact job satisfaction, including company culture, compensation and benefits, diversity and inclusion, professional development initiatives, flexible work arrangements, work relationships, and confidence in the leadership team.
Learn More Hiring and Management Best Practices
Hiring managers who automatically reject so-called job hoppers could be missing out on top candidates. Fortunately, you know how to adapt your recruitment and retention efforts to make sure it's the right fit. Continue to build and develop a strong team by implementing additional hiring and management advice from Monster.