Pay Transparency During the Hiring Process: 5 Tips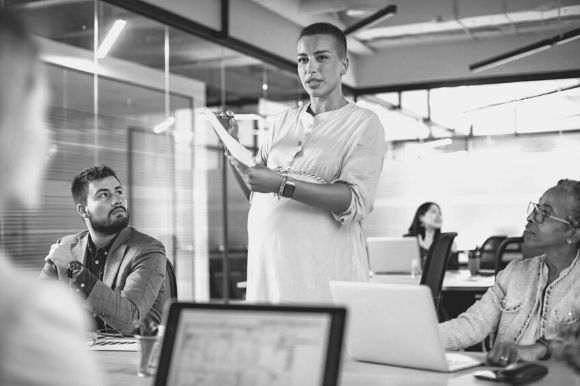 Conversations about pay transparency, once only held in the boardrooms of a few "progressive" organizations, have now gone mainstream. In fact, some states are even introducing and passing legislation that requires businesses to provide various levels of transparency regarding employee compensation.
If you've been considering how sharing salary information might improve your chances of hiring top talent, you're not alone. Regardless of whether you run a business in one of the states that requires compensation transparency, more companies are considering how they might leverage it to recruit and retain star employees.
Here are five tips on how to include salary transparency in your hiring process.
1. Decide What Level of Pay Transparency Is Right for Your Company
Setting a clear, deliberate approach to sharing salary data is the most important step. While many employers believe sharing pay information may be good for business, secrecy remains the norm. That's why jumping into a full transparency model—where employers publish the individual salaries of all its employees—is not always plausible.
PayScale.com published a pay transparency spectrum to help organizations craft a policy that makes sense for them. The five levels of transparency they identify are "what," "how," "where," "why," and "whoa."
What
Employers provide candidates and employees with the least possible amount of information required—how much they'll get paid and at what intervals. At this level, employers generally don't have conversations about pay beyond the person's immediate compensation.
How
This is where your company identifies relevant market research data for some or all positions, uses it to set a basic compensation strategy, and shares limited overview data and strategy with candidates and employees. Sharing your salary formulation process can help build trust between you and the applicants and encourage more qualified prospects to pursue the opportunity.
Where
At this level, companies create a "philosophy, strategy, and [pay] range" for specific jobs or job groups, allowing them to determine where on the pay spectrum they can expect to fall. One of the most well-known versions of this is the federal government's General Schedule for salary and wages.
Why
This is about aligning compensation strategy with company culture. Not only are companies sharing salary ranges and the rationale behind it, but they're also committed to training the managers and supervisors charged with holding conversations with applicants and employees about salary.
Executing this level of transparency requires successfully demonstrating how a candidate's experience and skills align with your business objectives. Also, you must have policies in place that support your philosophy and objectives, which will further codify your pay transparency practices and make it an everyday part of how you do business.
Whoa
This is the open salary information sharing model, where employers publicly disclose the pay for a given position (either internally or externally), and how they arrived at a particular salary or hourly rate. This level of salary transparency is rare and requires that businesses build a culture that supports open examination and dialogue about the value of each job function to the company's bottom line.
2. Update Your Current Internal Salary Transparency Policies
Once you've decided the level of compensation transparency to implement during the hiring process, the very next step should be updating current practices. Level the information playing field by providing existing employees the same access to pay data as new hires will receive during the recruiting process.
Executing this step will take some planning and forethought and may uncover inconsistencies or bias in how you've compensated employees. In fact, some women's advocacy groups believe that full transparency can be a powerful tool for closing the gender and race pay gap.
Since salaries have long been treated as a taboo topic of discussion in the workplace, it's important to prepare your business for the potential findings and outcomes of sharing salary information. Start by analyzing your current compensation model so you're armed with the facts.
For example, you ask your HR manager to provide salary, raise, and bonus information for all 15 of your employees. The report shows that one of the company's five customer service representatives earns 20 percent more than the rest of the team. Your next step should be finding the data to support why.
Maybe this employee saves the company money by routinely preventing clients from cancelling memberships. Or maybe they take on the responsibility of training new hires, which means you don't have to spend time doing it yourself. Whatever the case, be prepared to acknowledge the pay differences, justify them, or change the pay structure.
3. Use External Data to Support Your Compensation Model
Once you adopt pay transparency as a part of your hiring and HR practices, the next question will undoubtedly be "how do you make your decision about how much to pay employees?"
Today's workforce has greater access to salary market research tools, so you'll also need to base your compensation model on solid pay data. Both government and private salary databases are a great place to start, as well as reputable surveys and reports from trade associations. Colleagues in your industry may also serve as a source of primary (or first-hand) pay data to ensure that you're equipped to answer with confidence.
When recruiting employees, get ahead of the salary justification question by performing research beforehand, then including it in job postings and other recruitment marketing tools. Typically, creating a salary range that's not too broad satisfies candidates' questions until you're further into the hiring process.
4. Set Goals for Measuring Your Efforts
Leaders at companies that have implemented some form of pay transparency assert the utmost importance of aligning the strategy with company culture (which is not a one-off initiative). Setting clear, measurable goals will make it easier to determine if shifting to this practice was worth the effort. One goal may be to decrease the time it takes to hire new employees. Sharing salary data will weed out applicants who require more money, and potentially eliminate the time usually spent on salary negotiations.
Another goal may be to improve the performance review process by equipping your managers with better information as a basis for granting raises. By setting a clear, transparent pay model that factors in internal and external data regarding a specific position, you'll avoid uncomfortable, subjective, and even unconsciously biased review processes.
5. Get Feedback from Applicants and Employees
Continuously refining your hiring process requires honest feedback from the people who've actually been through it. Regarding pay transparency, be sure to ask applicants, new hires, and existing employees their opinion on how salary data influenced their interest in working for the company.
Let them know why you're soliciting their opinions and that it will have no impact on your hiring decision or future employment. A quick question or two on the application, during onboarding, or even during performance reviews should give you a snapshot of how your new policy is working.
Use Your New Salary-Sharing Savvy to Attract Top Talent
Don't wait to test your new pay transparency practices! Post your job for free on Monster and find out how sharing salary and wage info improves your chances of attracting the best talent for your business.