Essential Physician Assistant and Nurse Practitioner Skills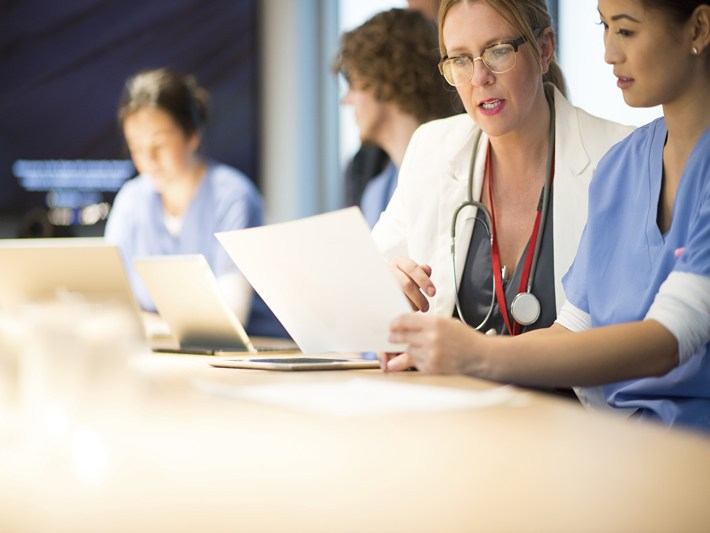 Healthcare facilities constantly recruit new nurse practitioners (NPs) and physician assistants (PAs) for their ongoing healthcare hiring needs. These healthcare practitioners fill an important role in healthcare, often giving facilities the capacity to spend more time with patients without having to hire additional physicians.
But, when it comes to filling positions, how do you know you're getting someone with the right medical and nurse practitioner skills?
Medical Training is Just the Baseline
NPs and PAs receive clinical medical training focused on making patients better. Yet, even the best medical training is often not enough to be a successful provider in today's complex healthcare environment.
New models of team-based medicine and patient care scores require your PAs and NPs to collaborate and clearly communicate. If your providers struggle in these areas, payment delays may occur because forms were not properly filled out and your online reputation may suffer as patients report bad experiences to social media outlets. The best way to avoid these headaches is to hire candidates with the right skills.
Skills to Look for During Recruitment and Hiring
When it's time to hire, what physician assistant and nurse practitioner skills should you be on the lookout for during interviews? Here's an overview to help you get started:
Clinical Skills: While clinical skills may be just one of many abilities needed in today's healthcare world, they are still extremely important. Make sure your potential hires have the skills you need — or the ability to learn them. Even better, consider whether they have skills and knowledge to pass on to your current staff.
Communication Skills: Verbal and written communication skills are the most important skills an NP or PA should possess. Whether working with staff or patients, being able to effectively communicate is vital to conveying information with consistency, clarity and compassion. Make sure you ask about and determine potential candidates' communication philosophies and skills.
Flexibility: This skill is key to working in the healthcare field. Being able to provide backup is often required to propel the hospital toward future success. In addition, it's more than just working the hours, it also applies to working with people of differing ages, backgrounds and personalities. Make sure candidates are aware of what's expected on the flexibility front so there are no surprises after they start working.
Life Balance: A good work life balance creates a better employee, makes your facility more productive and helps prevent burnout. An NP or PA who comes across as a workaholic may be good for your facility in the short-term but likely will lead to long-term burnout. Look for people who do more than just medicine. They will be happier and are likely to relate better to patients as well.
Collaborative Skills: Along with being flexible, it is important to adapt to changes in the healthcare market. Hospitals rely on their NPs and PAs to work well with others, and this includes both hospital staff and patients. Good candidates will have examples of past collaboration and a willingness to work together as a team.
Listening Skills: One of the most basic ways to connect with another person is to listen. NPs and PAs often find themselves in the role of patient advocate and likely will have more time with patients than physicians. They can also be strong advocates for your facility and your mission. They will be able to build positive relationships with both with patients and within the organization with their listening skills.
Time Management Skills: Being able to schedule your time effectively is imperative in any career but of utmost importance for NPs and PAs. These providers are often called upon to fill in gaps and see patients quickly and seamlessly. One of the most important physician assistant and nurse practitioner skills to have is time management, so make sure your applicants can demonstrate this ability. Poor time management leads to even bigger problems down the road and creates more stress for all staff.
Organizational Skills: Going hand-in-hand with time management is organizational skills. Knowing how to effectively chart EMRs and fill out paperwork is extremely valuable in new NPs and PAs.
Cultural Fit: This characteristic may be the most important on this list. Does the candidate understand your mission and vision? Will he or she fit in with the company culture and people already on staff? If not, you may find they just don't fit in, which can create a stressful environment for your staff.
Need Help Recruiting for the Right Nurse Practitioner Skills?
Nurse practitioners and physician assistants play a vital role in healthcare facilities. With their medical training they often have impressive clinical skills, but that isn't enough to really make them valued members of your team. You can jump start your efforts to recruit the candidates with the right skills with Monster's help. With the latest recruiting insights and expert hiring tips, we can help you staff for success.