What is the Recruitment Funnel?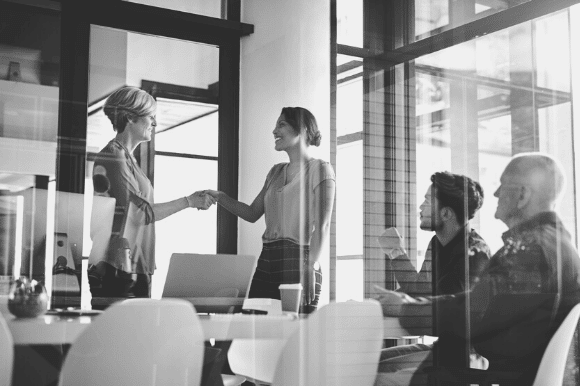 It's helpful to view your hiring process as a funnel that is wide at the top and narrow at the bottom as you go from attracting a large candidate pool to selecting your new team member. There are five main elements to the recruitment funnel, which "narrows" at each of these recruitment steps.
Starting from the wide top and ending with the narrow bottom, these steps are:
Strengthen your employer brand
Promote your job posting
Reach passive candidates
Review resumes and interview candidates
Make an offer and plan the onboarding process
Here's how to set up each step of the funnel so you attract a talented team.
Step 1: Strengthen Your Employer Brand
The first step of the recruitment funnel is to amplify your employer branding. A strong employer brand shows why your business is a great company and a great place to work. Think of your employer brand as an elevator pitch that describes what your business does, its value proposition, and its mission. Show the benefits of working at your company by showcasing the company culture and team values.
You can highlight your employer branding on your company website, on your social media channels, in your job postings, and in press features. Unlike other stages of the funnel, you should boost awareness all the time and not just when you're hiring. You'll continue to increase interest in your company and stay top-of-mind, and some of the people you engage with are likely to apply when you have an opening.
Step 2: Promote Your Job Posting
The next step of the recruitment funnel is to reach potential candidates and prompt them to apply to your job posting. Start by writing a detailed job description that explains the role, responsibilities, and requirements. Encourage potential candidates to apply by kicking off your job description with an introductory paragraph that features your employer branding, including a section about your benefits package.
When you're writing your job description, be sure to incorporate the keywords and terms people are most likely to use when they use a search engine and a job board's search features to look for similar jobs. It's helpful to use the most common job title and to include synonyms throughout the job description.
For example, if you're hiring a groundskeeper, you might want to include the titles "gardener," "landscaper," and "landscape crew." Maximize reach by posting your job description on your company website, popular job boards, academic job boards, and industry job boards.
Step 3: Reach Passive Candidates
Further increase your pool of potential candidates by reaching out to passive candidates, people who may not be actively job searching but might be interested in applying if they're excited about the role and company. There are several strategies you can use to find and attract passive candidates.
It's beneficial to use job boards that let you access all the public resumes in their database so you can find people who have the skills and experience you need. You can also find passive candidates by attending job fairs, posting your job description on social media, and reaching out to people in your professional network to see if they know of someone who would be a good fit.
Also, encourage your employees to share your job opening with their professional networks by offering an employee referral bonus. If you've hired for similar positions before, look through the resumes you collected previously and reach out to anyone who might be a better fit for this role.
Step 4: Review Resumes and Interview Candidates
While the earlier stages of the recruitment funnel are about maximizing reach, this is where you start to narrow down your candidate pool to select top contenders. The first step is to review resumes and the second is to interview candidates.
Make the resume screening process more efficient by using applicant tracking software (ATS) to collect, sort, and review resumes. Depending on the ATS you choose, you can rank all the resumes based on keywords from the job description or use the search tools to find resumes that meet your hiring needs.
Once you've selected your top candidates, conduct screening interviews to learn more about their background, assess their soft skills, answer any questions, and share more about the role and your company. It's beneficial to discuss logistics like the hours and salary range so candidates can better decide whether they want to move forward with the process.
The next step is to have in-depth interviews with the remaining candidates. If you work at a company with recruiters, they will typically handle all the recruitment steps up to this point. Some candidates drop out of the hiring process at the interview stage because there are too many rounds and lengthy pre-employment assessments. Ask insightful interview questions and have all the decision-makers meet with the candidate on the same day to make a thoughtful hire faster.
Step 5: Make an Offer and Plan the Onboarding Process
By this stage of the recruitment funnel, you've narrowed down your candidate pool and are ready to make an offer. Depending on the candidate's experience, you may have to offer a salary at the top of the salary range and go higher or add in other perks like a sign-on bonus or relocation fee during salary negotiations.
Don't reject the other candidates who have made it to the last stage of the interview process until you have a signed offer letter from your top candidate. If they don't accept, you can offer the job to the next highest-ranked candidate. As soon as you've hired your new team member and sent HR paperwork, the final step is to plan your onboarding process so they have the resources and support they need to be successful.
Learn More Best Practices for Each Stage of the Recruitment Funnel
Now you know how to structure your hiring process, from attracting a large pool of candidates to narrowing it down until you find the right fit. Receive hiring advice for each stage of the funnel so you can build a talented team with the skills to move your business forward.