How to Use Stay Interviews to Improve Retention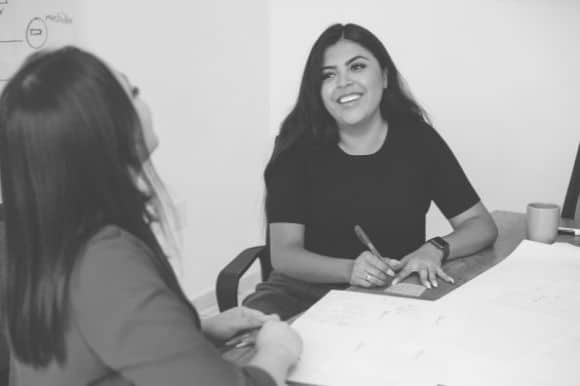 The feedback you learn in exit interviews can be helpful for improving the company culture, the role, and responsibilities for the next person who fills that role. However, it's too late to make changes that may help you retain an employee who has already handed in their resignation letter.
When you conduct a stay interview, you find out why people are staying at the company and what can be improved. You still have the opportunity to make changes that will improve job satisfaction for the employee and your entire team. Here's everything you need to know to make stay interviews work for your company.
What are Stay Interviews?
A stay interview is a conversation with current employees to get valuable feedback on what they like about their role and working at the company, and what could be better. The goal of a stay interview is to implement changes that will increase employee morale, engagement, and retention, making your company more successful. As an added benefit, any company culture improvements can help you recruit top talent.
How Do You Set Up a Stay Interview?
Ask your managers to have these one-on-one meetings with their direct reports at least once a year. Managers with new employees may want to have these conversations at the three- and six-month mark to make sure they are happy in their role and at the company.
Ideally, everyone in your company will have a stay interview so you have a clearer picture of what could be improved. If it's not possible to interview everyone, then select people across departments and seniority levels. Ask your managers to prioritize speaking with top performers to find out how to retain them and people who seem disengaged, since they are most likely to provide constructive feedback.
Your managers should send a calendar invite specifying that the meeting will be a stay interview, not a regular weekly or biweekly meeting. This will give your managers and their direct reports time to prepare so the meetings are more productive.
How Do You Conduct Stay Interviews?
Have your managers start the meeting by explaining that they value the employee and want to learn what makes them stay at the company and how their work experience could be improved. They should point out that constructive criticism is welcome and that the overall feedback will be shared with management to implement changes, but it will stay anonymous.
It's helpful to ask insightful stay interview questions that cover:
What they like about their role and responsibilities and what they'd want to change.
How they feel about their working relationship with their manager and other colleagues and any additional support they need.
What they like about the company culture and what could be improved.
What their short and long-term professional goals are and any additional support and resources they need to reach them.
It's helpful to have honest conversations about these topics, since they tend to target the primary reasons people quit. Even if some of the answers are hard to hear, the feedback can be used to make proactive changes that will make it less likely top performers will hand in their two weeks' notice.
How Do You Implement What You Learn?
Your managers can act on any small feedback, like giving their direct reports new responsibilities to help them learn new skills, delegating some tasks they dislike, or giving more consistent feedback. However, it's beneficial to have a managerial meeting to discuss the broader feedback from the stay interviews because there may be some cultural changes you can make to retain employees.
It may be helpful to go through the main categories discussed during the interviews:
Roles and responsibilities
Work relationships
Professional development
Company culture
Managers can chime in with the feedback they learned so you can see patterns and talk about ways to improve your company's policies and procedures. For example, if your employees…
Don't think they have clearly defined roles and responsibilities or that they change frequently, you could ask all managers to have one-on-one meetings to set clearer expectations.
Want stronger work relationships, you could implement more team bonding initiatives like a formal mentorship program, quarterly town hall meetings, and Employee Resource Groups (ERGs).
Think they don't have the training they need to advance, you could offer skills trainings, provide professional development stipends, and ask managers to set a professional development plan with each direct report so they know what they need to get ahead.
Want more work-life balance, you could move to a hybrid workplace, create a flextime work policy, and have one day a week without any meetings so people have uninterrupted time to catch up on their to-do lists.
Continue to Strengthen Your HR Practices
You've learned how to use stay interviews to improve retention and strengthen your company culture. Now keep up the momentum. Sign up to receive HR advice, data, and news from Monster so you can spend less time researching best practices and more time focused on attracting and retaining the talent you need to move your business forward.