Creating a Business Plan Outline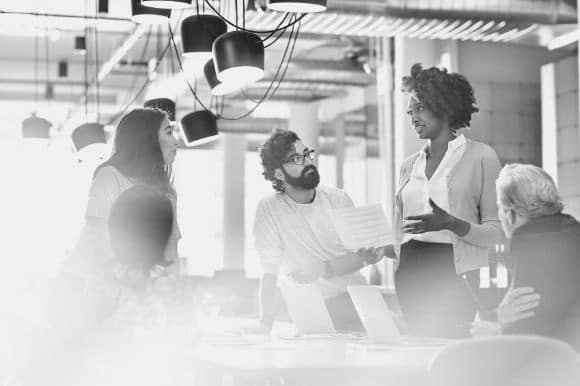 Whether you're launching a business or propelling your business forward, it's essential to have a business plan that clarifies your goals and objectives—and your strategy for accomplishing them. You can use this business plan outline to stay on track and win over investors, executive-level candidates and employees, board members, and partners.
The main reason why businesses fail is that entrepreneurs spend time and money developing products and services without thinking about whether there is demand and how they'll differ from their competitors. The process of writing your business plan will force you to consider crucial topics like your target demographic, hiring plan, finances, and marketing efforts.
Why You Need a Business Plan Outline
A business plan can help you resist the most common reasons that entrepreneurs are unsuccessful, such as failing to create products and services based on customer feedback, understanding their competitive advantage, or knowing how to attract new customers or clients. When you have a great business idea or want to scale your business, it can be tempting to rush ahead.
However, you can ultimately save time, money, and aggravation by considering whether your business idea is feasible or if you're expanding too quickly. Before jumping ahead, use this guide to create or update your business plan so you have a sound strategy in place if you decide to move forward.
1. Executive Summary
Think of this section as an elevator pitch for your company. Include a brief description of your business, products or services, and mission. Keep it straightforward and avoid buzzwords and jargon. If your business is already established, mention your team size, location, annual revenue, and growth plan.
2. Company Overview
Give readers more context into why you're starting this business, the problem you'll solve, your value proposition, and the target demographic. There may be some overlap between this section and your executive summary, although the overview typically goes into more detail than the executive summary (which is intended to capture their attention).
If your business is already off the ground, share the founding story and a brief company history that includes any major accomplishments like expanding your product offering or doubling your revenue or team size. Instead of saying you grew your revenue by 50 percent, share the actual amount.
3. Market Analysis
Use this section of your business plan outline to show that you understand your competition and how your business will stand out. First, share the industry size and growth rate. Next, share a list of your main competitors. Look at their respective websites and customer reviews and write down their strengths and weaknesses for a variety of topics.
Evaluate each competitor's:
Products or services
Target customers
Turnaround time
Pricing structure
Sales strategy
Marketing initiatives
For each topic, write down what you can do differently and better. The reader might skim through the details, so it's helpful to include a summary sentence or paragraph that describes your competitive advantage. Perhaps you can offer lower prices, a faster turnaround time, a unique product or service, greater convenience, or more variety.
4. Customer Analysis
In this section of your business plan outline, you'll describe your target demographic. Consider relevant factors like their age, sex, location, education level, relationship status, profession, and income. If you've held focus groups or collected other feedback, mention what you have learned. More importantly, share how you'll use the feedback to create products or services that potential customers want.
If your business is already up and running, share metrics such as the number of customers or clients you've had and month-over-month or year-over-year increases. You could also share a few customer reviews or client testimonials.
5. Products or Services
Use this section of your business plan outline to describe your main products or services. Share relevant details such as the price, profit margin, and any patents, copyrights, or trademarks you've received. Share why they stand out from what your competitors offer. Note your sales goals and key performance indicators (KPIs).
If you're already making sales, showcase your best-sellers. Mention the sales figures and top reviews or testimonials.
6. Operational Plan
This is where you'll explain applicable information like your production workflow and distribution plan. Note the suppliers you plan to use, why you chose them, and the prices. If you're selling services, describe the service process.
7. Marketing Plan
Tell readers your social media, email marketing, website marketing, advertising, and public relations strategies. Mention your budget for each. If you're hiring in-house, note the salary for each role. If you're hiring a freelancer, share how much you intend to pay each person. If your business is established, share relevant metrics like your current following or subscribers and growth rate.
8. Organization and Management
Use this section to note your business structure. Is it a limited liability company, partnership, corporation, or another category? If you've already hired a management team and board members, share their bios.
This is also where you'll share the current or intended team size. It's helpful to summarize your hiring plan and headcount forecast for the year, as well as any additional staff you may need to reach future milestones.
9. Finances
When you're looking for funding, share the amount you'd like to raise and what you plan to do with the funds. Share your financial projections for at least the next 12 months based on the market research you conducted.
If you're already in business, share your balance sheet and cash flow and income statements. Also, mention any funding you've received so far.
Build the Team You Need to Move Your Business Forward
After using this business plan outline to devise a strategy, you'll know exactly what you need to do to be successful. Your next step is to attract and retain employees who have the skills and experience you need. Optimize your recruitment and retention strategies by implementing expert-recommended HR advice from Monster.