Use Your Small Business Website to Recruit a Great Team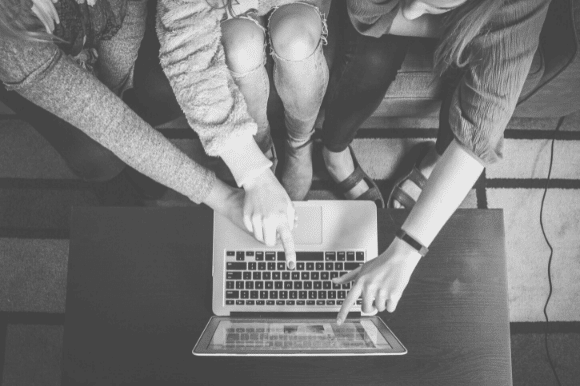 Small businesses often have less name recognition than larger companies, so your small business website might be the first introduction potential customers, clients, and candidates have to your company. Make it a good first impression by designing an on-brand homepage with clear navigation to the other pages on your site and your social media profiles.
Use your homepage copy as an elevator pitch for your small business. Describe what your small business does, its mission and values, and the value proposition. You can use additional pages to sell your products and services and "sell" your company as a great place to work.
Follow these best practices to create a website that will help you increase revenue and recruit top talent.
"About Us" Page
Potential customers, clients, and candidates want to learn your brand story. Share why you started your small business and more information about your company's history. You may want to include creative elements like photos and a timeline.
Impress people with some of the recognition your small business has received. It's helpful to mention any awards your business has won and include press clippings with links to the full story. You could also feature client or customer testimonials and product reviews.
Team Page
Let clients and candidates "meet" the people they'd be working with by creating a team page that highlights the people who make your business successful. Instead of writing bland bios, encourage team members to share their hobbies and interests out of the office.
Depending on your company culture, you could get creative with your design and include fun props or photos of team members and their pets. Use this section of your small business website to share photos of your office or workspace and your team at work.
Career Page
Your career page gives you an opportunity to go into more detail and add more creative elements than you can in your job descriptions. The best career pages include these components:
Job Postings
In addition to posting your job descriptions on popular job boards, post them on your small business website to drive traffic to your career page. Maximize reach by including the keywords and terms candidates are likely to use when they use a search engine to look for similar jobs. If you're hiring a janitor, for example, you could also use the titles "custodian," "cleaning person," and "superintendent."
Since you have more room on your career page, you could share the next steps in the hiring process at your small business so that candidates know what to expect. You could also include advice and an FAQ section with the answers to common questions people have about the hiring process or working at your company.
Company Culture
Candidates want to work with people who share similar professional values and goals. Showcase your team's core values, such as collaboration, teamwork, innovation, accountability, kindness, and learning. Show your commitment to fostering an inclusive workplace by sharing your company's diversity and inclusion statement and initiatives like employee resource groups (ERGs).
It can be helpful to include short video or written interviews with team members from various departments. Ask them to describe the company culture, their role and responsibilities, and what they like best about working at your small business.
Benefits and Perks
This is where you'll note the benefits you offer, such as health insurance, retirement plans, commute stipends, paid time off, and paid parental leave. Next, mention any perks of working at your small business as opposed to a larger business. For example, you may want to highlight the flat organizational structure, collaborative company culture, flexible schedule, remote work options, casual dress code, and fun team-building events.
It's valuable to showcase professional development initiatives, such as training programs, mentorship programs, and learning stipends. Employees at a small business often have a wider range of responsibilities than they would at a larger business with more defined roles, meaning they can learn new skills and advance at a faster rate. If that's the case, mention it on your small business website.
Blog Page
You may want to create a blog page to share company updates and advice. A blog is likely to increase traffic to your website because it generates new search engine optimization (SEO) keywords.
If you have a service business, it is helpful to share relevant advice that will interest your potential clients and candidates. For example, if you run a marketing agency, you could share actionable digital advertising, social media, and website optimization advice.
Use Your Small Business Website to Build Your Team
After implementing these best practices, your website will demonstrate the benefits of joining your small business. Sign up to receive hiring advice, trends, and news from Monster so you can recruit a talented team with the necessary skills and experience to make your small business even more successful.