Phlebotomist Hiring: 5 Factors to Consider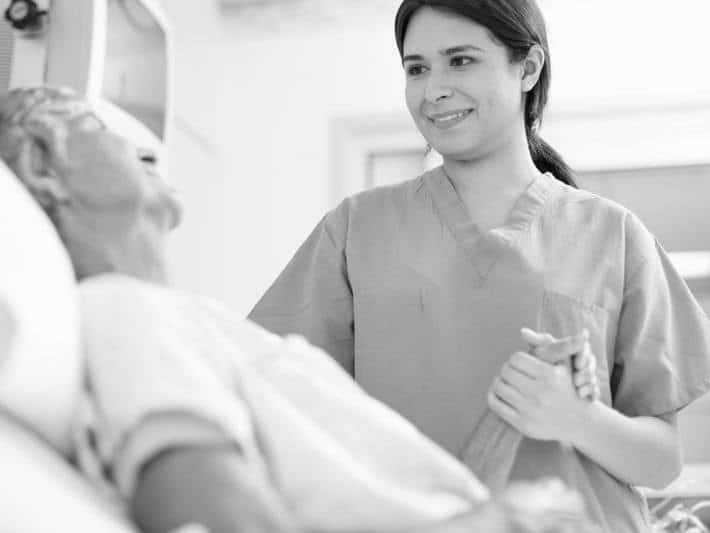 Are you looking to hire a phlebotomist? The fundamental responsibilities of phlebotomy technicians are simple: to safely draw and enter blood into a laboratory system, with minimal patient upset. But to recruit, hire, and retain top phlebotomists, it's helpful to understand more about this multi-faceted profession.
Here are five factors to consider for your phlebotomist hiring process to ensure that you're drawing candidates with the right skills and temperament.
1. Phlebotomist Licensing, Certifications, and Training
One of the first steps in hiring your next phlebotomist is to ensure that they have the requisite levels of training, licensing, and certification.
In many states, phlebotomists must complete a post-secondary certification program before starting work, but other states have no requirements. However, even in those states, most employers will still require certification as a way to ensure their candidates have the proper training.
Many community colleges, vocational or technical schools, and even some certifying organizations offer phlebotomy training programs. However, certifications for phlebotomy technicians are typically be obtained from the following organizations:
The certification process typically involves classroom training, clinical rotations, and an exam. Some employers will also encourage or mandate continuing education on topics such as venipuncture, universal health and safety precautions, specimen rejections, performing difficult draws, order of draw, problem-solving and communication, and legal issues.
Recruiter Tip:
Phil Svehla, president of Phlebotek, stresses how nearly all employers require certification or equivalent training. However, training doesn't equate with certification. In other words, there is a wide variance in the quality of training programs and, therefore, employers prefer certification, says Helen Maxwell, executive director of the American Society of Phlebotomy Technicians.
2. How Phlebotomists are Sourced
Of course, the next question is, "Where can I find top-tier phlebotomist candidates?" As with most positions, you'll want to take a multi-faceted approach. Several effective sources for phlebotomist hiring include the following:
Employee Referrals: Having referrals from employees is often the best way to find new phlebotomist candidates.
Clinical Rotations: These offer providers the opportunity to try before they buy.
Job Descriptions:A good job description can narrow the field, especially if it's as specific as possible with regard to the work arrangement, location, and care setting.
Recruiter Tip:
Maxwell says providers recruit through job postings, clinical rotations during training, and sometimes through referrals. Also, she adds, the jobs are usually taken quickly.
3. Key Phlebotomist Job Skills
Next on your phlebotomist hiring to-do list is determining which skills are most important for the position. You should include these in your job postings and keep an eye out for them while interviewing. Typically, candidates should be able to:
Draw blood from diverse patient populations, including children, elderly people, and those with psychiatric diseases
Reassure anxious patients and blood donors
Maintain an organized workspace and workflow
Follow health and safety procedures to the letter
Additionally, some phlebotomists may be called on to perform tests such as electrocardiograms, point-of-care blood work, and urinalysis for insurance applicants.
Recruiter Tip:
Svehla says his company looks for candidates who are confident, caring, personable, and who know what they're doing. "When you're about to hold out your arm for a stick," he says, "you want someone who makes you feel comfortable." It's important to look for candidates who are organized, since everything must be done very meticulously.
4. Key Phlebotomist Experience
There are a few different perspectives when it comes to the type of experience a company prefers to see in their new hires. Experience requirements will vary based on the needs and training capacity of the company, the typical patients being served, and the work environment. For example:
Most employers seek phlebotomists with a year or two of work experience
Some providers want professionals with experience in a particular care setting
Some employers prefer to train phlebotomists themselves, so they require no work experience
Recruiter Tip:
Most employers prefer at least one year of experience, says Maxwell. But this really varies by the type of patients served, according to Svehla: "In nursing homes, for example, there are usually difficult sticks and the interaction is often very challenging."
5. How to Interview Phlebotomists
The interview is the best opportunity to assess the candidate's way with people. And since they'll be working directly with patients, assessing both hard and soft skills is an important part of phlebotomist hiring. Here are a few ideas to keep in mind regarding the interview process:
Communication skills and clinical knowledge should be tested face-to-face.
Probe the candidate for preferences about care setting: hospital, medical office, lab, home care, screening/mobile, or blood donation center.
Determine the candidate's suitability for the work arrangement, whether it's permanent, part-time, contract, per diem, locum tenens, traveling, or contract.
Recruiter Tip:
Employers typically ask about work experience, training, and certification, according to Maxwell. While the test isn't standardized, she adds, it consists of about 50 questions covering topics from infection control to order of draw to legal aspects to professionalism. Svehla asks candidates which types of patients they've drawn blood from and how many draws they've done, while some of their client employers have the candidate actually draw blood.
When it Comes to Phlebotomist Hiring, Draw From the Best
Hiring phlebotomists may seem fairly straightforward, but certifications and experience on paper don't always mean you're getting a top performer. This is why it helps to have a hiring partner at your side. Monster has years of experience in helping employers find the qualified candidates they need. Find out how we can help you get started by posting a job with us for free today.