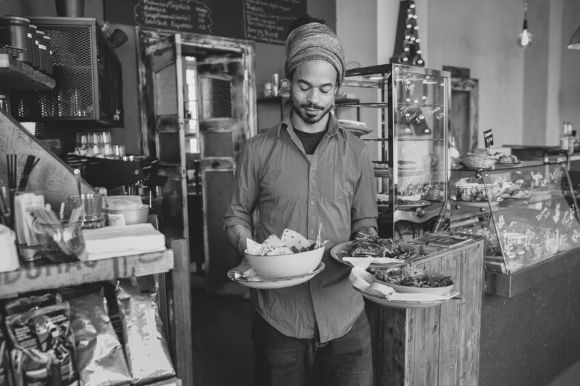 Not only does 10% of the U.S. workforce currently work for the restaurant industry, according to the National Restaurant Association, but two out of every three Americans will work for the industry at some point in their working life. That's a lot of employees, but as the sector with the highest employee turnover rate and average tenures that can run as low as a few months, it's likely you're almost always recruiting for waitstaff. Understanding how to hire a server can help you recruit and retain the right team of servers to keep your dining room full and your revenue high.
The competition for quality food service industry employees will only intensify as diners continue to increase how frequently they eat out. Demand for servers in restaurants, catering providers, and bars is expected to grow by 10% over the next decade, higher than the demand rate for most other occupations. Keeping these six key steps in mind can make your server hiring process more efficient and effective:
Assess your needs and budget for the position.
Craft the perfect server job description.
Screen applicants and narrow your candidate pool.
How to hire a server: Ask the right questions.
Before you hire a server: Run a background check.
Make an offer and negotiate a start date.
1. Assess Your Needs and Budget for the Position
Determining the staffing level needed to maintain and maximize efficiency can be challenging. But if your table settings aren't recycling quickly enough to make your nightly revenue targets, it's probably time to hire more servers.
Complicating the budgeting process for restaurants and bars is the fact that in some states, occupations that often include tipping, such as servers, have different minimum wage requirements than other occupations. In other states, there are different wage requirements for the hospitality sector than other sectors, and yet another set of federal minimum wage regulations. Using a salary tool to calculate median remuneration by job title and geographic area can help you calculate a fair hourly wage.
2. Craft the Perfect Server Job Description
Once you've determined your budget for the position, it's time to craft a server job description that outlines your expectations for the role and the attributes your ideal candidate should have, such as:
Customer service and interpersonal skills
Problem-solving and conflict resolution skills
General math skills to calculate customers' checks
Collaboration and teamwork
Time management, cleanliness, and organizational skills
3. Screen Applicants and Narrow Your Candidate Pool
If you expect to receive a large number of applications, consider using an applicant tracking system (ATS) to help you automate your screening process and select the most appropriate candidates to interview. One effective way to leverage your ATS is to implement keyword searches by selecting the most crucial qualifications from your job description. Using what you've learned about how to hire a server so far, for example, you might program your ATS to search for phrases like "good memory for detail" or "customer service experience."
4. How to Hire a Server: Ask the Right Questions
By now, you should have a strong list of potential top performers. Employing an efficient, thorough, and fair interviewing process can help you pinpoint the finalists for the job who are most likely to become successful team members. This includes asking a variety of questions, in the following categories:
Icebreaker questions to put applicants at ease
Behavioral questions designed to uncover job seekers' aptitude for problem-solving and fostering positive interpersonal relations, including with customers
Values-based questions to determine whether the candidate's core values align with those of your organization and current team
Skills and background-based questions, including asking questions designed to test the ability to memorize menu offerings and customer requests.
5. Before You Hire a Server: Run a Background Check
Once you've narrowed your applicant pool to a handful of finalists, you'll need to carve out time to undertake a reference check by making calls to the references provided by each top candidate and following up with each employer to confirm the tenure dates provided on their application. You may also want to go a step further and pay for a more robust professional background check.
6. Make an Offer and Negotiate a Start Date
The final step in your hiring process is to select your lead candidate and make a fair offer based on the research you conducted during the first step. Be prepared to negotiate salary and benefits with your top-choice candidate, adjusting your offer to attain the talent you need.
Get the Word Out and Start Finding Waitstaff With the Customer Service Skills You Need
Now that you know how to hire a server, it's time to bring top talent to the table with a job posting plan that fits your needs and targets qualified job seekers.