How to Hire a Receptionist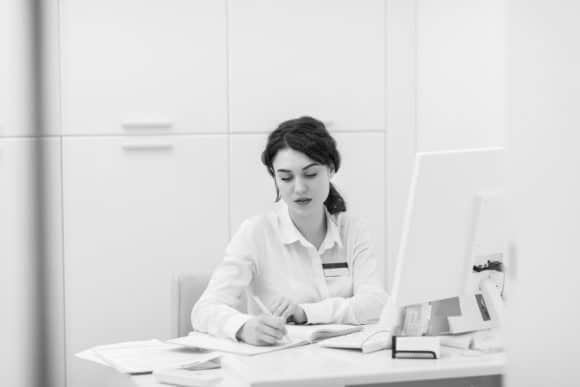 A receptionist is the first person your customers and clients interact with when they call your office or come to visit. Regardless of whether you need a receptionist to check-in hotel visitors, schedule spa services, direct clients to the right conference room, or help patients fill out paperwork, there are certain skills and professional values that will separate a great receptionist from a good one.
If your front desk is currently empty, you (or a cranky coworker) are likely left answering every call and speed walking to the door to greet guests, you'll want to hire a receptionist as soon as possible.
You're probably eager to find someone who can take on those tasks faster than you can say, "Hold, please." Knowing how to hire a receptionist who can handle your administrative tasks and make a good impression on your customers and clients boils down to these three main steps:
Reach qualified candidates with a well-written job description
Carefully screen applications to select the top candidates
Determine the best fit by asking relevant and revealing interview questions
1. Attract the Right Applicants
An efficient hiring process starts with a job description that clarifies the role, responsibilities, and qualifications. Customize your job description for every opening so you attract candidates who are qualified for the role and excited about the opportunity.
Every job description should have a summary section, a list of responsibilities, and a list of general requirements. In the summary section, write two to four sentences about the position, company, and why it's a great place to work. Use the rest of the job description to explain the day-to-day responsibilities and necessary skills, such as being organized, detail-oriented, and patient.
Be sure to stipulate any requirements, like a high school degree, proficiency with certain software, or the ability to type 40 or more words per minute. Also, list anything else you think the candidate needs to know before hitting "apply," such as the time commitment, salary range, and any benefits like a 401(k) and health insurance.
2. Select Top Talent to Interview
After posting the job description on a job board and your company website, the resumes should start rolling in quickly. Don't put candidates on hold. Speed up the process by using an applicant tracking system and resume screening technology to filter for keywords from the job posting.
When you're setting keywords and reviewing resumes, focus on the skills and responsibilities a candidate gained at each job rather than their job title. Figuring out how to hire a receptionist requires being open minded about their work history. In other words, someone who has been a secretary, personal assistant, customer service representative, file clerk, office manager, or a similar administrative role is likely to have gained transferable skills from those jobs.
The next step of the resume screening process is to conduct phone interviews. This short call should help you to assess essential soft skills every receptionist should have, such as verbal communication, active listening skills, and professionalism. Be sure to discuss the salary, benefits, and hours so the candidate can decide if they want to move forward.
By the end of the screening stage, you'll have a handful of qualified candidates who are almost as excited about the company and position as you are to stop sprinting back and forth from your desk to the front door.
3. See the Candidate's Skills in Action
There's only so much you can tell about a candidate from a resume, cover letter, and quick conversation. Depending on your business, a receptionist might be responsible for data entry, basic bookkeeping, calendar management, locking up at the end of the day, or dealing with difficult clients. You need to know the receptionist is trustworthy, responsive, professional, and can calmly handle heated conversations.
A longer interview process allows you to include additional team members, give assessments, and see more of their hard and soft skills in action. Since you're wondering how to hire a receptionist, you're probably also wondering what to ask in an interview.
Here are a few interview questions geared toward hiring a receptionist:
Tell me about a time you dealt with a visitor or caller who was being difficult. How did you handle it?
As a receptionist, you'll need to frequently switch tasks or pause midway when the phone rings or a visitor arrives. How do you stay organized?
You'll have access to personal information like phone numbers, addresses, and financial information. How will you make sure everything is filed securely?
Please tell me about a time you made a mistake at work. How did you handle it?
What qualities will make you a great receptionist? Why should we hire you?
Why do you want to work at our company? What made you hit "apply"?
Now That You Know How to Hire a Receptionist, You're Ready to Post a Job
Ready to find a receptionist you can rely on to make the right call? Check "find a receptionist" off your to-do list and find someone to handle everything from check-ins to schedule changes so you can focus on what you do best…and not running to the front desk. Start today by posting a job on Monster for free.