How to Build a Recruitment Marketing Strategy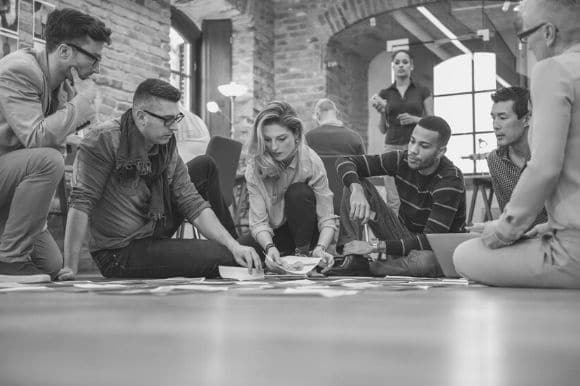 The hiring process is a two-way street. It's important for a candidate to show why they're the right person for the job, of course, but it's just as crucial for you to win over top talent by showing why your company is a great place to work. One of the most effective ways to promote your company and attract candidates is to implement a recruitment marketing plan.
If you're already used to marketing your products or services, you'll use similar marketing tactics to get people excited about working for your company. How do you do that? We've pulled together five essential components of any successful marketing plan:
Strengthen your employer brand
Use social recruiting tactics
Optimize your company website
Create compelling content
Host and attend events
What is a Recruitment Marketing Plan?
Using marketing tactics to promote your employer brand, which is your reputation as an employer, will help you attract top candidates at different levels of the recruitment funnel. The goal is to appeal not only to active and passive job seekers, but also to establish your company as a highly desired workplace in general.
Create a Marketing Strategy
Depending on the size of your company, you'll develop this strategy among senior leadership or delegate the task to your recruitment and marketing teams. Here's how to build a successful strategy:
1. Strengthen Your Employer Brand
Start by auditing and improving your employer brand, so your recruitment marketing impresses potential candidates. Evaluate your company culture, values, mission, benefits package, and compensation. Make sure you have the HR policies and programs candidates and employees want, such as remote work, flexible schedules, employee resource groups (ERGs), professional development initiatives, and a clear and equitable career advancement path.
Next, gather and implement feedback from your team. Conduct employee engagement surveys and stay interviews to find out how engaged your employees are and what can be improved. Cover a wide range of topics, such as:
Company culture
Compensation and benefits
Policies and perks
Work relationships
Ways to increase job satisfaction
After completing your audit and strengthening your employer brand, you're ready to promote it.
2. Use Social Recruiting Tactics
Social recruiting is essential to any recruitment marketing strategy. Create and promote content that shows your employer brand and company culture, such as employee testimonials, photos of your team in the office and at team-bonding events, awards your organization has won, your company values, and the benefits and perks you offer.
Ask your social media team to engage with followers and use popular industry hashtags to increase reach and engagement and build relationships with potential candidates. Prompt your team to share content with their social networks by using an employee activism program. Your social media team will email content that employees can post to their social channels, such as job openings, press mentions, blog posts, and behind-the-scenes content.
3. Optimize Your Company Website
One of the first things a potential customer, client, or candidate will do to learn more about your company is check out your company website. Start by making sure your website follows search engine optimization (SEO) best practices so that people are likely to find it when they search for your business name and relevant keywords. Use your "about" page to make a good first impression. You may want to share your value proposition, company history, mission, team bios, and glowing customer and client testimonials.
It's beneficial to use your "career" page to share job openings and elaborate on why your company offers great career opportunities. For example, you could share your team values, extracurriculars like ERGs and sports teams, professional development initiatives, and commitment to diversity, equity, and inclusion (DEI).
4. Create Compelling Content
To amplify your recruitment marketing, write blog posts that show off your employer brand. You could interview employees and share their favorite things about their role and working at your company, showcase your DEI initiatives and the demographics at your company, or write about your company history and key milestones. If your team has the bandwidth, it's beneficial to conduct exclusive surveys and white papers with proprietary insights that reporters will want to share.
Stay top-of-mind as a potential future employer by creating a weekly or monthly newsletter. You could share recent blog posts, company news, job openings, accolades, and advice for navigating the hiring process at your company.
5. Host and Attend Events
One often-overlooked recruitment marketing tactic is to host and attend in-person and virtual events that will help you foster relationships with potential candidates. Your team could host and attend a variety of events, including:
Career fairs
Conferences
Networking events
Webinars
Hiring "happy hours"
In addition to building relationships, this tactic will increase brand awareness, provide value, and show that your team members are industry experts.
Continue to Optimize Your Recruitment Strategies
These recruitment marketing tactics will help you improve your employer brand and develop relationships with potential candidates, so they'll think of your company when they are ready to look for a new job. Your next step is to improve your candidate experience so top candidates are eager to join your team. Implement expert-recommended recruitment advice from Monster.