7 Creative Recruitment Strategies That Work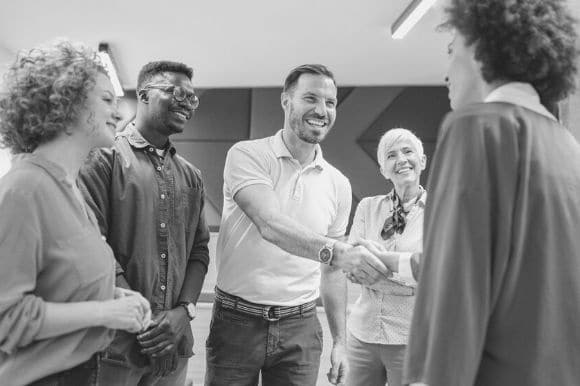 When you use creative recruitment strategies, you implement innovative methods for reaching, attracting, and retaining candidates. The most effective strategies increase reach and engagement, show why your company is a great place to work, and make candidates feel valued.
In a tight labor market, it's not enough to put a hastily written job description on your company website and hope for the best. You need to put in effort to reach and win over the best candidates.
It takes time to research recruiting best practices. We did the research for you so you can focus your energy on hiring a talented team.
7 Creative Recruitment Strategies
These seven strategies target different stages of the hiring process, from reaching candidates and writing an effective job description to interviewing candidates and selecting the right person for the job. Here's what to do and, more importantly, why it works.
1. Host "Hiring Happy Hours"
Give potential candidates the opportunity to get to know your team, have informational interviews, and learn more about your company before they decide whether they want to apply. Choose a time and place and post an invitation on your company's social media platforms. (Because this is a professional event, candidates may be more comfortable connecting over coffee and pastries instead of alcohol and appetizers.)
Also, host virtual events so people from other cities can attend. Most communication platforms allow you to create breakout rooms so people can connect one-on-one or with a smaller group.
These events will help you reach candidates and enable them to make an informed decision about moving forward. If they decide to join your team, you're likely to see increased retention.
2. Film Employee Testimonials
This creative recruitment method will boost your employer brand-which is your reputation as a great place to work. Film short interviews with employees from a range of departments and seniority levels. Include the videos on your career page and on your social media platforms.
Guide your team by asking questions like:
How would you describe what our company does and its mission?
What is your role and what are your main responsibilities?
What's the company culture like?
What is your favorite thing about working here?
How would you describe your coworkers?
3. Include a Chatbot on Your Career Page
Engage potential candidates by including a chatbot function on your company career page. You can program the chatbot to answer potential candidates' questions, provide more information about your hiring process, and help them find relevant job openings.
4. Text Message Candidates
Some candidates may prefer to communicate with recruiters and hiring managers by text message. When candidates send their application, ask them if they want to receive text messages or email updates.
Two of the main benefits of this creative recruitment tactic are that you are likely to get a faster response time and that it can help you attract millennial and Gen Z candidates. It can be tempting to be less formal when you're texting, but keep it professional by using full sentences and proper punctuation, and be sure to text during regular business hours.
5. Match Top Candidates with a Peer
Once candidates get through the initial telephone screening and first-round interview with the hiring manager, introduce them to someone who has the role or had it previously. Candidates might not be as comfortable asking the hiring manager (their would-be-boss) about topics like office politics, work-life balance, or what the person is like as a manager.
Often, recent hires quit because the job responsibilities or company culture isn't what they expected, so this level of transparency is likely to increase retention.
6. Conduct Shadow Interviews
When you host shadow interviews, you invite candidates to the office for the full day or a few hours to follow someone who has the role. It is typically the final interview and is only extended to one or two candidates.
Shadow interviews are beneficial for the candidate and the hiring manager. With this creative recruitment strategy, the candidate learns more about the day-to-day responsibilities and company culture and the hiring manager can evaluate the person's social skills and work ethic. Another benefit of this creative recruiting tactic is that it helps both parties make a more strategic decision about whether they want to move forward.
7. Showcase Your Commitment to Diversity, Equity, and Inclusion (DEI)
Candidates want to work at a company that is committed to DEI. Attract candidates by creating a section of your career page that focuses on any diversity and inclusion initiatives you offer like employee resource groups (ERGs), returnship programs, and anti-bias trainings. Include photos from events and consider interviewing the heads of each ERG.
There are several strategies you can execute to make your hiring process more inclusive. For example:
Write inclusive job descriptions.
Reach diverse candidates.
Create blind applications.
Have diverse hiring panels.
Develop set interview questions and a standardized evaluation process.
Start Implementing These Creative Recruiting Strategies to Hire a Talented Team
These creative recruitment strategies will help you reach and engage with candidates and stand out from the competition by showing why your company is a great place to work. Ready to get started? Reach qualified candidates today with a free job posting on Monster.