How to Effectively Manage FMLA Leave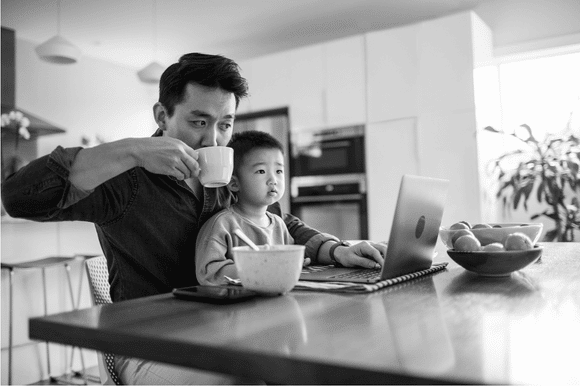 It's more than likely that at least some of your employees are attempting to balance work in the face of significant health and caregiver challenges. In any given year:
These numbers paint a vivid picture: The ability to access family and medical leave has the potential to improve the lives of a substantial proportion of America's workers at any stage in their professional journey. This is where the Family and Medical Leave Act (FMLA) comes in.
But the federal law only requires employers to provide their workers with unpaid leave and it only applies to employers with 50 or more employees. By providing a generous FMLA leave policy that goes beyond the provisions of FMLA, you can improve your company's work-life balance, and by extension, employee retention, engagement, and performance.
What Is FMLA Leave?
Since 1993, the FMLA has required private employers with 50 or more employees to permit up to 12 weeks of unpaid leave in any 12-month period to attend to family or medical matters, such as:
The birth or adoption of a child.
Caring for a child, parent, or family member with a serious medical condition.
Recovering from a health issue that hinders their ability to perform their role.
Group health benefits must be maintained during the leave and the employee must be permitted to return to the same job or a comparable one at the end of their leave period. Workers become eligible for this benefit once they have worked for the same employer for at least 12 months and for at least 1,250 hours during those months.
In addition, the law requires eligible employers to notify and educate employees about their rights under FMLA by displaying a poster with information about the Act, including how to file a complaint if they believe their rights under the law have been violated. Free downloads of the required poster are available in English and Spanish on the U.S. Department of Labor (DOL) website.
The DOL provides a variety of forms that employers can use to administer their leave policy; however, the law does not require employers to use any particular FMLA form so your HR department is free to design and implement forms and internal processes that best meet your needs, as long as they do not place undue hardship on your employees to obtain leave and do not violate the provisions of the law. Your employee handbook should also outline the provisions of FMLA.
Implementing FMLA
Adhering to the provisions of FMLA and administering your company leave policy in adherence to state and local employment laws is as crucial as it is complex. FMLA is a complicated law that has been amended twice since it was enacted. In addition to the federal law, several states have leave policies that extend beyond federal mandates.
Because individual managers and HR personnel have been held accountable for violations, it is a good idea confer with an employment lawyer when facing these decisions. Quibbling over the technical definition of "family member" and getting it wrong, for example, could be costly for not just the employer but the individual manager who made the error as well.
Leave for New Parents
Under the provisions of FMLA leave, employees are permitted to take family leave to bond with a new baby or adopted child at any point during the 12 months following their child's birth or placement for foster care or adoption. Employers often require employees to take parental leave consecutively, but they are free to negotiate intermittent leave with employees.
Only 5% of new fathers take two weeks or more of parental leave. By urging employees of all genders to take leave, you can help improve employee wellness and establish your organization as a family-friendly and supportive workplace.
When an employee announces that a new child is coming into their lives, reach out to remind them of the provisions of FMLA and let them know that you are expecting them to take some time off. Not only will this bonding time strengthen your employee's relationship with their new child, but many experts believe encouraging more men to take paternity leave is an important step toward increasing equity for women in the workplace, helping to bridge the opportunity gap at a critical point in their career trajectory.
Leave for Medical Illness
Unlike parental leave, employees may opt, or even need, to take medical leave for a serious medical condition intermittently. Under FMLA, qualified medical conditions include pregnancy, illness, or injury that causes incapacity, as well as procedures or treatments that require an overnight stay in a hospital. Employees with chronic medical conditions can take up to 12 weeks of unpaid leave intermittently during periods of incapacity.
Many employers opt to offer FMLA leave as an extension to their paid sick leave allowance for the year. In other words, once an employee has used all their paid sick days, they can take an additional 12 weeks unpaid to deal with illness. Another option is to allow employees to donate their unused PTO to coworkers in need.
Leave for Caregiving
Whether it's staying home for a couple days to care for a sick child or requesting more extended time off to provide or oversee care for a spouse or parent with a prolonged illness or disability, employees often find themselves trying to balance the dual responsibilities of work and caregiving. Helping them navigate these life roles is a common HR task, and one that FMLA leave can make a bit simpler.
As with parental and sick leave, having materials that clarify your employees' legal rights under FMLA and being ready to explain exactly how your own company leave policy can augment federal, state, and local leave provisions can help make these family crises a bit less stressful. It's also important to be aware that an employer can be held legally accountable if an employee can prove they have been terminated or discriminated against due to caretaking.
Going a Step Further Than FMLA
The United States is the only developed country that does not require employers to provide paid parental leave. Even unpaid leave as required by FMLA is unavailable to the nearly 44% of the workforce who are employed by organizations with fewer than 50 employees in states that do not go further than the act's provisions.
Only 35% of U.S. employers provide paid maternity leave, with even fewer—27%—offering paid paternity leave, and that number appears to be shrinking. Yet, a majority of jobseekers believe this benefit should be required by law. Younger workers are especially focused on finding workplaces that foster wellness and work-life balance. This makes paid family leave a potentially powerful enticement for job candidates.
Coupled with other generous PTO policies and wellness benefits, a robust family and medical leave policy, one that builds on but goes well beyond FLMA leave, can serve as a powerful incentive to increase retention for workers at every stage of their career path.
Leverage Your Family and Medical Leave Policy to Attract Top Performers
By building on mandated FMLA leave provisions, you can combine paid and unpaid leave provisions that show your current and future employees you care about work-life balance and workplace wellness, and then promote those provisions in new job posts that are bound to attract coveted candidates.
Legal Disclaimer: None of the information provided herein constitutes legal advice on behalf of Monster.