How to Introduce Employee Wellness Benefits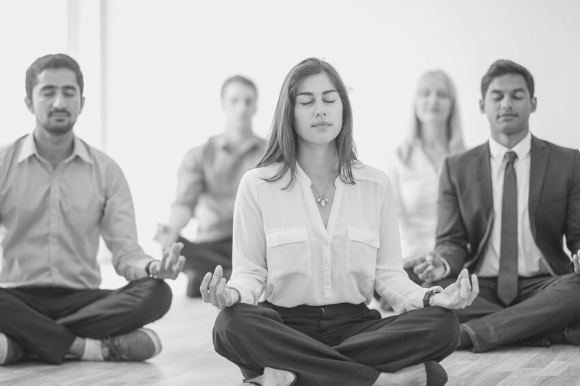 If you're looking to edge out your competitors when it comes to attracting and retaining top-performing employees, offering a wide range of employee wellness benefits can give you the advantage you need.
If you need convincing, consider the numbers:
Job seekers have made it clear that they want to work for employers who are invested in their well-being. Providing the employee wellness benefits they want can make you the go-to destination for job seekers in your sector or community and help you keep your top-performers on your payroll.
What Is an Employee Wellness Program?
Employee wellness programs promote health in the workplace through a range of policies and benefits designed to support fitness, nutrition, self-care, stress reduction, and other evidence-based approaches that enhance overall health.
How Do Employee Wellness Programs Benefit Employers?
In addition to providing an advantage when it comes to recruitment and retention, the benefits of employee wellness programs include:
Improving your employer brand by showing that you care for your employees.
Lowering health care and disability benefits costs.
Reducing absenteeism due to sick days.
Reducing work-related stress that can lead to employee attrition.
Improving your employees' mental health, morale, teamwork, and adaptability.
What to Offer: Wellness Benefits Options
A generous employee healthcare package that includes vision and dental is a good starting point, but many of today's job candidates are also seeking generous fertility benefits and access to holistic healthcare options.
You'll need to go beyond standard healthcare and disability insurance to gain a reputation for fostering wellness, especially in competitive sectors like tech or healthcare. Long hours and stressful working conditions can lead to poor health outcomes for your employees. Generous paid time off (PTO) and forced time off policies discourage workers from forgoing their vacation time and becoming run down and stressed out, and signal to potential and current employees that their well-being is vital.
Large and small employers can get creative with wellness benefits by partnering with a local gym to offer reduced fitness memberships, and keeping break rooms supplied with healthy snack and plenty of water. Host wellness weeks and bring in experts and practitioners—massage therapists, life coaches, yoga and self-defense instructors, and nutritionists—to lead onsite or virtual seminars. Pay for mindfulness apps or healthy cooking classes, create a meditation space, and sponsor smoking-cessation programs.
With so many options to consider, you'll need to select the ones that make sense for your workplace and then you'll need to determine how to introduce your employee wellness benefits to your employees in a way that ensures they will take advantage of it.
Craft an Employee Wellness Program
Your first step will be to assess your employees' wellness needs by conducting an employee survey. The Centers for Disease Control (CDC) provides guidelines on how to design employee surveys to take your workforce's temperature. To comply with the privacy laws, make the survey anonymous.
This will help you gauge what kinds of benefits your employees are most interested in and the kinds of healthcare challenges they face. It will also serve to alert your workers that you are serious about fostering wellness.
If you are a mid-sized or larger employer, your next step will be to create a wellness committee that includes representatives from HR and other departments. Together, the committee will assess your employee survey to:
Establish wellness goals.
Research benefits options.
Make recommendations on what your wellness program should include.
The findings and progress of the committee should be shared companywide to help signal your commitment to employee wellbeing.
Some benefit options may be too pricey, but others, such as smoking cessation programs, can be extremely low cost and high reward. Work with your benefits team to determine what you can afford, create a budget, and begin assembling the components of your wellness initiative.
Your program should target your goals. If your employees report elevated levels of work-based anxiety, your No. 1 priority should be stress reduction. If yours is a field that leads to a sedentary workday with employees sitting at a desk in front of a screen all day, then you may want to invest in fitness club memberships and distribute maps with nearby running, biking, and hiking trails.
Announce Your Commitment to Wellness
Once you've created your new program, announce your new employee wellness benefits in a comprehensive way that ensures that your employees—both on site and remote—get the message. Creating a culture of wellness by featuring your wellness options on your website, sponsoring a series of guest speakers or seminars, or hosting a companywide healthy lunch buffet.
Create opportunities for community that are wellness focused. You can create a rewards program based on healthier lifestyle choices or encourage employees to invite family members to take part in fitness activities like charity 5K runs. Recognize fitness achievements with gift certificates, PTO, and shout-outs.
A Word of Caution
In addition to legal considerations, such as guarding employees' health information, be conscious of social biases tied to false perceptions of fitness. Framing health as a matter of personal responsibility can stigmatize chronic illness and disability.
Don't tie your wellness program to body mass or weight, and never encourage weight loss contests. Not only can these types of contests further stigmatize employees based on body size and disability, but they also can be triggering, even deadly, for employees with eating disorders.
Instead, focus on reducing stress, forming strong relationships, and offering lots of fun options to engage in healthy activities and increase knowledge. Let your employees know you care about their wellbeing, and their increased loyalty will contribute to a healthier bottom line.
After You've Established a Robust Employee Wellness Benefits Program
Your new wellness initiative is just one step in your journey toward creating a management environment that attract and retains top talent. Learn about the latest hiring news, along with expert advice and easy-to-follow how-tos from Monster.