Paid Parental Leave Policy Best Practices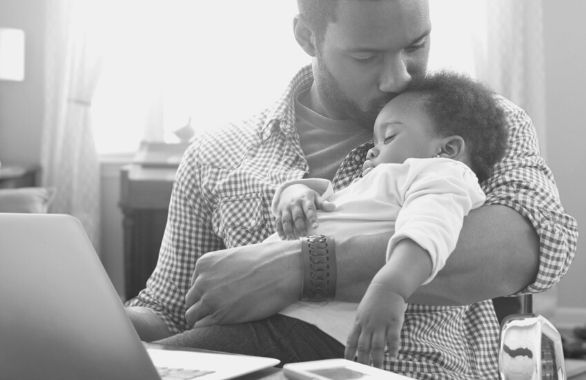 Although there is high demand for parental leave options, only about 21 percent of U.S. private sector employees had access to paid parental leave in 2020, according to the U.S. Bureau of Labor Statistics (BLS).
The United States doesn't have a national paid parental leave policy for private businesses. The U.S. Department of Labor (DOL) enforces the Family and Medical Leave Act (FMLA), requiring private companies with at least 50 employees to provide job-protected, but unpaid, leave for three months. At a local level, just a few states mandate paid leave, so the decision is largely up to business owners.
If you're considering offering this benefit, there are four steps to creating and implementing your policy:
Conduct market research
Determine what you can afford
Coordinate the logistics
Promote your policy
Here is more information about paid parental leave, how it can help your company, and best practices for developing your policy.
What is Paid Parental Leave?
Paid parental leave is an employee benefit that gives new parents job-protected time off to care for a newborn or newly adopted or fostered child. It is inclusive and provides leave for male, female, and non-binary parents and LGBTQ+, heterosexual, and single parents.
Some companies offer parental leave for bonding and maternity leave for mothers who give birth. The U.S. Equal Employment Opportunity Commission (EEOC) recommends that business owners avoid a potential discrimination claim by making it clear that they offer different leave for pregnant women and their partners, given the extraordinary demands of pregnancy and childbirth. They recommend that the bonding time, excluding time to recover from childbirth, be the same for all parents.
Additionally, childbirth recovery and certain pregnancy complications may count as qualifying events for short-term disability leave under the Americans with Disabilities Act (ADA). Some states will pay the full base salary or a percentage. Check your state laws because you may be able to cover some or all maternity pay from state programs.
What are the Benefits of Offering Paid Leave?
Aside from the many benefits of giving employees paid parental leave, there are also advantages for business owners. Companies with paid leave are likely to have higher employee morale and engagement. These companies often financially outperform the competition because of increased quality of work, productivity, and employee retention.
Offering paid leave to all parents can help you recruit and retain top talent and show your commitment to building a diverse and inclusive team. Diverse and inclusive companies often have increased employee morale, engagement, and financial performance.
How Do You Create Your Company's Policy?
You can implement these steps and best practices to set your company's policy:
1. Conduct Market Research
If you haven't already, start by reviewing the FMLA and your state's parental leave policies to make sure your plan is compliant. Next, research what other companies in your industry offer so you create a policy that will help you attract and keep talent.
As with salaries, you might not be able to afford to offer the top range. However, you may be able to stay competitive by adding other family-friendly benefits like job sharing, a flexible work schedule, fertility benefits, remote work, backup childcare, and childcare stipends.
2. Determine What You Can Afford
Now determine how much time off you can afford to provide. Start by considering if you will pay your employees their full salary during paid parental leave or a percentage. If you pay a percentage, you may be able to offer a longer leave time for all of your employees.
As you're estimating, take into consideration that you must provide health insurance during leave. It's helpful to look at your organizational chart to determine whether you'd need to hire temporary workers for certain roles.
3. Coordinate the Logistics
After determining how much time off you can afford and whether you will offer full or partial pay and maternity and parental leave, consider other logistical details such as:
Will you provide the same benefits for full-time and part-time employees?
Do the benefits start on the first day of employment? If not, when do they begin?
How far in advance should employees notify their manager and HR?
Do employees need to provide any documentation?
Do employees need to take the leave all at once, or can it be taken intermittently throughout the first year?
If leave is taken intermittently are there any guidelines, such as requesting an extended leave time in advance so managers can plan accordingly?
Will you offer different benefits based on the state or country where the employee lives?
Consider having an employment lawyer review your plan before you formalize it.
4. Promote Your Policy
After finalizing your paid parental leave benefit, you're ready to add it to your employee handbook and tell your team. If you decide to offer paid maternity leave and paid parental leave, create two separate policies in your handbook. You may want to include the goal, eligibility criteria, duration and guidelines, and the request process.
Promote your policy by announcing it at your next all-team meeting. Some employees may be reluctant to take leave because they think it will keep them from getting promoted as quickly and that it will imply that they are "less committed" to their jobs.
You may be able to increase the number of employees who take leave by showing your support for the policy and encouraging leaders to take parental leave. Additionally, make sure that employees aren't judged or penalized for taking leave.
Attract candidates by including a brief overview of your benefits on your company's "career" page and in job descriptions. Make sure recruiters and hiring managers know the details if candidates ask during the interview process.
Continue to Improve Your HR Policies
You've learned exactly how to create a paid parental leave policy that will help you recruit and retain talent, improve employee morale and engagement, and strengthen your company culture. Keep implementing policies that can make your business more successful. Sign up to receive expert HR advice, news, and data from Monster.