Addressing skill gaps with massive open online courses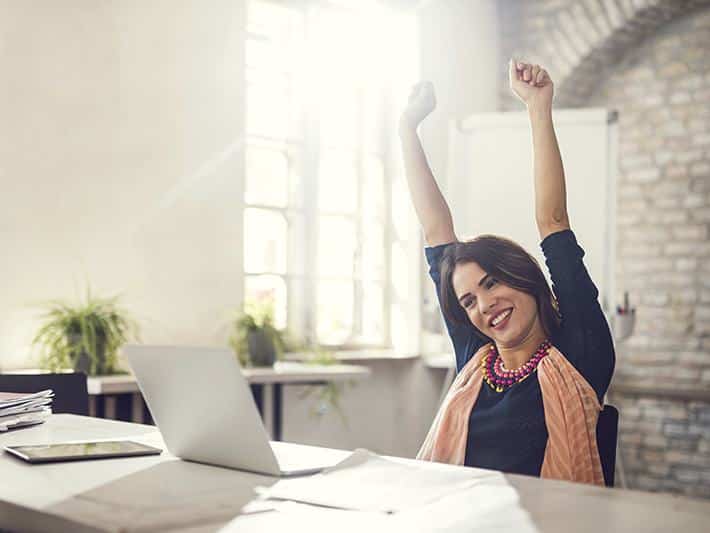 Is your workforce equipped with the skills and knowledge it needs to remain competitive and grow? If you're doubtful, think about incorporating MOOCs into your training strategy. MOOCs — or Massive Open Online Courses — offer employers the opportunity to train workers across a variety of skills. They can also help workers keep up with ever-evolving technology.
Half of today's jobs won't exist in 2030, says Anant Agarwal, CEO of edX, an MOOC non-profit founded by Harvard University and the Massachusetts Institute of Technology. "What's more, the remainder of the jobs left will either change completely or be different in some way." Growing businesses in particular will be tasked with the challenge of how to empower their existing workforce to upskill and reskill to meet the changing demands of their jobs, says Agarwal.
Here's how MOOCs can help you in addressing skill gaps and giving employees the opportunity for development.
Keeping up with innovation
The typical MOOC is a college-level course offered online to anyone who wants to enroll. Some are free to viewers who only watch the course. Others charge students who also want to take tests and earn a certificate.
For employers, MOOCs can be a cost-effective, efficient way of addressing skill gaps related to employee training. They're particularly useful for widespread workforces, smaller companies with limited time and budget for training, and companies whose employees need to stay current as technology evolves.
Steve Halligan, chief operating officer of N2grate, a 30-employee company that provides data center and cloud solutions to Federal agencies, uses the classes at Cybrary to keep his employees up to date on technical and cybersecurity innovations. "We've been using MOOCs for years," Halligan says. "In a world in which no one can be an expert in all things, the ability to use ongoing, flexible content to sharpen the skill development saw has been a key piece for us."
Billable hours drive N2grate's workforce. That makes MOOCs attractive since employees can learn while commuting or in the evenings, instead of leaving the office to attend in-person classes. "It strikes me as a smarter way to train," says Halligan. "It doesn't need to be one-to-one or one-to-many at a certain time or place."
MOOCs can reduce costs and boost income
As MOOCs address skill gaps within your existing workforce, they can also help reduce your recruitment and employee relocation costs.
"There is an arbitrage to assess when recruiting talent versus growing it in-house. Since online programs do not require massive internal resources to produce, update, and roll out, there is a clear benefit in terms of cost and time for growing businesses," Agarwal says.
There may also be an income-side boost gained from online learning. "According to Bersin & Associates, revenue generated per employee is 26% higher for companies that offer training using technology, including digital learning," Agarwal says.
MOOCs as employee benefits
Particularly for today's often restless millennials, MOOCs can signal a commitment to employee development.
"As we think about the younger generation of employees, employee development is something they really care about," says Julia Stiglitz, vice president at Coursera, an MOOC with 2,000 courses and 180 specializations taught by instructors from 149 university partners.
Among the company's most popular offerings are information technology and project management courses, business classes that mimic the first year of a typical MBA program, and specialized programs in hospitality and advanced manufacturing.
Stiglitz sees larger businesses using MOOCs in novel ways that might also work for growing businesses. For example, when BNY Mellon onboards web developers, it has them complete Coursera's full stack web development specialization taught by the Hong Kong University of Science and Technology. Once they complete the six-course series, employees share a common set of skills and language, Stiglitz says.
Cosmetics company L'Oreal Paris also uses MOOCs as an employee perk. Staffers can choose to take any of a curated set of courses on management, leadership, business fundamentals, and data science.
Addressing specific skill gaps
Even in a hot tech area like Silicon Valley, some jobs remain hard to fill and keep filled. These areas include data science, mobile development, and web development. Sometimes, there simply aren't enough qualified candidates around. These skill gaps often occur with "new" skills such as artificial intelligence or cloud computing — all areas covered by MOOCs.
MOOCs can also be an efficient way for in-house employees to gain soft skills. Agarwal says companies use edX's MicroMasters program to help new leaders gain specialized management skills without sending them to multiyear, on-campus MBA programs. Even senior leaders can benefit from business and enterprise skills courses that cover topics like entrepreneurship, risk management, and employee management.
Could MOOCs enable you to create a skilled workforce from the ground up? A company in West Virginia uses MOOCs to reinvent the careers of the 70,000 Americans who now work in the coal industry. Halligan, however, is skeptical of using MOOCs to build a technically competent IT staffer from scratch. Yet some MOOCs offer a money-back guarantee of preparing workers for jobs, so it could be worth a try.
Skills gaps and recruiting
Addressing skill gaps with MOOCs is a consoling idea, especially when you've found candidates who are otherwise qualified for a given position. Of course, it helps to recruit workers with as many necessary skills as possible from the get-go. Whether you know exactly what you're looking for or haven't quite figured that out, Monster can help. Sign up for Monster Hiring Solutions to receive expert recruiting advice and the latest hiring trends.