OFCCP regulations: What federal contractors need to know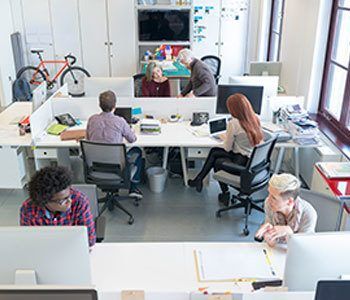 Does your business have contracts with the federal government or does it hope to become a federal contractor in the future? Are you familiar with the Office of Federal Contract Compliance Programs (OFCCP), the laws it oversees, and its contractor requirements? If not, you should make it a priority. You don't want to finally land that big contract only to find out later that you're out of compliance.
Truth is, many employers—particularly smaller businesses that have never entered into a government contract—don't know what the OFCCP does or its potential significance to their business. But you want to be prepared. Your first federal contract or next compliance evaluation could be sooner than you think.
The following information is intended for new and existing federal contractors, with a review of OFCCP regulations, contractor requirements, and special assistance for small businesses.
What does the OFCCP do?
The purpose of the OFCCP is to ensure that businesses with contracts of at least $10,000 with the federal government don't discriminate and that they take affirmative action in hiring. It sounds simple—and you may already be doing these things—but the agency's mission to "protect workers, promote diversity, and enforce the law" creates several different (and detailed) contractor requirements, including:
The development of a written affirmative action plan
The creation of an internal audit and reporting system
The posting of several notices of non-discrimination and employees' rights under the laws as overseen by the OFCCP
The retention of certain employment records
The filing of an annual EEO-1 report with the Equal Employment Opportunity Commission (EEOC)
The OFCCP enforces these regulations by helping federal contracts get into compliance, conducting evaluations, and investigating complaints.
OFCCP regulations: Specific laws covered
Compliance assistance for small businesses
Smaller federal contractors that may not have a dedicated EEO specialist on staff can obtain information about how to comply with OFCCP regulations from the agency's website. Contractors with fewer than 150 employees may use an alternative method for establishing affirmative action program (AAP) job groups for the purpose of creating an AAP.
Smaller companies that wish to become federal contractors for the first time can use the General Services Administration's step-by-step preparation guide. This guide is divided into two main sections, the first is on how to get ready for federal contracting and the other is on how to bid for federal contracts.
Since nearly one-quarter of all federal contracts go to small businesses, it's worthwhile to consider your options. The agency makes it clear to contractors that it never schedules evaluations solely because a company requested compliance help, so don't be afraid to ask.
Are you fully staffed and ready for your next federal contract? Recruit with Monster today
You've been working for months trying to secure a lucrative federal contract that could put your small company on the map, and you've finally gotten the green light. Congratulations! But you're going to need a bigger staff to get it done. Look no further than Monster Hiring Solutions, with expert information on the latest recruiting trends, managerial strategies, and more, delivered right to your inbox.
Legal Disclaimer: None of the information provided herein constitutes legal advice on behalf of Monster.