How to Create an Internship Program: 5 Tips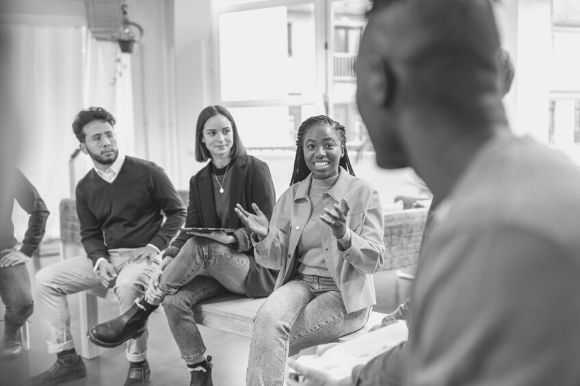 So, you're looking for information on how to create an internship program—good for you! Companies everywhere are looking for talent and trying to build a new generation of future staff, so you know you're not alone. You'll need to choose an internship program design that makes sense for your business, where you are today… and where you hope to be tomorrow.
Introducing internships is the first step in the next generation of your workforce management—it's a lot more than just a way to get your more onerous tasks accomplished. Play it right, and your internship program could set the tone for your whole business moving forward.
Ready to learn how to create an internship program? Let's get started. There are five steps in every internship program setup:
Identifying your business needs—Why do we need interns? How much can we afford?
Recruiting, which means marketing the positions to a particular population, at a particular time
Understanding your legal considerations, some of which are specific to this venture
Managing the intern during their time with your company—from onboarding to exit interview
Evaluating and iterating on the process, because feedback is essential. You can't manage what you don't measure, and you can't fix problems you can't find.
1. Identify Your Business Needs
The first step, identifying your business needs, is easy enough. Results-based management means clearly defining your end goals so that you can accurately create a path to achieve them.
Why do you need interns? Is this for a particular program or initiative, or are you just filling in staffing needs moving forward? If the former, you can lock down budgets and timeframes at the outset. If the latter, you're looking for a dynamic internship program framework that can scale over time.
2. Recruit Specifically for Interns
Recruiting interns takes a special set of considerations, since you're competing with other companies for time-limited availability. Understanding recruitment cycles is key to learning how to create an internship program. The start of summer, for example, is a crucial opportunity to get the most promising interns when they're at their most available. Job fairs, hackathons and other contests are ways to meet interns you might not otherwise encounter.
Remember: You are looking to fill a specific role, for a specific and limited amount of time, with the hopeful upshot of building a working relationship that can last past the internship itself. Within that framework you should interview as carefully and stringently as you would your potential full-timers.
There needs to be a values fit, with clear and mutually agreed upon tasks and timespans. You're looking for hard workers, eager learners, and a potential for leadership and initiative. These qualities aren't always apparent in a resume, so it's important to get that one-on-one face time and really drill down to the character at the core of your potential interns. If you're really setting out to build the next generation of leaders in your company, you'll need to start with the best.
3. Consider Your Legal Obligations
Remember, interns are not just employees, which come with their own considerations: there is an extra level of diligence required here. While most internships these days are paid, some interns—particularly those in an exploratory or observational role, or those who do not contribute meaningfully to work product—may legally be unpaid.
Unpaid internships are allowed under unique circumstances, determined primarily by whether the intern (and not the employer) is the primary beneficiary of the arrangement.
While state laws regarding internships may vary, the federal Department of Labor employs a 7-step test to decide whether interns are entitled to minimum wage and overtime pay. Among other considerations, this test determines the extent to which an internship "provides training that would be similar to that which would be given in an educational environment" and whether the intern's work "complements, rather than displaces, the work of paid employees."
4. Manage Your Interns With Best Practices
Remember that ideally, this is a process that takes the intern from temporary placement to a permanent home in your organization. Making those connections work, and making sure upskilling is part of your talent acquisition strategy, means setting the bar high—and providing guidance all along the way can yield impressive results for both the intern and the company. It's easier to do when you consider interns a valuable part of your workforce and workflows.
A successful intern program design should provide an orientation (if not a full kickoff reception), plenty of training, and ongoing supervision. It's best to use the internship as time to expose the newcomer to as many aspects of the business as they seem interested in or have shown talent for. The opening events should serve as an introduction to your whole company, not just the project for which you're recruiting interns.
5. Evaluate and Iterate: Feedback is Essential
You can't manage what you don't measure, and you can't fix problems you can't find. If you plan to use your new internship program to drive graduate hiring, use evaluations from managers to assess whether the intern would be a good match. As with any feedback loop, diversity in your evaluators will help to preserve diversity in your candidate pool—make sure you're getting stakeholders from all areas.
After the internship, be sure to maintain contact—and make your job offer as soon as possible, since many of today's students receive multiple job offers upon graduation. High-performing interns should automatically be considered for new graduate positions, and it's not unheard-of to create new positions for just the right fit.
Ready to Start Building Your Tone-Setting Internship Program?
Your internship program framework design sets expectations for everything that follows—it's how your future hires will remember and situate themselves in the company. Whether you're curious about how to create an internship program, actively searching for good interns, or just looking to hire a new employee with solid internship experience, Monster's expert advice and hiring tips can help.
This article is not intended as a substitute for professional legal advice. Always seek the professional advice of an attorney regarding any legal questions you may have.