How to Create an Internship Program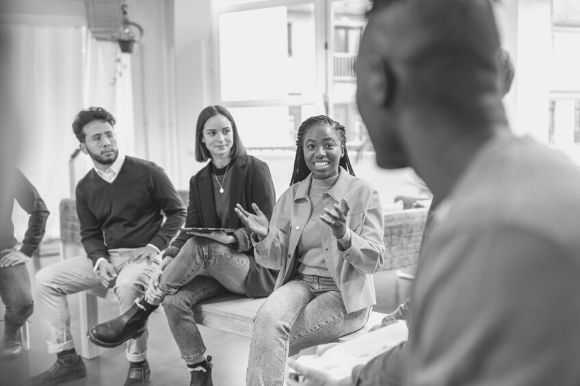 Not only is an internship program a great way to extend your employer brand to the next generation of workers, but a growing number of employers view these on-the-job educational opportunities as the recruitment strategy with the strongest ROI, proving that investing in candidates at the earliest stages of their career can lead to strong employer-employee bonds over time.
Nearly a quarter of U.S. college students take part in at least one internship before graduation, and for at least 66% of college interns, these on-the-job learning experiences lead to a permanent job offer. At the same time, a growing number of mid-career professionals are on the hunt for fellowships and internships that will allow them to explore a career or sector shift on a short-term basis before making a permanent commitment. Meanwhile, caregivers or early retirees are taking advantage of "returnships" as opportunities to brush up on tech skills and other industry advancements before re-entering the job market in search of their next full-time role.
Before you can begin recruiting interns at any stage of their career, you need to consider the challenges intern programs present and create a process designed to recruit, select, and develop tomorrow's top performers.
1. Paid or Unpaid? Start with Your Compensation Strategy
In years past, many internships were unpaid. The belief was that the knowledge gained during this apprentice stage experience was all the compensation needed in exchange for unpaid labor. But attitudes—and labor laws—have changed.
Legal Considerations: Who Is the Primary Beneficiary?
According to federal labor laws, an internship can only be unpaid if the intern is the primary beneficiary of the arrangement. In practical terms, that means that you may not be liable if you have an unpaid internship program but offer substantial learning and mentorship. Once you begin asking interns to perform tasks that benefit your bottom line, you are on shakier ground. To determine whether an internship program primarily benefits the intern, the U.S. Department of Labor (DOL) encourages employers to consider seven parameters when assessing program attributes.
If the employer is the primary beneficiary of the internship relationship, then the DOL recommends that the intern be paid at least minimum wage, though the average compensation for interns is significantly higher than the federal minimum wage.
The Downside of Unpaid and College Credit-only Internships
In many states, unpaid internships are only permitted if the employer is affiliated with an accredited educational institution. Typically, this means that the employer must provide a description of the internship program along with an assessment that allows the college to award credit based on the experience and knowledge the student has gained.
This scenario places interns in the position of having to pay on a per-credit basis for the privilege of working for free. As a result, less privileged students often have to forgo internships, which can have a cumulative effect on career outcomes. If you're looking to promote equity and inclusion through your internship program, consider providing a paid option instead.
2. Identify Your Organization's Needs and Objectives
An internship program can help you grow your employer brand, develop a positive relationship with future talent in your sector, improve diversity, equity, and inclusion (DEI), and strengthen your talent pipeline as you nurture relationships with regional and national educational institutions and professional associations.
Prioritize your goals and assess how ambitious you want to be given the amount of time your team members can offer to provide the support and supervision needed to carry out your goals and offer your interns an enriching experience. You may want to start with just one or two interns the first year, and then scale up from there.
3. Develop a Recruitment and Application Process
Next, have HR confer with your department heads to decide what qualities they are hoping for in an ideal intern and determine an application process that will help you find qualified applicants. For example, your job description can specify that candidates need to complete a certain academic course of study or earn a minimum GPA to be considered. You can request that applicants submit work samples or a portfolio or complete skills assessments.
Next, consider how you want to get the word out about your internship program. You might attend job fairs, reach out to college career development offices and connect with professional associations in your sector or community. Post your job description on popular job boards with headline like "Internship" or "Paid Internship" and specify the sector or professional field you're looking to recruit from to increase the likelihood that qualified applicants will spot your call for candidates when use search engines or job board searches to look for positions.
Because women, students of color, and first-generation college students are less likely to apply for and land paid internship opportunities, consider reaching out to college DEI officers and organizations in your industry that represent underrepresented groups, and be sure to include language in your application that encourages candidates from all backgrounds to apply.
4. Screen and Select Your Interns
Your selection process is likely to include several steps, beginning with an application assessment to winnow down your candidate pool to a manageable number of finalists. Depending on how many qualified candidates apply for your internship, the final stage of your screening process might include task-specific screening and a round of interviews, or you may be able to narrow your applicant pool down to meet your needs with a focused review of resumes and a single round of virtual interviews.
Have potential interns meet in person or virtually with a few members of your staff, including the person they are likely to work with most closely and the manager who will serve as their direct supervisor during the internship. Ask them a range of interview questions, and especially with candidates who are new to your field, present plenty of hypothetical scenarios to gauge their problem-solving and interpersonal skills.
Not only will a thorough and professional assessment process allow you to gauge the optimum candidate, but it will also give all your applicants a valuable taste of what it is like to be a job seeker.
5. Onboard, Manage, and Mentor
Your interns' time at your company should mirror what it is like to be a permanent employee. Expose them to a streamlined version of your onboarding process. This may be the first time they are learning about valuable information they will need over the entirety of their professional life, such as workplace safety, anti-harassment policies, and basic cyber security best practices.
Whether the internship program runs a few weeks or several months, each intern should have intermediary and end-of-tenure goals that they work toward under the direct supervision of a manager who can serve as a mentor. Skills training, accompanied by hands-on tasks to reinforce those skills, should characterize the bulk of the experience.
Your interns should end the internship with the satisfaction of learning new skills and producing work products and accomplishments that they can include in a portfolio or on a resume. At each stage of the experience, include networking opportunities within and outside your organization.
6. Assess and Improve Your Internship Program
At the end of the program, gain participants' feedback about what the experience was like for them via an anonymous survey. What was their favorite project? What skills do they think they are most likely to use in the future? What were they hoping to learn or accomplish that they didn't have a chance to? If they were offered a permanent position with your company, would they accept it? Why or why not?
Attain similar feedback from the managers and employees who worked most closely with your interns. Are there interns they think you should try to recruit for a permanent role? Did the interns come in with the skills needed to make the most of the experience? Is more structure needed to make the internship program more useful or less disruptive for employees who work most closely with interns?
Based on this feedback, you can retool your recruiting process, bolster skills training, increase supervision, and increase or decrease the cohort size for next time.
Now That You Know How to Create an Internship Program, Start Warming Up That Talent Pipeline
One of the best ways to attract top talent for your entry-level and mid-career internship and fellowship programs is to announce openings via a job post with Monster.
Legal Disclaimer: This article is not intended as a substitute for professional legal advice. Always seek the professional advice of an attorney regarding any legal questions you may have.