How to Create a New Hiring Strategy in 7 Steps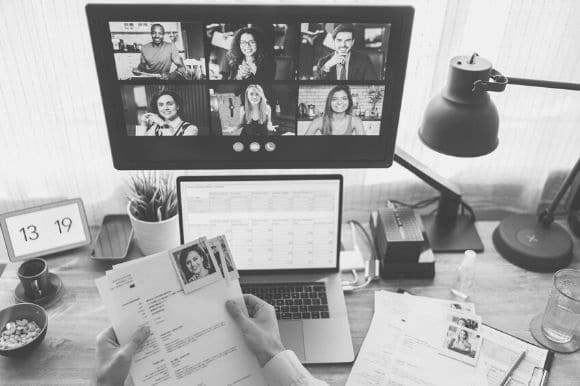 Many employers hire on an as-needed basis, but that strategy doesn't work so well in a market where talent is in high demand or you're in an off-season for hiring. Successful employers understand the need for a year-round hiring strategy, which requires careful planning and coordination.
In a competitive market, it's like musical chairs. If employers wait for the hiring need to arrive, they may get caught without a chair when the music stops. At least annually, companies should evaluate their hiring plan to ensure it will support their future goals. These seven tips will help you get started on your hiring plan.
1. Take Stock of Your Hiring Needs
Speak with your leadership team about your company's talent needs in the coming year. Consider questions such as:
Are their any current staffing holes?
Are we implementing diverse, equitable, and inclusive (DEI) hiring best practices?
What talent needs to be hired over the next several years?
Are there specific hiring events or cycles to consider?
What pace should guide the hiring strategy?
One way to help you assess your current and future needs to game out both positive and negative scenarios to get a sense of how you might respond to each. What is your plan if you experience a sudden burst in growth? What if business drops off unexpectedly? Even good fortune can cause problems if you're not prepared.
You want to calibrate wisely, and avoid "overhiring" or hiring ahead of demand, unless you have a signed contract for new business. Generally, you want to revisit your annual hiring plan every quarter to make adjustments as needed.
2. Evaluate Your Strategic Goals
Consider your company's strategic goals as you write your annual recruiting plan by mapping out your company's strategic goals over time. This means getting a handle on what you want to achieve in the next six months, year, two years, etc. With enough of a lead time, you'll be better positioned to hire the best talent possible.
Many companies aim for three to five major strategic outcomes in a given year in areas tied to market dominance, which might include (for example):
Revenue
Profit margins
International expansion
Entry into new markets
Development of a new product or service
Considering those goals will help you determine what positions you need to fill in the coming year.
3. Coordinate Hiring Needs Across Teams
Whether you need to grow your staff by a relatively large margin in a short amount of time, just need one or two new hires, or may not need to hire for the next quarter or two, coordinating the process across teams is essential to any successful hiring strategy.
For instance, share information about upcoming hiring needs during management meetings or other interactions involving multiple departments. These needs can then be factored into your company's annual hiring plan. Proper coordination will help you control costs, hire the right talent, and keep up with growth projections.
Once you're clear on your hiring goals, you'll want to come up with a plan for recruitment, advertising, marketing, and communications. This plan should reflect your hiring timeline and budget.
4. Create a Branded Job Template
A customized job posting template with your company's logo and graphics will help your jobs stand out from the crowd and help reinforce your all-important employer brand. This consistency not only will help candidates better identify with your brand, but also will help various departments and hiring managers stay on message and ensure the pertinent details of the company and the position are properly represented.
Monster's extensive collection of customizable job description templates, optimized for search and conversion, can help you get started.
5. Define the Candidate Experience
Creating a written interview guide for your team to use with each candidate, along with a standardized scoring system, can make it easier to achieve the goals in your annual hiring strategy. You want your candidate experience to be seamless, especially if you're pursuing top talent.
It's important to balance the need to thoroughly vet candidates with the reality that an unclear or convoluted process will drive candidates away. If the company's career page, online application process, or interview process is bumpy, candidates may not stick around.
6. Cultivate a Talent Pipeline
You can avoid hiring on an as-needed basis by building a list of potential candidates to recruit, ranging from a simple database of all applicants to a comprehensive communications program. You can use a program that sends recruitment content on a regular basis, which will help keep people connected to your company and alert them to when a better-fitting opportunity may arise.
Another way to build a talent pipeline is to host open houses at your company and invite candidates. Start with a "courtship" approach to your invites so you can get to know them on a deeper level. Then, the next time to need to fill a new position, you'll have avoided the usual mad scramble, thanks to your well-considered annual hiring strategy.
7. Look for Internal and Passive Candidates
While you wait for active jobseekers to view your listings and send you their resumes, you may be overlooking two valuable sources of candidates:
Existing employees ready for a new challenge
Passive candidates who aren't applying for jobs but may be swayed by the right opportunity
Internal candidates already understand the company's culture and business practices, so the onboarding process of an upward or lateral move is typically much quicker for them. Also, if they're ready for a change, moving them into a new role is a great way to retain top performers before they lose interest and join a competitor.
Sourcing and swaying passive candidates away from their current employers is more of a challenge, but it may be worth the effort in a tight labor market. These are generally high-value workers who don't necessarily need a new job, but it may be worth the extra effort to bring them on board.
Improve Your Hiring Strategy and With Expert Advice
You don't have to wait until the end of the year to improve your strategy for attracting and hiring the best. Start today; sign up for expert hiring tips, the latest in job market trends, and specialized resources to grow your business.