Hiring for Retail: How to Source and Interview Candidates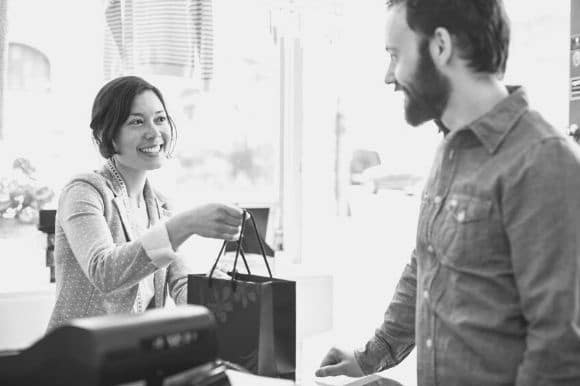 Retail sales associates are almost always face-to-face with customers, translating the retail brand's marketing to a customer impression. A great sales associate makes customers feel welcome and glad they have come into the store (or place an order). Hiring for retail is not easy, given its relatively low pay but critical importance to the success of your retail establishment.
When a customer comes in looking for something, a good retail sales associate helps them find what they want and delivers a bit of genuine happiness along with the transaction. As such, retail sales associates must provide great customer service and demonstrate your company's workplace ethics and mission with customers.
These tips on how to source and interview candidates when hiring for retail sales associates will help you attract qualified applicants and find the right fit for your retail operation.
Key Skills for Retail Sales Associates
It can be a demanding job, but good a retail sales associate is energized by helping customers achieve their own goals. These positions have few prerequisites, as many retail salesperson jobs are entry-level. Accomplished sales associates typically prove their prowess by their track records, not by accumulating certifications.
Look for these skills and attributes among your candidate pool when hiring retail associates:
Enthusiasm for the product and the company brand
Ability to engage customers
Awareness of their own motivators; what keeps them stoked?
Willingness to be coached and to change
Fluent English
Fluency in Spanish or other languages commonly spoken in your market
Clean, neat appearance and friendly manner
Aptitude for keeping up with ever-changing point-of-sale technology
Patience
Recruiter Tip: Stores post "help wanted" signs on their own doors because current customers who know and like the retailer (as well as its point of view and products) are prime candidates. They already understand your company brand and may also tell others about the job opening.
Hiring for Retail: Sourcing Applicants
Since these are primarily entry-level jobs, many of your applicants will have limited or no prior work experience, and (if students) may be limited to evening and weekend hours. Retail jobs are typically part time. Some great places to source qualified candidates include the following:
Undergrads who are majoring in retail
Clubs and groups at local high schools and universities
Networks for stage-of life candidates who want part-time work (retirees, parents of young children)
Individuals willing to work particular shifts, such as weekends
Recruiter Tip: The Container Store invite's all applicants to group interviews conducted as store tours. Staff observations and interactions determine who is invited back for structured one-on-one interviews. While they use behavioral interview techniques, they keep them very conversational, since it reflects the often-unpredictable customer experience.
Hiring for Retail: Interviewing Candidates
The interview is especially important when you're interviewing retail associate candidates, given how important both verbal and non-verbal communication is to the role. Your interview questions should go well beyond the written application to get sense of how they might conduct themselves and interact with customers on the job.
Use the following questions to get a better sense of a retail associate candidate's attributes:
What attracts the candidate to the company brand
Experiences (both good and bad) that the candidate has had in the store and with the brand
How the candidate handles conflict with co-workers
How the candidate has handled disappointed customers
How the candidate manages conflicting priorities, such as when the phone rings just as a customer approaches
Recruiting Tip: Pick up clues as soon as the candidate walks in the door. Retail has a lot of downtime and involves routine housekeeping as well as customer interaction. Does this candidate intuitively hold the door open for a customer? Straighten something on a shelf? You are looking for someone who is attuned to such details.
Recruit to Retain Your Retail Sales Associates
One of the best ways to attract highly talented candidates is to discuss any career advancement, training, or bonus programs that will make them want to stay. Not only will this help you recruit but will make it easier to retain your top performers and minimize the time (and expense) of recruiting new workers.
Potential retail sales associate career advancement may include:
Shift supervisor
Category manager
Other retention strategies that will help you attract top candidates include:
Commissions, bonuses, and other performance incentives
Specialty training and expertise
Special discounts on products or services, or free meals
Recruiting Tip: Let them know that they'll get new job skills, whether they are with you for three months or three years, skills that they will need to be successful in any job.
Learn More About Hiring for Retail and Other Industries
Your people are your main resource as a business manager, which is especially true for retail stores. Learn more about managing your retail staff and other recruiting tips and HR expertise by signing up with Monster.