Physical Therapy Recruiting Tips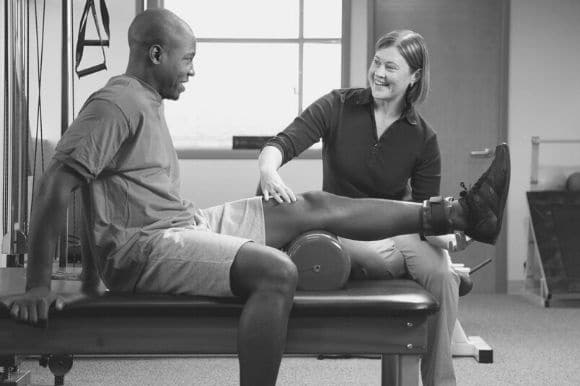 Physical therapy recruiting is one of the most challenging talent acquisition tasks out there. Physical therapists (PTs), and to a lesser degree physical therapy assistants, are some of the most in-demand professionals in the job market.
An aging population, advances in medical technology, and increased diagnosis of chronic illness, survival rates from traumatic injury, and understanding of the benefits of PT for children with disabilities are all contributing to demand for this rapidly growing field.
So how can you stand out from other employers and attract qualified candidates? The following recruiting tips can help you recruit PTs and assistants for pressing openings and develop a talent pipeline for the future.
1. Know What Matters to Physical Therapists
For some professions money is the most important incentive by far when weighing competing job opportunities. But, like many other healthcare professionals, PTs are more likely to seek an opportunities where they can do the most good, and that means working in an environment that is healthy—in every way.
According to survey data, PTs rank work-life balance and workplace environment as the most important factors when considering a job. Effective physical therapy recruiting requires organizations to optimize working conditions for employees. This means investing in management best practices, measures that enhance work-life balance, and transparent policies in areas like community outreach and diversity, equity, and inclusion.
At the same time, PTs also know that they are valuable and in demand, so professional development along with fair compensation are important considerations as well. Using a salary tool can help you gauge whether you are prepared to meet salary range expectations for PTs and assistants in your location.
2. Highlight the Benefits Physical Therapists are Looking For
Now that you know the levers most likely to entice PTs to your workplace, you need to put together a benefits package designed to appeal to them.
Start by highlighting opportunities for advancement and a pleasant, patient-centered practice environment in your recruitment materials, including your physical therapist and physical therapy assistant job descriptions. If you're trying to attract applicants to an area with a scarcity of qualified PTs, consider implementing benefits likely to appeal to recent graduates, such as signing bonuses, paid relocation, student loan repayment, and opportunities for professional development.
The workplace policies and employee benefits most likely to appeal to PTs and assistants need to be lead elements in all your physical therapy recruitment efforts.
3. Build a Physical Therapy Recruiting Talent Pipeline
With so few physical therapists and so many openings, PTs are often recruited prior to graduation. To make sure you are one of the employers that students want to work for when they graduate, work to build a talent pipeline by forging relationships with accredited PT training programs in your area. You might even want to consider contributing to a scholarship fund at the nearest graduate school in your community.
You can also recruit through professional association publications and at industry events, such as those sponsored by the American Physical Therapy Association (APTA), the largest PT organization in the country.
4. Invest in Passive Recruiting for the Long Term
In an intensely scarce employment sector like physical therapy, you don't want to continuously find yourself in an unending sequence of crises that leave you desperate to fill each opening as it arises.
Instead, you want to invest in passive recruitment strategies that build your employee brand, so that you always have a pipeline of qualified candidates who are interested in working for you. Physical therapy recruiting that simultaneously addresses short- and long-term aims will ensure that your staffing levels remain steady.
To make this happen, build a careers section on your web site that highlights the benefits you offer PTs and assistants. To make the section stand out from the competition, spotlight your staff, along with quotes about why they like working for you and what makes them so good at their job.
Create brochures and newsletters that highlight your PT employees and distribute them in your practice and at nearby referring healthcare organizations. Not only will these materials grow your practice, but they will serve as a way to keep your workplace top of mind for healthcare professionals who may be looking for a change.
5. Promote and Recruit From Within
Implement an employee referral program within your organization, with a bonus for employees who refer applicants who become successful hires. Encourage your current employees to help you set up recruiting networks with their graduate programs and reward them with bonus pay for doing so.
If you spot a physical therapy assistant with potential, excellent patient focus, and an incredible work ethic who lacks the resources to invest in a PT graduate degree, consider funding their education. It's the kind of bold move that can make your workplace one that professionals in this incredibly competitive field talk about and want to be a part of.
Encourage your current PTs to engage in professional associations and get involved in area PT training programs and be sure to offer them bonuses and other incentives for doing so. Seeing fellow professionals who are excited to talk about their workplace is the best possible advertising for your employer brand.
Get Your Physical Therapy Recruiting Strategy Up and Running With a Free Job Post
You have a recruiting plan to attract top physical therapy and PT assistant candidates based on best practices. Now test it out with a free job listing from Monster.