Hiring Manager vs. Recruiter: How to Collaborate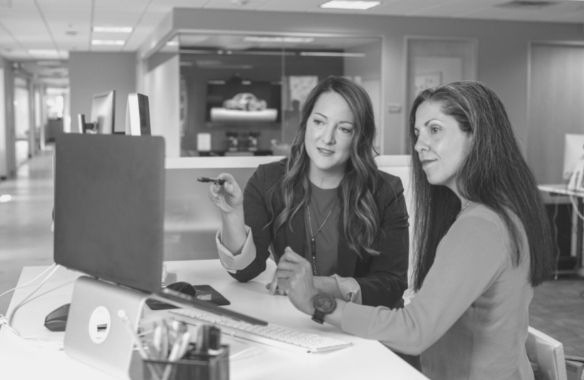 Recruiters and hiring managers need to work together to create an efficient and effective hiring process. Although they collaborate, the roles of a hiring manager vs. recruiter are different. It's helpful to know each person's responsibilities so you don't duplicate efforts. Here are ways to work together to hire top candidates.
Agree on the Hiring Process and Timeline
Hiring managers and recruiters should work together to write a job description and determine the steps in the hiring process and the ideal timeline. To determine the tasks of a hiring manager vs. recruiter, it's helpful to decide:
Who will conduct the initial resume screening process and phone interviews?
What's the timeline for screening resumes, hosting phone interviews, and presenting candidates to the hiring manager?
How quickly will the hiring manager determine who they'd like to interview?
Will the recruiter schedule the various interview rounds?
How many interview rounds should there be for the role?
Who do candidates need to meet?
Are there standard interview questions?
What notes should the hiring managers give to the recruiter?
Is there a set evaluation form?
Who will be responsible for checking references and extending the job offer?
Establish a Candidate Sourcing Plan
You're likely to find top candidates faster if recruiters and hiring managers work together to source candidates. You may want to ask:
Who will post the job description?
Where will the job description be posted?
Who will share the job description on social media?
Who will reach out to industry groups, colleges, staffing agencies, and other potential candidate sources?
What industry groups, colleges, staffing agencies, and other sources are a fit for this role?
Who will reach out to candidates who are referred through the employee referral program?
Commit to Collaborating Throughout the Hiring Process
It's critical for recruiters and hiring managers to touch base throughout the hiring process. Instead of viewing it as hiring manager vs. recruiter, they can work together to develop a hiring plan, adjust the strategy and timeline as needed, and share feedback on candidates and the speed and effectiveness of the process. Recruiters and the larger HR team can also help with strategies like determining a salary range and negotiating an offer.
Put This Hiring Advice to Work
This plan for divvying up hiring manager vs. recruiter responsibilities and working together effectively will help you recruit top talent. Ready to kick off your hiring process? Get started with a free job posting on Monster.