Build a strong company by fostering employee values and ethics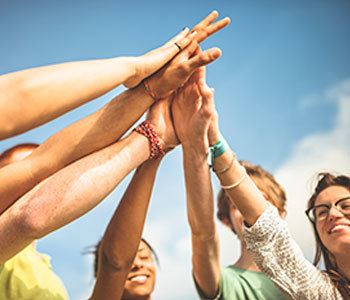 A company with clear goals but no ethics is like a body builder who eats junk food. Sure, you'll make some progress, but you won't be anywhere near your full potential, and your longevity will suffer.
Nearly every company has a vision or mission statement. Yet far fewer companies have a value statement which serves to guide employee behavior. A failure to include company values and work ethics in the vision statement, or to ensure their compliance, can lead to a host of issues, from lost revenue to corporate malfeasance.
Learn how to establish and integrate company values into your company mission statement and day-to-day processes for healthier operations and corporate culture.
Why employee values and ethics matter
Today's businesses function within the information age where employees have more information than they've ever had, and businesses are more transparent than they've ever been. A few areas where this affects the need for company values include:
The prevalence of social media and networking means candidates and recruiters can research your company's ethics with just a few clicks.
The growth of global recruitment exposes companies to divergent customs and social norms.
The ascendance of the millennial workforce brings a new set of behavioral expectations to the workplace.
"We're like fishes in a bowl," says Nan DeMars, author of You've Got to be Kidding – How to Keep Your Job Without Losing Your Integrity. "Everyone is watching what corporations and employees are doing and ethics has an important role to play."
Implementing and enforcing employee values and ethics can help your company:
Recruit and retain employees whose personal values align with company values
Build a robust talent management strategy
Reward and recognize employees for making ethical decisions
Protect your company's global reputation
Which values matter most?
While it may seem that work ethics are situational and local, Ethics and Compliance Officer Association's COO Tim Mazur points out six values common to all cultures:
Trustworthiness
Responsibility
Civic virtue (what we call citizenship in US)
Caring
Justice (or fairness in some languages)
Respect
Beyond these more universal values, your organization's work ethics should be specific to your industry and mission. Once you've identified your company values, the process of identifying your day-to-day workplace ethics can follow a more standardized process, Mazur says.
Formulating your company's values and ethics
For each value, come up with at least five concrete principles that will guide employee decisions as well as employee performance reviews, adds Mazur. For example, a utility company whose employees work on power lines might create a company value of respect for safety. Going deeper into what this means for employees on a daily basis, one of the utility's ethics principles might be, "Employees should not cross roads on foot."
The specificity of your organization's workplace ethics will ensure that company values truly play a role during the evaluation and review process. For example, it's much easier for a supervisor to evaluate whether an employee put himself in danger by crossing the street than it is to say whether or not he respected safety.
Going beyond rules, the Ethics Resource Center recommends focusing on encouraging positive behaviors, such as setting a good example, keeping promises and commitments, and supporting others in adhering to workplace ethical standards.
Communicating your values and ethics effectively
There's no point in having employee values and ethics if no one knows what they are. Once your company's values are translated into actionable form, they need to be communicated. This can be done in a number of ways:
The employee handbook: give people a clear blueprint for what they can and cannot do
Ethical Q&As: address issues that confront all organizations, such as confidentiality, vendor relationships, accountability, and harassment (can be included in the handbook and elsewhere)
Recruiting materials and the interview process: make candidates are aware of the company's values early on
Employee development programs: help reinforce and remind current employees of their organization's ethical expectations.
These tactics will help employees at all levels of the organization understand the importance of your company's chosen values.
How to track ethics compliance
Unless your organization plans to use its values statement solely as a decorative poster in the copy room, it will need a method for tracking compliance, options for reporting infractions safely, and accountability for ethics violations.
One major problem is when managers make decisions that are not in alignment with the company's stated ethical standards. The company's values become a nice statement on the wall the minute a whistleblower shares the manager's ethical lapses with the world.
One effective preventative against unethical behavior is an open line of communication for reporting violations. The Ethics Resource Center estimates 95 percent of whistleblowers first tried to work out the issue within the system before going public. The process for reporting violations should be confidential, taken seriously, and devoid of negative repercussions for whistleblowers.
After implementing your new corporate values program, follow up with surveys and evaluations to track and monitor its effectiveness. Additionally, incorporate values compliance into annual performance reviews to remind and encourage employees about the importance ethical decision-making.
Hire ethical employees from the get-go
Creating, communicating, and integrating employee values and ethics into your workplace requires a commitment at all levels of the organization. This is a tall but necessary order. Facilitate the process by hiring ethical job candidates who act with the best interests of their employer in mind. Get started by signing up for Monster Hiring Solutions where you'll receive expert recruiting advice, the latest hiring trends, and even some great Monster deals.