How to Be an Effective Leader with Your Employees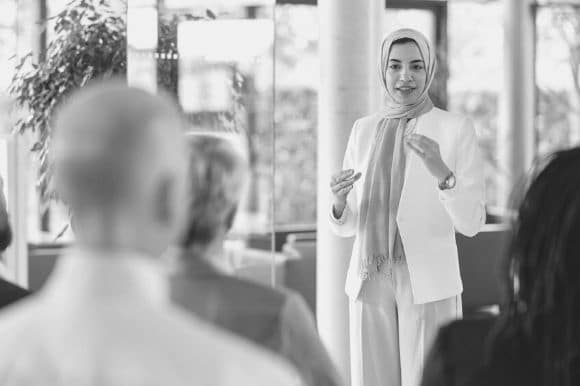 Everyone wants to know how to be an effective leader: how to inspire, strategize, and connect with their employees. Management and the basics of leadership can be learned, but anyone who's worked with a true leader knows it must be earned. A leader has vision, courage, purpose, empathy, and passion, none of which comes from a book or online lesson.
There are lessons we can learn, both in life and in a more structured environment, that will get us closer to effective leadership. However, what your own managers are looking for when diagnosing your abilities is a lot more internal, and a lot harder to achieve. Nurturing these qualities internally is the best gift you can give yourself; best of all, they cost nothing to achieve. Just experience, and a little bit of wisdom, is the key.
Here are five pillars of effective leadership:
Strategic Vision
Courage and Resilience
Clear and Noble Purpose
Empathy and Connection
Energy, Passion, and Drive
1. Strategic Vision
Great leadership depends on intelligence and savvy, of course. However, today's leaders need practical wisdom to uncover the potential benefits within complexity to create new value. Change management and crisis management are great arenas for this kind of learning, but they're not full-spectrum opportunities. A truly strategic thinker puts as much emphasis on possibilities as they do contingencies: seeing the project through clearly, from start to finish, is less important than being present at each stage.
The strategic leader is open to all suggestions, approaches them with an open mind, and has no trouble adjusting the plan without fear of mission creep: You want to know where you're going, how you will get there, and what you'll encounter on your journey, without too many detours or wrong turns. Your employees are counting on your vision, after all.
2. Courage and Resilience
There's one major aspect of learning how to be an effective leader that can only come through failure, and that's resilience. The courage to experiment and fail, along with the resilience to learn from failures and make changes, is important most of all for the manager, who must prize these qualities and put them into practice.
The brave leader uses data, intuition, and emotion to make decisions. If those don't work out, they will need to have a clear purpose to guide intelligent and flexible decisions for what to do next. We don't want others to see us in our failure, vulnerability, or insecurity, but true bravery is shown in acknowledging (but not giving in to) exactly those things.
3. Clear and Noble Purpose
Serving a larger purpose can be key to success in an increasingly interdependent world. When a leader or company bases their policies on true purpose, decisions are both easier to make and more transparent to others. We all want to belong, to know that our duties and tasks are leading up to something bigger than ourselves, and we want to think that our work matters.
All of this is a lot easier when your purpose is showing you the way. One more lesson in how to be an effective leader, therefore, is the ability to put that purpose into words. It's not enough for the manager to be clear about their purpose if they can't communicate its value, and that means making sure the mission is clear to all stakeholders.
4. Empathy and Connection
Kindness can never be overrated, in the workplace or anywhere else. But there is a special quality to the kindness of the leader, who is rightfully expected to show as much grace and character in adversity as they do when they're being celebrated. Workers aren't robots, and a team is nothing without the connective tissue of shared purpose, empathy, and real connection.
Wise leadership allows you to be effective, but also authentic and appropriate. You can reflect and be introspective, keep your ego in check, and still be a positive force for good in the workplace. We follow those we wish to emulate, and nothing adds value or popularity like a person's essential kindness. These are the intangibles that set great leaders apart.
5. Energy, Passion, and Drive
The most functional, smartest managers are less interested in learning how to be an effective leader by rote and more interested in fulfilling that function daily. Balancing execution and engagement can be tricky for anyone, but for a leader it's imperative: exhibiting expertise, going deep, and focusing on execution are important—but so are the internal motivators that get us up and keep us going.
This latter energy could be called passion, or drive, but there's no mistaking it when you see it for what it is. An inspiring and effective leader is one who has not only located that passion and learned to dwell in it, but is capable of communicating it clearly enough that their team members can follow and find in themselves.
Put Your Leadership Skills Into Practice
We've discussed ways to inspire, strategize, and connect. We've covered how a true leader has vision, courage, purpose, empathy, and passion. Now that you've learned how to be an effective leader, explore more tips, tricks, and strategies on the best ways to recruit top talent and manage your team for the long run.