How to Avoid These Top 5 Hiring Manager Mistakes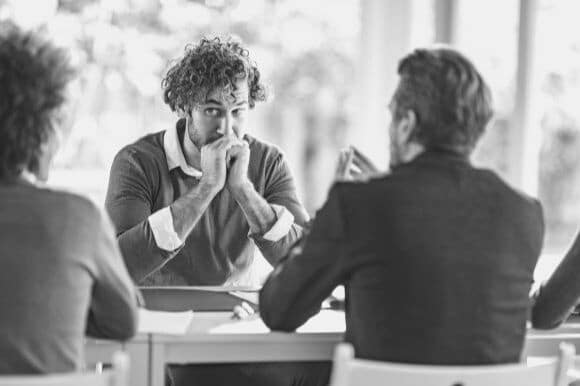 Out of all the decisions you make as a manager, perhaps the most important is deciding who to hire. You need to attract candidates who have the skills, experience, and work ethic to make your team more successful. To do that, it's essential to avoid common hiring manager mistakes.
It takes time to research hiring mistakes and best practices, and you're busy managing a team. We've pulled together some of the common pitfalls to avoid and advice for building a successful hiring process.
1. Not Writing an Effective Job Description
Start by writing a compelling job description. Clearly explain the role, responsibilities, requirements, salary range, benefits, and time commitment so potential candidates can determine whether they are qualified and interested in the role.
Use the most common job title and synonyms throughout the job description so people find your post when they use search engines and job boards. Attract candidates by showing off your company culture, mission, values, and the benefits and perks you offer.
2. Not Considering Internal Candidates
A current employee may have the work ethic and skills to succeed in a new role. When you promote from within and encourage lateral moves, you're likely to see increased employee morale, engagement, and job satisfaction. (Companies with high employee morale and engagement are often more profitable because of factors including greater productivity, higher quality work, and increased employee retention.)
Avoid this hiring manager mistake by creating an internal job board and asking managers to recommend their direct reports. It's usually faster to hire and train internal candidates. You have more insights on the candidates' performance, and they have valuable institutional knowledge.
3. Not Asking Insightful Interview Questions
You can learn about a candidate's experience from their resume, but you can get a clearer picture of their hard and soft skills from the interview process. Ask different types of interview questions, including:
Background questions: Get more context into the candidate's history and what they're looking for next. For example, you can ask them to walk you through their resume, share why they are excited about the role and your company, describe their ideal company culture, and mention where they see themselves in five years.
Behavioral questions: These questions require candidates to reflect on their past work experiences, so you can see how they'd handle similar situations at your company. You may want to ask them to share a time they led a challenging project, worked with a difficult customer or client, or their biggest accomplishment.
Situational questions: Candidates need to anticipate how they'd respond to situations they might face on the job. For example, you could ask about strategies they'd implement, how they'd build a new team, or how they'd collaborate with senior leadership.
4. Not Hiring Fast Enough
If you make this hiring manager mistake, you're likely to miss out on top candidates who will get other offers. Fortunately, there are ways you can make a thoughtful hire faster. If you don't already, start by using an Applicant Tracking System (ATS) to streamline the resume screening process. Instead of waiting to collect a set number of resumes, review them on a rolling basis so you can promptly schedule interviews.
Save time on the interview process by being selective about who you interview and having fewer interviews with each candidate. Consider having a panel interview with all the necessary decision-makers or having short back-to-back interviews on the same day so candidates don't need to take a lot of time off work. It can also be more convenient to schedule video interviews.
5. Not Being Inclusive
Increase diversity and inclusion at your company by implementing inclusive hiring best practices, such as:
Using blind applications.
Offering reasonable accommodations.
Avoiding illegal interview questions.
Conducting structured interviews.
Creating a diverse hiring panel.
Attending anti-bias trainings.
Diverse companies are typically more profitable than their less diverse competitors. Your company is likely to be more successful if you avoid this hiring manager mistake.
6. Not Being Open-Minded
Some hiring managers spend too long looking for the "perfect candidate." Remember that you're unlikely to find someone who has all the skills you want. A motivated candidate with a growth mindset will be able to learn new skills quickly.
Focus more on the skills a candidate gained than their job titles. A candidate may have the necessary transferable skills from similar roles or even working in a different industry. Some companies are eliminating bachelor's degree requirements for certain roles. Depending on the role, someone who learned on the job or received the requisite certifications or licenses might have what it takes to be successful.
7. Not Adequately Onboarding New Hires
This hiring manager mistake can lead to new hire turnover. Provide the support, resources, and training your new hires need to be successful. If you don't already have one, create an orientation program.
Orientation programs typically last a day or a week and include a tour of the office, team introductions, an explanation of key company policies and procedures, trainings, and an overview of the company culture, history, mission, and organizational chart. In addition to general trainings, managers should run job-specific hard and soft skills trainings.
During orientation, managers should meet with their direct reports for their first of many one-on-one meetings. It's beneficial to discuss the role and responsibilities, departmental policies and procedures, and clear instructions for the main tasks. Use this time to set quarterly goals and objectives and establish a career development plan. In addition to weekly or biweekly one-on-one meetings, you may want to have 30-, 60-, and 90-day reviews and ask HR to set up a stay interview within the first six months.
Learn More Hiring Manager Mistakes and Best Practices
If you avoid these mistakes, you'll be an effective and valued resource at your company. The job market is constantly changing, stay up to date on best practices by receiving expert hiring and management advice from Monster.