Top 10 Employee Morale Boosters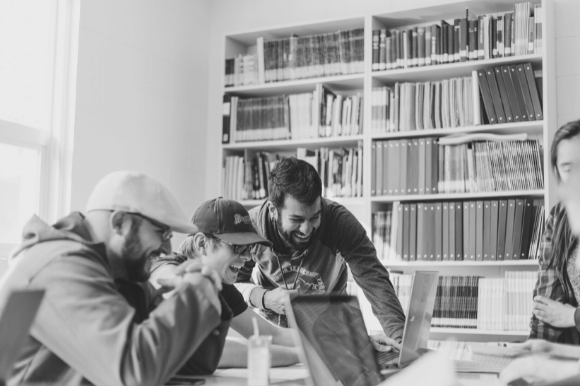 One of the benefits of running a small business is that you get to create the company culture. You set the values, goals, and policies that—if properly executed—will be the backbone of your most effective employee morale boosters.
Boosting morale cultivates employees who are more motivated, productive, collaborative, and engaged. Research has shown that companies with strong employee engagement outperform the competition due to a variety of factors, including increased sales, higher-quality work, and improved employee retention.
You can enjoy the financial benefits of high morale and engagement without spending a fortune. Here are the top 10 most effective ways to boost employee morale at your small business.
1. Create Employee Appreciation Initiatives
Your team members will be happier and more motivated if their hard work is appreciated. There are creative ways you can create employee appreciation initiatives, such as asking team members to nominate each other for a weekly or monthly award.
Send all the positive feedback to each person to make them feel celebrated and acknowledged. Although you may choose to give the award to the person with the most nominations or the biggest impact, this way everyone will feel valued.
You could also give out annual awards for people who exemplify each of your company's core values. If you want to give a monetary award, it could be something small like a $25 gift card, making it one of the most cost-effective employee morale boosters.
2. Foster Professional Development and Offer Training
Ambitious employees want to take on more responsibilities and grow at the company. One way to improve employee morale is to promote from within when you have an opening. By promoting someone internally, assuming they're the right fit, you're showing that you value your employees.
It's also helpful to have a clear career advancement path for each role and a career development plan for each employee so they know the necessary benchmarks to be promoted. Help people develop the skills they need by creating training programs and—if there is room in the budget—provide professional development stipends for classes, conferences, and certifications. This is one of the most effective employee morale boosters for improving retention and recruitment.
3. Establish a Mentorship Program
Increase collaboration and learning by creating a formal mentorship program. Pair a mentor and mentee in the same or different departments, depending on everyone's professional goals.
Mentorship relationships are mutually beneficial. The mentor and mentee will benefit from having a support system and learning skills from one another, making it one of the best employee morale boosters for cultivating professional development. Encourage them to meet frequently by giving each pair a monthly budget for lunch or coffee.
4. Provide Personal Days
Add one or two paid personal days to your paid time off plan. Like sick days, personal days can be used last minute without getting approval weeks in advance. Your employees can use these personal days however they want-whether it's for a family obligation or simply to recharge.
Some companies have a "family day" that can be used anytime during the year or additional holidays like time off between Christmas and New Year's or a day off to celebrate the day the company was founded. Encourage your team members to truly take time off when they take a personal day, sick day, vacation, or holiday, and to avoid checking their emails or crossing a few things off their to-do list.
5. Allow Remote Work
Depending on the remote work policy you choose, employees can work outside the office all the time, whenever they want, or a set number of days per week. Flexible remote work policies can foster work-life balance, improve productivity, and increase employee retention. They can also help you recruit top talent since many candidates value remote work and you can expand your hiring pool.
Also, remote work is one of the employee morale boosters that can save you money on rent and other office-related costs by downsizing to a smaller office or using a co-working space. If it makes sense for your business, you may be able to move to a total remote work model or have employees come in only if they want to meet colleagues or clients in person.
6. Create a Flextime Policy
Instead of working the typical nine-to-five schedule, let your employees set schedules that work for themselves and their families. For example, your employee may choose to work from 7 a.m. to 3 p.m. so they can spend time with their kids after school.
Setting a flexible schedule improves work-life balance, decreases work stress, and is one of the truly free employee morale boosters at your disposal. It can also reduce employee turnover rates and help you recruit top talent to your small business.
7. Host Team Bonding Events
Your employees are likely to be more engaged when they like their work and the people with whom they work. You can host team bonding events like game nights, volunteering days, field days, and other activities without spending a lot of money.
Your employees may want to create a book club, volunteer group, intermural sports team, trivia team, or some other "extracurricular" activity. If you can, you may want to give each group a small budget.
8. Incentivize Employee Resource Groups
Increase teamwork between departments and seniority levels by giving a budget to your employee resource groups (ERGs). Some of the most common ERGs are focused on race, gender, and sexual orientation.
They give individuals and allies an opportunity to connect, get advice, and discover ways to help each other. By supporting ERGs, you're helping to foster a more diverse and inclusive workplace which will boost employee morale, increase retention, and help your recruitment efforts.
9. Have a Team Lunch
Skip the sad desk salad. Have your entire team get together for lunch once a week. You could spring for catering or have everyone bring their own lunch and eat together.
Consider having some or all the lunches be "lunch and learns." Let your team members show off their expertise and help the team learn new skills. For example, employees could host short classes on hard skills like SEO or email marketing and soft skills like networking and public speaking.
10. Host Quarterly Team Meetings
Increase teamwork without spending a dime by hosting quarterly team meetings. Share any big projects that are happening across the company and business updates like new products or services. Your team members will appreciate having the additional context on the business strategy and how their work is making an impact.
Use the team meetings to set company-wide goals and objectives and strategies for accomplishing them. Employees are likely to be more engaged, motivated, and collaborative when they're working toward shared goals that are moving the business forward.
Learn About Employee Morale Boosters and More
When you run a small business, you have a role in everything from marketing and accounting to hiring and creating your company culture. You've got a lot on your plate and probably don't have time to research HR best practices. Sign up to get hiring advice, data, and news from Monster to help you build a strong team for your small business.