9 Common IT Hiring Mistakes (and How to Avoid Them)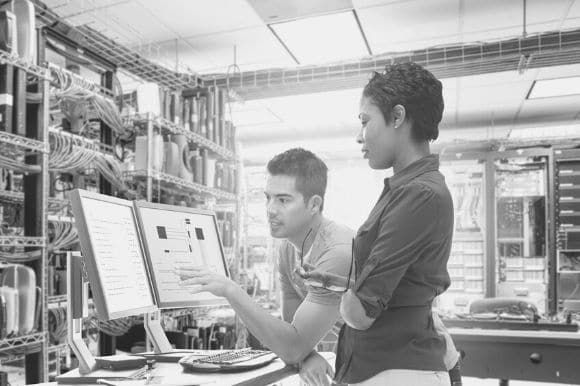 You don't have to run a tech company to need skilled IT professionals. Between the growth in e-commerce, increased telecommuting, and the notoriously short tenure of the typical IT employee, odds are, if you're an employer, you're constantly engaged in IT hiring—or at least it feels that way.
Data suggests that a majority of employers believe technology will drive their future growth. Those same employers report that they are unable to keep up with their current IT recruitment needs and that they suspect the situation will only become more critical in the years to come.
IT professionals are likely to be in high demand for years to come, and odds are qualified candidates know their worth. Your task is to convince them that your workplace is where they want to be. The best way to approach IT recruitment is to share your passion for your work with potential candidates and increase the likelihood that they'll want to be part of your mission.
To attract and keep top tech professionals, you'll need to avoid the following IT recruiting mistakes, and instead, engage in practices designed to appeal to these highly sought-after workers.
Mistake No. 1: Trying to Low Ball on Salary and Benefits
IT is one of the most competitive fields out there. If you're not willing to pay the going rate for IT talent, top candidates will end up working for your competition. Determine the median salary range for IT professionals in your region by using a salary tool that allows you to input job titles and locations, and make sure you mention that range early in the hiring process to avoid wasting time.
You also may need to get creative with benefits and perks. Today's workers are especially interested in career and skills development, so show them you're invested in their future with skills training, tuition reimbursement, and student loan aid.
Mistake No. 2: Impossible Expectations
The IT sector is not the place to go unicorn hunting. Instead, with technical skills at a premium, many employers are opting to take on employees with the problem-solving aptitude and offer them on-the-job training. Your IT hiring process may end with you making offers to applicants from a wide range of backgrounds, with apprenticeships taking the place of academic training.
Mistake No. 3: Lack of Clarity About the Role
Too many requirements may limit the number of applicants who apply for your open role. But that doesn't mean that you should aim to write a vague job description. A successful job search begins with a clear and thorough job description that gets candidates excited about your company's mission and the opportunity.
Mistake No. 4: Being Inflexible About Remote Work
Increasingly, today's workers are seeking remote or hybrid work schedules. Especially in a field like IT where applicants are likely to have lots of options, insisting on an unyielding on-site work policy is likely to cost you qualified candidates. Besides, by offering a remote option, you expand your talent pool beyond your immediate community, increasing your chances of finding a right-fit candidate.
Mistake No. 5: Relying on Passive IT Recruiting
When you're looking for workers in highly competitive categories like IT, it may not be enough to simply post jobs as they come up and expect to find a good fit. Instead, try to think outside the typical channels. Reach out to technical associations and try to keep your company top-of-mind for tech pros.
Post your company's accomplishments, innovations, and, of course, your job openings on industry forums, as well as your website and social media. Focus on content that appeals to technical candidates. Host webinars that emphasize your company as an innovator.
If you're sponsoring a skills training session, invite past employees and candidates to join your current IT talent for the workshop. Nurturing relationships with tech professionals can help keep your company top-of-mind the next time they are looking for an opportunity.
Mistake No. 6 Your IT Hiring Process Takes Too Long
As IT applicants are more likely to drop out of overly demanding and lengthy hiring processes, be sure to streamline your hiring process to only what is necessary. Communicate the purpose of each step of your hiring process with candidates. Don't request that they do take-home tests or overly lengthy tasks, and never ask candidates to do unpaid work as a tryout. Asking candidates to complete work without pay is unethical and in some places illegal, and highly likely to offend many of the best applicants.
It's okay to pose problems and have them complete IT tasks, but they must be hypothetical problems or past challenges that have already been solved. Make your assessments pointed and efficient and implement them during the interview process, letting candidates know beforehand how much time it will take so they can schedule their day accordingly.
Mistake No. 7: Not Going After Your Top Candidate
Some smaller companies are so sure that candidates from large organizations won't consider an offer that they don't even bring desired candidates in for an interview. You never know what motivates a job applicant, and IT specialists and managers at larger organizations are often willing to consider the right offer from smaller organizations, where they can expect to wield more power or make a bigger impact.
Mistake No. 8: Not Vetting Technical Aptitude
Vetting is critical for technical roles. Your IT hiring committee needs to include at least one technically savvy member who can help filter resumes, craft interview questions, and weigh in on your final hiring decision. Ask IT candidates to talk their way through several complex technical scenarios to gauge their technical know-how and problem-solving strategies.
Mistake No. 9: Ignoring Red Flags
Don't become so focused on technical skills that you fail to assess the soft skills that ultimately will determine whether a candidate will work out. You're relying on them to purchase and maintain expensive equipment and safeguard your data, so you'll want to look for signs of integrity and accountability.
When it's time to check references, make sure they've done what they claim they have and that they're personable, patient, trustworthy, and team-focused. It's tempting to rush the process, but any hint that an IT candidate lacks the integrity and customer focus you're looking for shouldn't be ignored.
Now That You Know How to Recruit IT Talent, Learn About More Hiring Best Practices
You've figured out the nine most common IT hiring mistakes and you know how to avoid them. Now get hiring news and management how-tos, business articles, and expert advice from Monster.