Tips for Hiring Home Health Aides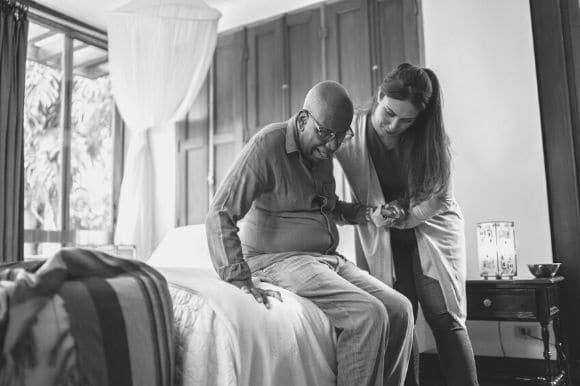 With the continuing increase of life expectancy comes an increase in health care needs, which includes home assistance and companionship. The Bureau of Labor Statistics predicts that hiring home health aides will continue to be a huge priority, with demand projected to grow by 36 percent between 2018 and 2028. That's seven times the national average growth rate for all occupations.
To meet this growing demand, recruiters, and hiring managers will need to find ways to source, hire, and retain these personal care assistants as efficiently and effectively as possible. The tips below can help you source and recruit home health aides.
How to Source Home Health Aides
The home caregiver position is typically a low-skilled, low-paid job that requires minimal training and no college degree. However, it requires a great deal of empathy, patience and stamina. These factors can make sourcing and ultimately hiring home health aides extremely difficult. Some common sourcing tactics include:
Training programs. Some home health agencies regularly recruit graduates of training programs.
Referrals. Word of mouth can yield high-quality candidates for HHAs, as well as reward employees for helping with recruitment.
Advertising. Posting your job description is most effective when you specify available shifts and locations.
Regardless of where you source your candidates, be sure to run a background check and ask for references from former employers before hiring home health aides. Keeping clients safe and well cared for is critical.
Ruth Farrago, director of operations at Humana Inc.'s SeniorBridge, a multistate home-care agency, provides the following recruiting tips:
"The vast majority of our candidates come to us by word of mouth. We do open houses, go into communities, place ads in local publications, do job fairs and get involved with community organizations."
"Our best caregivers give us our best candidates. We have a referral bonus program."
How to Interview Home Health Sides
Since there is little formal training or education required to become a home health aide, the interview is an even more crucial part of the recruitment process than normal. This is your opportunity to see if a given candidate has the personality and drive to deal with elderly and disabled clients, some of whom may present extra challenges. Traits to look for in your applicants include:
Strong communication skills
A positive attitude
Empathy
A desire to help others
Physical ability to assist clients
Ability to monitor vital signs
Real-time problem-solving skills
Ideally, you'll want to structure your interview in a way that first breaks the ice, followed by general questions about the job, their skills, and experience. Then, you'll want to ask questions that will help you determine whether they have what it takes to be a caring, devoted presence in the patient's life. Some questions to ask candidates may include:
How do you typically communicate with, and manage, the patient's family? Can you give an example of adjustments you made to a patient's care following discussions with their family members?
Have you ever dealt with a hostile or uncooperative patient? How did you solve this?
What do you like the most about being a home health aide? What do you like the least?
More recruiter tips from Humana's Farrago:
"We use a number of tools, including a screening test and face-to-face interview with role-play questions. We ask real-life questions to see how the caregiver would think. Do they know when to call a supervisor?"
"We assess their presentation and language skills—their comfort in speaking—so we know who we're hiring. And it helps us match caregivers with our clients."
Hiring Home Health Aides—and Retaining Them
Because home caregivers have long been excluded from the protections of U.S. wage and labor laws, their working conditions are often difficult, with few to no benefits, low wages, and a high burnout rate. Many don't receive any PTO, employer-sponsored health insurance, regular pay increases, or sick leave. Besides these benefits, a few other options to consider offering prospective employees include:
Signing bonuses
Better hourly rates
Better and ongoing training
Employee development classes
Flexible scheduling or rotating shifts
Supportive company culture and reputation
Employers who are able to offer more of these basic benefits will be able to set themselves apart from the competition while recruiting home health aides and avoiding high turnover in a tight labor market.
While you may not be able to offer the highest available wages, you do want to understand what similar roles in your geographic location typically pay. Monster's salary calculator can help you target a reasonable but still competitive compensation package.
Find the Right Home Health Aide Today
When it comes to sourcing, interviewing, and hiring home health aides, there's a lot to keep in mind. If you're ready to hire a personal care assistant, and have taken the time to write a targeted job description, find more top candidates faster with a free job posting on Monster.