How to Hire a Warehouse Manager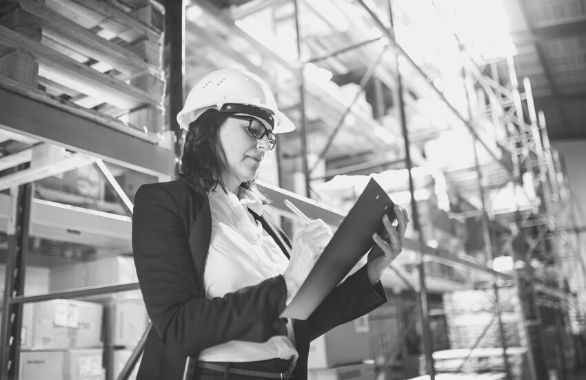 Skilled warehouse managers improve standard operating procedures (SOPs), motivate staff to hit production quotas, and coordinate everything from hiring staff and meeting safety requirements to scheduling shipments. In this "How to Hire a Warehouse Manager" guide, you'll learn how to:
Determine your hiring needs.
Write a warehouse manager job description.
Screen applications to narrow your candidate pool.
Conduct effective interviews.
This way, you can fast-track your hiring process and feel confident that you're making the right hiring decision. Here's what you need to know.
1. Determine Your Hiring Needs
The first step to hiring a warehouse manager is to make a list of the essential needs of your team and organization. This will help you determine which candidates will be a good fit for the role.
For example, do you need someone to improve your customer service or logistics? Perhaps you want a manager who can train staff and coordinate schedules. Finding the right candidates comes down to knowing who will make a good fit from the start.
When planning how to hire a warehouse manager, make a list of what:
Departments or teams they will be leading and how.
Daily tasks they will be required to complete.
Experience and skills will help them succeed in the role.
Areas of study and education level are necessary.
Success metrics for the role.
It's also useful to consider which hard and soft skills the warehouse manager should have. Areas of strength to look for might include strong communication, leadership, time-management, and organizational skills.
2. Write a Warehouse Manager Job Description
Once you know your needs, write a warehouse manager job description so you can advertise the open position on job boards. This will help your job post get in front of qualified candidates.
To write an effective job description, be sure to include:
An overview of what the job entails and who will make a good fit.
Information about what makes your company a great place to work.
A list of the most important duties, such as establishing SOPs, ensuring safety, and scheduling shifts.
Which hours the employee will work and whether it's full or part time.
The benefits and perks you offer, such as healthcare, paid time off, and a 401(k) with matching.
The minimum education level and set of skills required.
How to apply for the position with a call to action (such as "apply here" or "learn more").
After you've completed your job post, publish it on a popular job board. This will ensure you get your advertisement in front of the right people.
3. Screen Applications to Narrow the Candidate Pool
Once your post is live and applications are coming in, it's a good idea to have an application screening process in place to sort them. Though you could do this manually, many employers utilize applicant tracking systems (ATS), to streamline how they choose qualified candidates.
For example, if you are looking for a manager who has experience overseeing a warehouse in the luxury industry, you could program the ATS to find resumes that include the keywords "luxury goods," "high-end packaging," or "elite brands."
It also helps to have candidates submit a cover letter to provide more background information about their experience and intentions. This will help you narrow your list to a handful of strong candidates before you schedule interviews.
4. Ask Effective Interview Questions
Now that you have your final list of applicants, it's time to utilize your greatest tool for choosing how to hire a warehouse manager: conducting effective interviews. Ask a range of questions, including:
Background Questions
These can be easy-to-answer questions that make the candidate feel comfortable and ease into the interview. Here are a few examples:
Why do you like working in warehouse management?
What is one professional success you're proud of?
What made you want to apply for this position?
What do you know about our company and products?
Skills and Experience Questions
These questions will help you uncover more details about the candidate's ability to succeed in the role. Here are some to consider:
What experience do you have managing inventory?
What is your process for ensuring safety standards are met?
What specific actions have you taken to improve warehouse efficiency?
How do you support employee relationships and approach team building?
Behavioral and Situational Questions
These questions help you understand how the candidate would handle specific situations that might encounter once they're hired. Examples include:
If your workload suddenly increased, how would you handle it?
What is an example of a time when a SOP you implemented didn't work? What did you learn from the experience?
Describe a time you had to motivate others. What did you do?
End the interview by asking candidates if they have questions for you and use an interview checklist to be sure you cover everything you need to make your decision.
Now That You Know How to Hire a Warehouse Manager, Find Great-Fit Candidates Fast
Knowing how to hire a warehouse manager means you're on your way to finding your next great hire that will effectively lead your team. Start a free trial on Monster and post your job description to gain access to millions of job seekers.