How to Hire a Telemarketer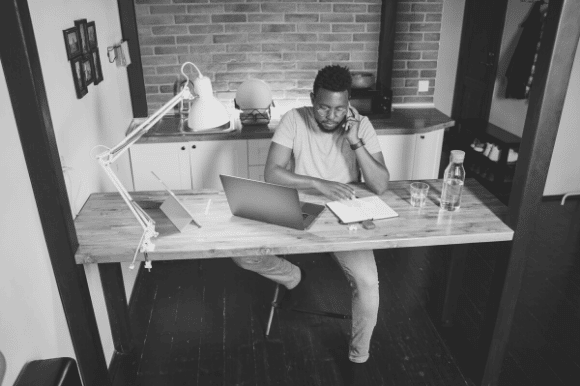 It isn't hard to find articles proclaiming the end of the telemarketer—a job doomed to be replaced by AI-powered chatbots, or so some tech experts have been quick to proclaim. But there are still plenty of good reasons to invest in real-life human workers to undertake your sales outreach and customer service functions, especially if you know how to hire a telemarketer who will help your potential customers understand the value of the products and services you're selling.
Research shows that human telemarketers generate feelings of warmth and empathy in consumers as compared to recorded or AI-generated calls. Not only do consumers tend to hang up on AI-generated telemarketing faster than they do when talking to a live sales representative, but some targeted leads can even become affronted by automated calls, an emotional response that could carry over to create a tainted impression of your brand. These findings may help explain why demand for this occupation is projected to grow by 7% over the next 10 years, similar to most other occupations.
Telemarketers can be employed cost effectively to follow up on initial customer inquiries made through social media or web browser searches or via automated cold calls that measure customer reception. Business-to-consumer (B2C) and business-to-business (B2B) telemarketers also conduct market research and update customer databases. The best telemarketers know how to engage potential clients in conversations that assess their needs and explain how their employer's products and services can solve their problems, grow their business, and improve their quality of life. These six steps can help you find workers with the skills and aptitude to establish rapport and increase sales:
Assess your needs and budget for the position.
Craft the perfect telemarketer job description.
Screen applicants and narrow your candidate pool.
How to hire a telemarketer: Ask the right questions.
Before you hire a telemarketer: Run a background check.
Make an offer and negotiate a start date.
1. Assess Your Needs and Budget for the Position
Telemarketing is a cost-effective way to generate leads and sales compared to other marketing expenditures. If your sales are stagnating or you are gaining fewer leads than you'd like, it might be time to consider bringing on a few sales representatives to make calls and answer customer queries. First, you'll need to estimate the revenue that each sales representative is likely to generate and then use a salary tool to calculate the average wages for a telemarketer in your location.
Since telemarketers can be located anywhere, you might be able to save money by making the position remote or hiring a contracted worker rather than a full-time staffer. If you decide to hire full-time telemarketers, don't forget to factor in the cost of benefits such as paid time off (PTO) and health insurance.
2. Craft the Perfect Telemarketer Job Description
Once you've determined that your business will benefit from an investment in one or more telemarketers, it's time to craft a telemarketer job description that outlines your expectations for the role and the attributes your ideal candidate should have.
Though no more than a high school education is typically necessary to fulfill this role, past customer service experience is often beneficial. In addition, successful sales representatives should possess:
The ability to understand written information about products and services, including updates, and convey that information to current and potential customers accurately.
Enough basic math skills to converse with confidence about comparative pricing and financing options.
A facility with technology that allows them to quickly master a variety of platforms, such as customer relationship management (CRM) software, utilize spreadsheets, and compose emails.
Business and phone etiquette and the ability to quickly build rapport over the phone with strangers.
Problem-solving skills and the ability to deescalate tense interactions with angry or dissatisfied customers and address customer concerns.
Customer service experience and focus.
3. Screen Applicants and Narrow Your Candidate Pool
Because this is a role that does not require extensive education or certification, you are likely to receive many applications. Consider using an applicant tracking system (ATS) to help you automate your screening process and select the most appropriate candidates for interviews. An effective way to leverage your ATS is to implement keyword searches by selecting the most crucial qualifications from your job description. Using what you've learned about how to hire a telemarketer so far, for example, you might program your ATS to search for phrases like "customer service" or "sales experience."
4. How to Hire a Telemarketer: Ask the Right Questions
By now you should have a strong list of possible hires to work your phonelines. Employing an efficient, thorough, and fair interviewing process can help you pinpoint the finalists for the job who are most likely to succeed in your workplace. This includes asking a variety of questions, in the following categories:
5. Before You Hire a Telemarketer: Run a Background Check
Once you've narrowed your applicants to a handful of finalists, you'll need to carve out time to undertake a reference check by making calls to the references provided by each top candidate and following up with each listed employer to confirm the tenure dates provided on their resume. You may also want to go a step further and pay for a more robust professional background check.
6. Make an Offer and Negotiate a Start Time
The final step in your telemarketing hiring process is to select your lead candidate and make a fair offer based on the research you conducted during the first step. Be prepared to negotiate salary and benefits with your top-choice candidate, adjusting your offer to attain the talent you need.
Get Started on Your Telemarketer Hiring Journey With a Recruiting Plan Tailored to Your Needs
Now that you know the basics of how to hire a telemarketer, it's time to select a job-posting plan that's right for you so you can assemble a phone sales team that will help grow your business.