How to Develop a Successful Interview Process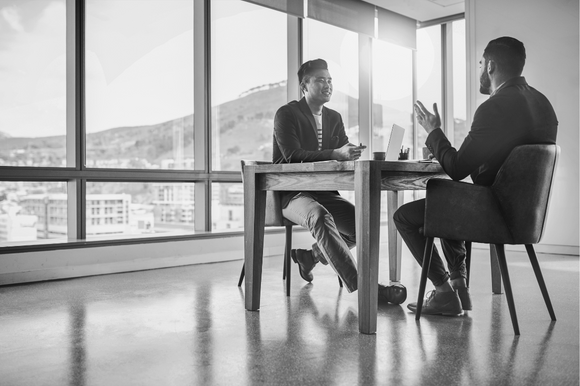 Taking time to plan a well-thought-out interview process will help you hire new employees efficiently. With these simple tips, you'll be able to seamlessly gather, organize, and share candidate information — no matter what phase of the interview you're in or who is managing the workflow.
Here's how to set up a successful process so you can focus on what matters most: finding your next great hire.
7 Steps for Creating an Effective Interview Process
To develop your process, decide how you will accomplish each of the following interview steps. You will need to:
Get decision-makers to agree on the position's responsibilities and requirements.
Create and publish a detailed job description.
Sift through resumes and identify great-fit candidates.
Choose your interview format and structure.
Determine which interview questions you will ask.
Decide how to evaluate candidates.
Solicit feedback and fine-tune.
Here's what to consider.
1. Get Decision-Makers to Agree on the Position's Responsibilities and Requirements
The first step to hiring for any open position should be to get your team's agreement on the specifics of the position and the interview process. You want everyone to be on the same page about:
Position details, such as the responsibilities and preferred and required qualifications.
The job description and where it will be posted.
Who is going to be interviewing candidates and in what order.
Which team member will oversee each step of the process, such as setting up interviews and reaching out to candidates.
Start by sending out a questionnaire or setting up a meeting to touch base on your hiring goals. This allows your team to share their expectations about the position and agree on the proper course of action.
2. Create and Publish a Detailed Job Description
All great hires begin with an effective job description. You want to set up an easy way for employees to create a job description that doesn't just attract any candidates but great-fit ones.
The job description should:
Get candidates excited about both the company and the open position.
Ensure that qualified candidates apply.
You can use job description templates to write an effective job description quickly.
3. Sift Through Resumes and Identify Great-Fit Candidates
After you've posted your job description, you want to sort through resumes and screen applicants quickly and easily. You can do this using an applicant tracking system (ATS). The software allows you to set keywords that the system will scan for — like job titles, certifications, and skills — so you only see the candidates that are likely to meet your requirements.
You can also review all the applications manually to make sure no one fell through the cracks. Just don't forget to save submitted applications. This will help you create a database of contacts for your future hiring needs.
4. Choose Your Interview Format and Structure
Determine how you are going to conduct your interviews in advance. Will you have an initial phone screening then and an in-person interview with a panel? Will the candidate have video interviews with each member of the team?
Decide where and how the interview will be conducted as well as who will be involved at the different stages. This will eliminate any confusion and make it easier to schedule and set up the interviews and prepare candidates.
5. Determine Which Interview Questions You Will Ask
Next, create a set of interview questions that you can ask at each interview. It's beneficial to ask every candidate the same questions, so you have an easier time comparing answers from candidate to candidate.
Choose a mix of:
Background interview questions, which reveal information about the candidate's experience.
Behavioral interview questions that uncover a candidate's skills and how they've handled different past situations.
Situational interview questions that show how the candidate would react to or handle future or hypothetical scenarios.
Just make sure that you understand which questions you can and cannot ask. Employment laws in your state might prohibit you from asking certain questions, such as "What is your current salary?" Consult the U.S. Equal Employment Opportunity Commission if you're unsure.
6. Decide How to Evaluate Candidates
In addition to knowing which questions you'll ask, think about how you'll evaluate candidates. Some companies develop a point system or sort candidates into categories, such as "strong fit." Whatever your guidelines are, make sure your interview process helps you evaluate candidates consistently.
Developing an interview checklist or scorecard could help you keep track of how your candidates perform. They also help keep information and scoring consistent among your team. Your measuring system can be as general or as specific as you like.
7. Solicit Feedback and Fine-Tune
The last step of your process should be to get feedback from your team and the candidates about how everything went. Was it smooth from start to finish? Did anyone have questions that weren't answered or were the next steps unclear?
Use this feedback to continue improving your process. You don't want people walking away with a negative experience. Even if the candidate doesn't get hired, they might be a great fit for a position in the future or be able to recommend someone else.
Find Your Next Great-Fit Employee
With these tips, you'll not only be able to sort through and advance the best candidates faster, but you'll also leave candidates happy with the experience. Kick off your interview process and find your next great employee with a free job posting at Monster.