What to Wear to Work in the Summer: Enforcing Dress Code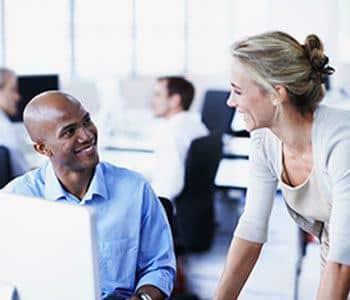 By: Emily Bennington, Monster Contributing Writer
Sheila, a young employee at a large, privately-held call center was wearing a summer top that appeared respectable when standing, but left little to the imagination when she bent over. This temptation proved too strong for her colleague Dave, who reached over and snapped Sheila's thong one day as she was picking some files off the floor.
While the names above have been changed, this real-life story started out as a "harmless" joke, says Donna Galatas, CEO of HR firm The Galatas Group. It later resulted in an internal investigation, a written warning for Dave and a second round of harassment training for the entire department.
To avoid a similar situation in your own workplace, now is the time to get proactive about having a dress code in place, especially for the summer season. So as we dip our inappropriately exposed toes into warmer weather, here's what you need to know to "cover" yourself and your employees when creating a dress code policy as part of your small business management.
Avoiding Sins of the Skin
"Summer brings out the 'sins of the skin' as I call them," says Gretchen Gunn, Principal of corporate staffing company MGD Services, Inc.
Gunn, who regularly advises recruits on dress issues for her clients, says there are a few no-go zones that are never appropriate in the workplace, regardless of how hot it is outside.
For ladies, "no-go zones" are bra straps, belly buttons, flip flops, and any revealing tops that showcase what Gunn calls "the girls." For men, flip flops are also "no-go zones", as are bare shoulders, shorts, ripped denim, and button down shirts with too many buttons down.
"The appearance of your staff should support an authoritative, credible image in the mind of your customers," says Gunn. "Unfortunately, it can also undermine that image if you're not careful."
Write It Down and Make It Definitive
Without reasonable clothing and appearance guidelines in place, managers are often forced to make subjective judgment calls, e.g. "exposed tattoos are okay except hers, which is too big." This can lead to inconsistencies or, worse, an appearance of workplace discrimination.
If you are going to make a policy that binds employees to a certain behavior, you should be very precise in your language to avoid any misinterpretation, e.g. all tattoos and piercings must be covered at all times. Even if you make an exception, say, for woman's earrings, it's best to be specific about how many earrings are appropriate.
Recently, a global telecommunications company learned the importance of dress code detail when implementing the "four finger rule", i.e. women's skirts can be no more than four fingers above the knee. Because their policy didn't specify how fingers should be placed, though, one staffer reported to work in a skirt that was way too short, saying she thought positioning her fingers diagonally was acceptable.
Where To Start
If you're looking to develop your own dress code from scratch, the first issues to consider are health and safety. Manufacturing and healthcare organizations, for example, have higher safety concerns than most office environments that should be addressed in detail. As such, the more complex the safety standards are in your industry, the greater your need to consult with a reputable labor and employment attorney to write or review any employment policies that you create.
If comprehensive legal fees aren't in the budget, another option is to hire an attorney to draft only the portions of your dress code that are wrought with legal pitfalls.  According to Melanie Berkowitz, a former employment lawyer and principal at GhostWriters legal and business writing  company, these include "any items that differentiate between men and women or impact religious dress."
While Title VII of the Civil Rights Act prohibits any employer discrimination based on gender, race, or religion, these are obviously highly sensitive areas, so it's best to ensure your policy has been reviewed appropriately to help avoid any legal issues down the road.
Enforcing Your Dress Code Without Raising "Red Flags"
Nine times out of ten, employees understand the purpose of a dress code and a friendly reminder is enough to remedy any usual violations. However, managers should be on guard if staff members react with any "red flag" objections that could be an early sign of trouble.
"Red flags include protests based on union rights," says Berkowitz, "as well as any religious practice or unfair burden on one sex or race."
To steer clear of any grumblings, misunderstandings, or potential liabilities in your office, it's a good idea to send a copy of your organization's dress code to all employees so everyone knows the rules leading into the summer months. You may even want to have your staff sign a copy, acknowledging that they have received and read it in full. As they say on the field, "the best defense is a good offense," and that's the bottom line.
This article does not represent legal advice on behalf of Monster.
Author Bio:
Emily Bennington is the coauthor of Effective Immediately: How to Fit In, Stand Out, and Move Up at Your First Real Job. She is also a frequent speaker on the topic of career success and the founder of Professional Studio 365, which provides onboarding products, seminars, and consulting services to new grads and their employers. Emily has been featured in a variety of major news programs and publications. In addition to Monster, Emily is a featured blogger for The Huffington Post and recently launched a new column for Forbes Woman called "Women We Love."