How to Make Employee Resource Groups Successful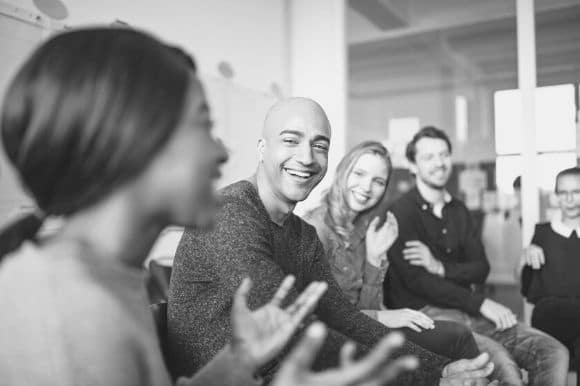 Employee resource groups, also known as ERGs or affinity groups, are employee-led safe spaces where workers with similar backgrounds or interests can come together to share common experiences and tackle issues that are important to them. From work-life balance to sustainability and diversity, these groups take on some of the most pressing and complex issues facing the business world from the bottom up—and they work.
Sponsoring ERGs at your organization can move the needle on some of your company's most pressing and persistent challenges, from attracting and retaining top talent to diversifying your customer base. The toolkit below can help you get started.
What Is an ERG?
The first employee resource group was started by Black employees at Xerox in 1970 to address discrimination within corporate environments. Today's ERGs often consist of employees from underrepresented groups, including veterans, women, racial minorities, and members of the LGBTQ community, while others consist of individuals who have a passion for sustainability, social justice, or community engagement. Still others might include employees who face work-life challenges ranging from special needs parenting to health challenges.
ERGs can be organized by management around a perceived need but are more often created by employees who then get buy-in in the form of resources and guidance from company leadership. Unlike committees, where management tends to set the goals and appoint members, employee resource groups tend to be voluntary and drive the agenda internally.
As a result, leadership and participation in an employee resource group is often uncompensated. This is a mistake, as the work undertaken by these groups can be highly beneficial to your organization's bottom line and deserves to be rewarded accordingly.
Hiring and Retention Benefits of ERGs
Even employers with relatively high levels of workforce diversity become decidedly less inclusive at the highest levels of their org charts. This means diverse leadership candidates are at a premium. Worse yet, diverse talent is more apt to jump ship than the overall workforce, making it hard to groom talent and promote from within.
That's where employee resource groups come in. The most important value ERGs provide to the employers who support them is their ability to improve diversity by improving retention.
They also encourage engagement with other ERG members and the issues they are focusing on, as well as with your organization's values and mission. Engaged employees are more likely to become invested in the success of your organization. The sections below explain how ERGs can improve your hiring and retention strategy.
1. ERGs Promote DEI
A lack of diversity at all levels is costing employers hundreds of billions of dollars in lost potential revenue and employee turnover each year. ERGs are a particularly effective way to improve diversity, equity, and inclusion (DEI) at all levels, which can in turn lead to increased profits and innovation.
Resource groups provide safe spaces where employees who may otherwise feel isolated can share their experiences. They can even help members recognize issues and alert HR or management, allowing for productive policy initiatives to be created to address systemic issues before they lead to attrition or even rise to the level of litigation.
2. ERGs Can Benefit Your Employer Brand
Many job seekers are aware of the value these affinity groups can have for employees of all backgrounds and how they contribute to the creation of more engaged and equitable workplaces. As a result, a growing number of applicants is looking for the presence of ERGs as evidence of employers' commitment to DEI.
For many younger and mid-career job seekers, working for a company with a strong commitment to DEI even outranks compensation as a driver in deciding which job offer to accept, with a majority of millennials and Gen Z job seekers saying they would take a lower salary offer from a company that has a genuine commitment to diversity. Employee resource groups represent one way to show applicants that you're serious about DEI.
3. ERGs Increase Retention Rates
Minority workers, especially those working in environments with poor DEI commitment, have higher attrition rates than other workers. African American workers, even at the highest levels, tend to have shorter tenures than their white peers.
Diverse professionals and managers don't necessarily switch employers because brighter opportunities are awaiting them elsewhere. Rather, they are much more likely to leave due to incidents of bias and feelings of exclusion and isolation.
Working for an employer that provides underrepresented employees an opportunity to join an ERG and be compensated for the important work they do with that group can help combat the feelings of isolation that many workers of color report facing in the workplace. Employee resource groups enhance onboarding, making new employees feel connected to their new workplace faster and helping them forge work friendships and collegial cross-team connections, which are important for retention.
4. ERGs Benefit Company Culture
One of the most challenging effects digital technology has had on the workplace is the increased siloing of work functions and work teams. The growing popularity of remote and hybrid work schedules has only intensified this obstacle to cross-team collaboration. Employee resource groups promote cross-team relationship building, which leads to synergy and cooperation, promotes innovation and problem solving, and increases productivity and efficiency.
The Business Case for ERGs
Employee resource groups drive organizational change by helping to align values and policies. They can serve as lifelines to your frontline personnel, alerting your organization to potential issues before they become crises.
Sponsoring employee resource groups is an especially effective way to identify talented performers with leadership potential and diversify your management and leadership ranks.
Resource groups have even served as incubators for expanded product lines and diversifying marketing strategies, helping organizations grow their customer base, expand market share, and increase profits.
ERG Management Best Practices
As with any business function, none of the benefits of ERGs should be expected without buy in from organizational leadership. You will need to provide these groups with resources, meeting space, paid time, and a senior management sponsor. You should also consider paying for members to attend conferences and attain certifications in areas related to each group's mission and goals.
In addition, the following list of best practices can help you invest wisely in your company's ERGs and see optimum results:
Encourage each ERG to craft a mission statement that includes at least one business-focused goal, for example, retention, market expansion, productivity, or community engagement.
Measure results systematically with an employee engagement platform that allows members to set goals, track results, complete surveys, and collect data.
Recognize ERG accomplishments throughout the company.
If you have multiple ERGs, encourage them to occasionally partner on events or projects.
Make sure you act on ERG policy recommendations in a public way, giving credit to resource group members and leadership. This will assure members that their goals are a priority for management and that the time they invest in the group can lead to organizational change. It will also keep the group from devolving into a regularly scheduled venting session, which can actually leave members feeling less empowered and more isolated from management.
Finally, acknowledge and value leadership shown within employee resource groups as you assess internal candidates for professional development and promotion, just as you would for initiative in any other area of endeavor throughout your company. This can serve as an important step toward diversifying your leadership team in a lasting way.
Build on Your Employee Resource Groups to Enhance Employee Recruitment and Retention
Now that you understand the value of affinity groups and how to manage them, learn about more management and hiring best practices that can help you improve talent acquisition and grow your business.