How to Encourage Cross-Team Collaboration With a Remote Team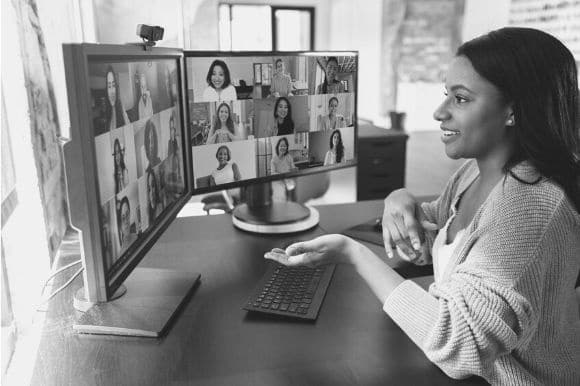 If there's one thing today's employers and job seekers agree on, it's that a collaborative workplace is a must. When looking for new employees, the ability to work harmoniously (including cross-team collaboration) is a highly desired quality, second only to dependability, according to Monster's Future of Work report.
Job seekers and employees feel the same way, consistently ranking teamwork as one of the attributes they look for when seeking out new opportunities.
Meanwhile, it's expected that at least 30 percent of the workforce will be working remotely at least part of the time in the coming years. As a result, a growing number of businesses face the challenge of effectively managing workflows between on-site and off-site workers, often across multiple time zones.
The Cross-Team Collaboration Challenge
As remote and hybrid work schedules have increased, so has data on the effectiveness of this new workplace paradigm. The good news? When employers commit to managing remote workers effectively, remote employees are often more productive than their onsite peers. Remote work can even strengthen collaboration within teams. Now for the bad news: Remote teams can more easily become siloed and disconnected from other teams and departments.
The strategies outlined below can help strengthen virtual collaboration and foster stronger bonds between employees with a variety of skills and functions across your workforce:
1. Make the most of tech tools.
2. Find natural synergies between teams.
3. Track cross-team collaboration and success.
4. Check in on team members frequently.
5. Create a shared sense of purpose.
1. Make the Most of Tech Tools
Building hybrid and remote teams can allow employers to hire the best possible talent from across the country or the globe. But juggling communication between work teams in separate time zones is tricky. Providing asynchronous collaborative communication and workflow tools such as Slack, Microsoft Teams, and Trello can help. These applications not only help keep employees connected, but they also can make them feel like they're still part of a team and an integral part of your company's mission.
2. Find Natural Synergies Between Teams
Sometimes even the best team can use an outside perspective to look at a problem in a new way. Unfortunately, with remote workers it's less likely that your employees are going to have the kind of casual interactions with employees from other teams and departments that can lead to accidental moments of inspiration.
The distancing that can arise between teams and departments in a remote environment isn't just physical. It can make it harder for teams to understand what other departments do and how they contribute to the overall success of the organization. To counteract this, consider creating cross-team projects, especially where natural synergies already exist.
For example, you might pair your sales and marketing teams on one shared project and your accounting and operations management teams on another. You can also select individual members from separate teams to work on companywide initiatives, such as diversity, equity, and inclusion (DEI).
The following tips can help you launch successful cross-team projects:
Plan to host regular interdepartmental team meetings.
At the beginning of the collaborative process, host "lunch and learns" where individual teams deliver presentations on what they do and how they do it.
Break larger goal into smaller individual steps, and then assign each step to smaller groups of paired cross-team experts. These paired experts can then present their progress to the larger cross-team collaborative group, along with what they've learned about their coworker's job that they didn't know before.
Try to inject a bit of fun into remote meetings between teams—spotlight outstanding work by individual team members, employ fun icebreakers, welcome "guest appearances" by pets and family, or assign team members to share "fun facts" about their area of expertise that their colleagues might not be aware of. Then get back to business.
3. Track Cross-Team Collaboration and Success
In addition to tracking and announcing incremental goals on workflow applications, make sure to give your employees time in the spotlight to share their accomplishments with colleagues from other departments, especially when those accomplishments will positively affect interdepartmental goals. Employees are more productive, and more satisfied, when they feel connected, valued, and seen.
Not only will this improve morale, but it can also place a face to a name and help members of your cross-team work groups know who to go to when they need input or feedback and encourage more frequent cross-team collaboration.
To cement employee commitment to goals outside those of their immediate team, be forthright about your company's overall successes and challenges. This level of transparency creates a culture of trust and can motivate employees to work closely across teams to ensure the overall success of the company.
4. Check In With Team Members Frequently
Make sure you aren't relying solely on virtual meetings and workflow technology to connect with employees. One-on-one check-ins are still vital to make sure your employees have all the tools, training, and development opportunities they need.
Working remotely can easily lead to isolation, loneliness, and feelings of disconnection from coworkers and management. Not only do these feelings negatively affect performance, research suggests they can affect your employees' health as well. Training managers to look for and address signs of employee burnout among remote workers can curtail the costs associated with this kind of disengagement.
5. Create a Shared Sense of Purpose
In addition to keeping team members informed about your company's financial goals, make sure you are effectively communicating your values as well. Today's employees and job seekers want to work for mission-driven employers, and they want to understand how their work contributes to that mission.
In fields like healthcare or education, core goals—such as patient care, finding cures for illnesses, or developing solutions to societal problems—are often central tools in employee recruitment and motivation. But any workplace can incorporate value-driven principals, such as community outreach, sustainability, or DEI, into its core mission. From there, strategizing how to motivate employees in ways that foster cross-team collaboration becomes a matter of providing opportunities to engage in those aspects of your mission in meaningful ways.
For example, you might:
Provide paid time off for employees to engage in charitable fundraising or community service.
Set up mentoring programs for students interested in learning about your work sector or area of expertise.
Encourage employees to become involved in professional associations that further the larger goals of your industry.
Set up an employee resource group. Typically aimed at promoting DEI, you might also encourage the formation of employee-led affinity groups to provide recommendations on issues such as social responsibility, community engagement, or sustainability.
Not only can these forms of engagement help you improve company policies, but they can also be a great way to identify and develop future leaders, increase retention, and attract top talent.
Stay Connected to the Latest Workplace Management Tips, Tools, and Trends
Now that you know how to encourage cross-team collaboration and effectively manage your remote and hybrid workforce, get more expert advice from Monster. From the latest research on employee engagement to the most effective hiring strategies, we can help you retain and recruit top-performers.