7 Small Business Hiring Strategies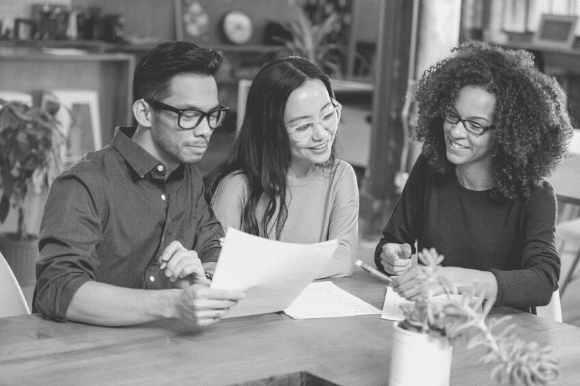 As a small business owner or manager, you know that your team is your best asset. To build a team with the skills and professional values to impress your customers and clients, it's essential to establish a strong hiring process.
You have a lot on your to-do list. We've compiled the most important small business hiring strategies so you can spend less time researching and more time running your business.
1. Emphasize Your Employer Branding
A strong employer brand showcases why your small business is a great company and a great place to work. It's important for all businesses to have strong employer branding, but especially small businesses since they usually have less name recognition than their larger competitors.
Think of your employer brand as an elevator pitch. When writing a job posting, start with a succinct description of what your small business does, its unique value proposition, and its mission. Next, highlight the company culture, values, and any other perks that will prompt people to apply.
Include your employer brand on your website's "about us" page and career page, job descriptions, and social media profiles. You may also want to share what a few of your employees like best about working at your small business and a few client or customer testimonials.
2. Write Effective Job Descriptions
Some hiring managers rush through the most important step of the hiring process: writing a clear job description. It's one of the most effective hiring strategies because it helps managers define their hiring needs so that they're better positioned to make the right hire for your small business.
A well-worded job description will also attract qualified candidates and show the benefits of joining your small business. In addition to describing the role, responsibilities, and requirements, ask your hiring managers to include an introductory paragraph that highlights your employer brand.
3. Reach Qualified Candidates
Reaching qualified candidates is one of the main hiring challenges small businesses face. You can implement the following hiring strategies to maximize reach.
Diversify Your Job Posting Strategy
Post your job description on job boards with global reach, college and university job boards, and industry job boards. Include the keywords and terms candidates are likely to use when they use a search engine or a job board's search feature to look for similar jobs.
Include logistical information, like whether it's a full-time or part-time role and the location or whether it's remote. Use the most common job title and incorporate synonyms throughout the job description.
Leverage Your Network
Increase your reach even more by using your network. Attend college and university and industry job fairs and networking events. Ask your connections if they know candidates who would be a good fit. Prompt your team members to share job openings with their connections by offering an employee referral bonus.
Look through resumes you collected for similar openings and reach out to anyone impressive who wasn't right for that role but could be for your new one. Tapping into these networks will help you cultivate a talent pipeline for future needs as well.
4. Use Technology to Improve Efficiency
At a large business, recruiters generally write job descriptions, post them on job boards, review resumes and cover letters, and conduct phone interviews to identify top candidates for the hiring managers to interview. At a small business, your hiring managers are likely responsible for each step. Fortunately, hiring software makes the process more efficient.
One of the most time-consuming steps is reviewing resumes and cover letters. Companies of all sizes use applicant tracking software (ATS) to collect, organize, and screen applications. Your hiring managers can use the filtering tools to search for applicants that meet their hiring needs so that they don't need to read every single resume and cover letter. It's valuable to use an ATS that allows your hiring managers to access all the resumes in the database to find candidates who would be a good fit but didn't apply to your role.
5. Train Your Team on Hiring Best Practices
Because your hiring managers typically handle the entire hiring process, it's crucial that they know essential hiring strategies and best practices. Teach your team how to write job descriptions, review resumes and cover letters, conduct interviews, and make an offer.
In addition to learning these (and other) best practices, it's important to train your team on relevant employment laws and regulations. It could be valuable to have an employment law expert lead trainings so your team knows how to conduct a legal hiring practice.
6. Speed Up the Decision-Making Process
Job seekers are likely applying to multiple jobs at once and top candidates are poised to get offers quickly. Recruiters at large companies are probably hiring for multiple positions at once and often get a higher volume of applicants, meaning they can get bogged down. Ask your hiring managers to review new applications daily and to promptly reach out to top candidates to schedule an interview.
Many companies have multiple rounds with candidates over the course of a few weeks or even months. Gain an edge on the competition by encouraging your hiring managers to be more efficient. If they ask revealing interview questions, they should be able to find out everything they need to know from the initial interview and one more in-depth interview.
If there are multiple decision-makers, schedule short, back-to-back interviews on the same day. Keep in mind that it can be more convenient and just as effective to conduct video interviews.
7. Make a Compelling Offer
One of the most important hiring strategies is knowing how to make a compelling offer. To determine the pay, use salary tools to identify the market rate in your state. There will likely be large companies that can afford to pay at the top of the range, but that doesn't mean you can't win over top talent.
Think about all the reasons someone would want to work at a small business rather than a large company and offer those perks. For example, you could offer remote work options, a more flexible work schedule, accelerated career advancement, and a collaborative company culture.
Learn More Hiring Strategies
Consider this Small Business Hiring 101. You've got the foundation for building a strong hiring process, but there is always more to learn. Sign up to receive expert-recommended hiring advice, news, and trends from Monster for free so you can spend less time searching for best practices and more time implementing them.