How to Create an Employee Referral Program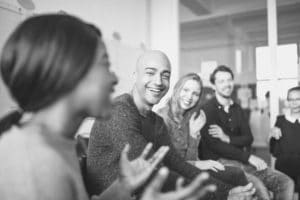 You've created job postings and conducted phone interviews, but you can't find the right fit for your open positions. It could be that you're underutilizing one of your most valuable assets — your current employees. It's beneficial to get help from trusted employees who already know the company and can promote it to their networks, helping you boost your employer brand. Here are some tips for building an effective employee referral program.
Share Your Hiring Plan With the Entire Team
Make sure your employees are aware of all the job openings. You could update your team by sending a weekly or monthly email update with all the openings, adding the job descriptions to your career site and internal job board, and sharing the job descriptions on your social media pages.
Leverage Your Brand Ambassadors
Make a list of employees who represent your company with nearly as much enthusiasm as you do. These people are your brand ambassadors. They are likely already telling friends and family members why your company is such a great place to work. Encourage them to take part in your employee referral initiative.
Incentivize Referrals
Employees are more likely to share your job openings far and wide if there is something in it for them. You're likely to see referrals multiply if you create an employee referral initiative that rewards employees who refer a candidate who is hired for the role. Most companies give a monetary award, but you could also give extra paid days off, company swag, or a gift card.
Include Employees in the Interview Process
Whether you're bogged down trying to fill a number of open positions or you just need help finding that one perfect candidate, expand your hiring team by involving current employees in the interview process. Assignments may range from phone screenings to in-person interviews, depending on the employee's capabilities and the number of positions you're filling. Of course, be sure everyone on the recruitment team receives training on how to conduct an interview and select a new employee.
Encourage Social Media Recruiting
A lot of hiring today is a direct result of social recruiting. Encourage employees to follow suit by sharing your job openings on their social media platforms. They may find that a former classmate or friend of a friend is a good employee referral.
Train Employees to Spot Talent in Unexpected Places
Encourage employees to be creative when making employee referrals. For example, if an employee receives great service at a local restaurant or retailer and one of your job openings relies heavily on customer service, urge the employee to reach out to see if they would be interested in applying for the role.
Keep Your Employees Happy
No one is going to want to refer a friend or former colleague if they're unhappy. Your staff is more likely to make an employee referral if they're engaged at work, they like their managers, feel they're compensated well, and they enjoy the company culture.
Use Your Employee Referral Program to Hire Top Talent
Your new program will help you recruit qualified candidates. Learn best practices for writing a job posting, screening resumes, interviewing candidates, making an offer, and more by receiving expert recruiting advice from Monster.